I had a dream about aliens last night. We got up this morning and you can see what the aliens did around the house. Only in Berkshire.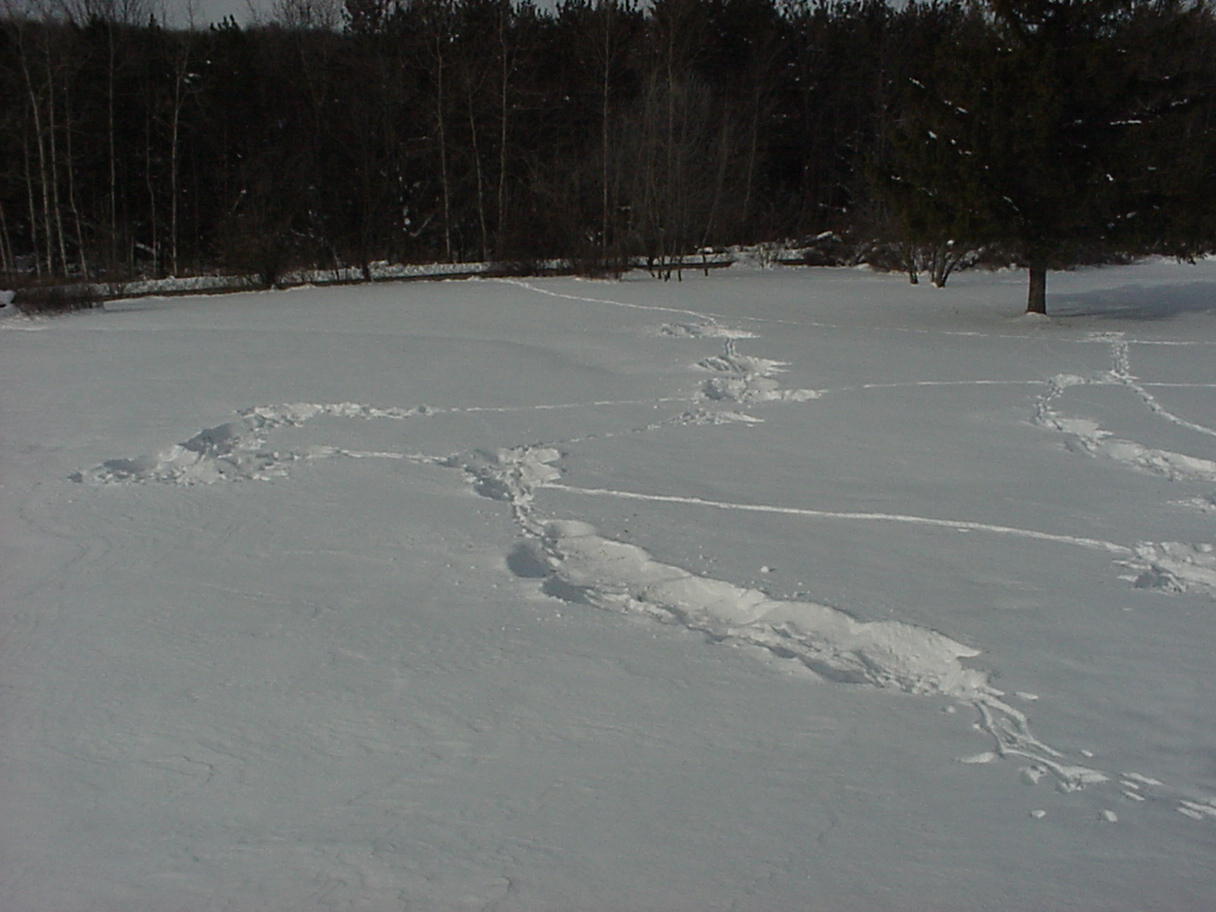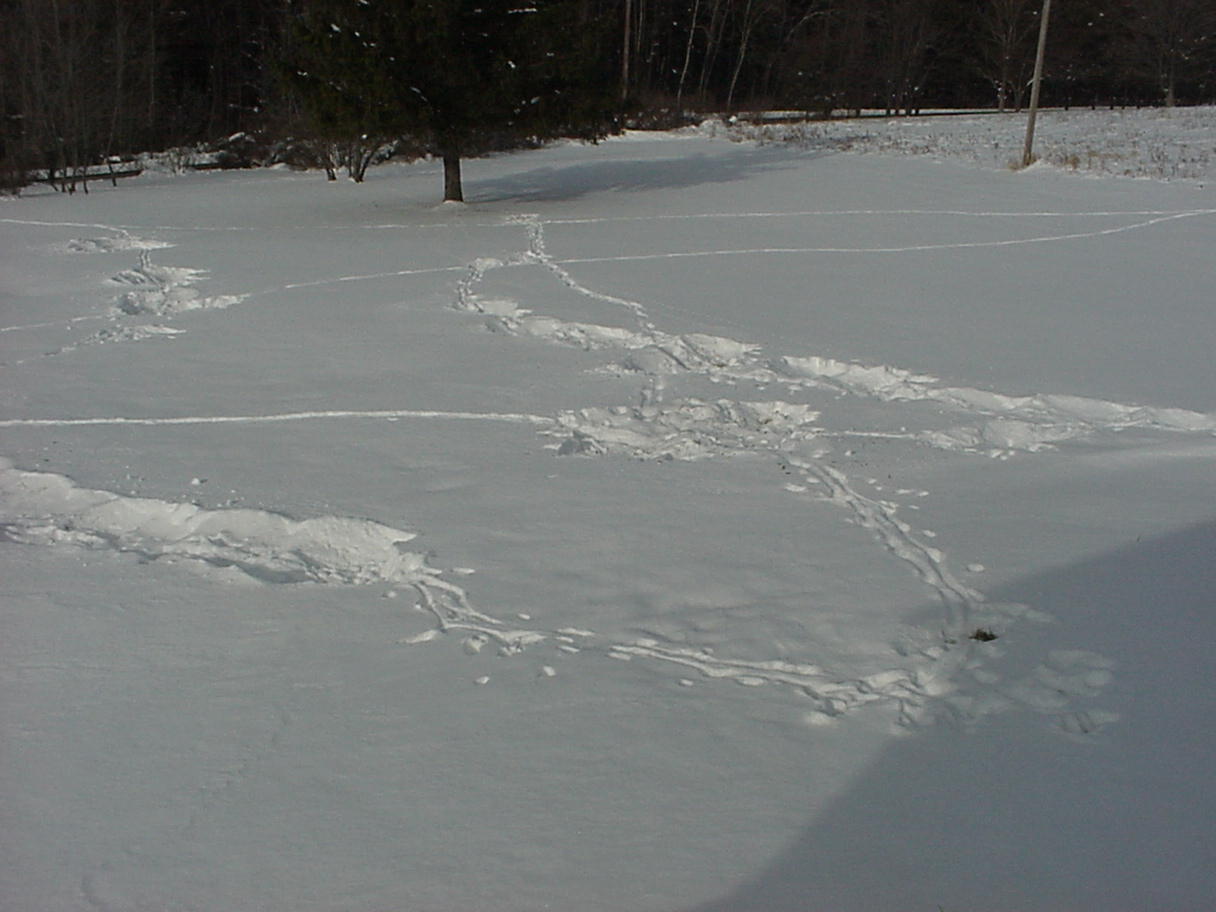 As Peter Drucker put the matter in a Harvard Business Review article, "Until a business returns a profit that is greater than its cost of capital, it operates at a loss. Never mind that it pays taxes as if it had a genuine profit. The enterprise still returns less to the economy than it devours in resources…Until then it does not create wealth; it destroys it."
Very interesting.
My new glasses, not much different.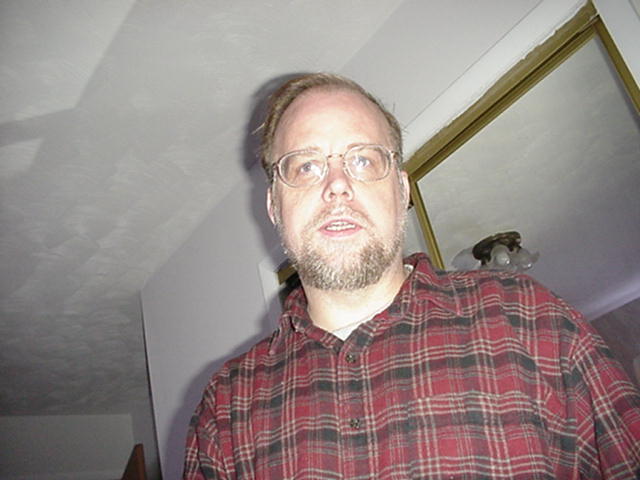 I am buying a new truck. I am pretty close on figuring out which one. It will be a duramax diesel with the 5 speed allison automatic I know for sure. Where I am getting it from and whether I am getting the dump trailer is not so sure.
The class I am taking (Financial Management) is demanding. I am going to have to really knuckle down.
It has been as cold as 26 below zero the last few days around here. It hasn't got that cold at the house, but when I went into work the other day it was so cold your lungs hurt when you breathed in. The diesel starts fine if you remember to plug it in the night before. The llamas don't care for the cold. The heater keeps their house about 25 degrees warmer than the outside temp. These temps are tough on the animals no doubt. I know after last year I would never think of cold temperatures the same again. The animals are just at the mercy of their owners and the temperature.
We got one of the GE radios working on the desired frequency the other day! Duane is working on wiring up some more of them. I am thinking some some mods we may want to do at this milestone. I am planning on going to the Dayton hamvention this coming year. I have to start making arrangements.
I got new glasses. This is the first time I have had "progressive lenses" (bifocals). I am now a recovering presbyopia aflictee. It has been a huge help. I have been really struggling the past 6 months or so. I can see so much better now. I have had them one day and I feel I am almost totally used to the bizarre head movements you need to make to see things.
tomorrow I get on the roof to clean the chimney.
I went to my first County planning board meeting last night. I think I will enjoy working with these folks.
My Brother's mother in law) passed away this week, Sally. Rest in Peace.
It is 10 below zero this evening. it is beautiful outside as you look at the stars and the far off view of the city and its vapor.
I have fashioned a muffin fan on the intake of the coal stove to boost heat output. We have to be careful not to overheat the stove and cause warping of the critical pieces. I will be making a more permanent system with feedback (of course) at some point.
I heard an inspirational speech at toastmasters today. That is what has kept me going with the organization. I like that. Growth. We don't know where growth takes us. Picture yourself on the end of a sapling.
We are warm and the diesel is plugged in.
Bonnie and I had an interesting experience this evening.
We heard a strange noise that stopped us mid sentance. She described it as an explosion. I described the noise as a rolling casacde as if something fell from the roof.
I took the big spotlight out to check the house, stove pipe, the barn, the llamas.
After some more discussion we figured out what the strange and unusual sound was... it turned out to be a strange noise indeed. It was the town snow plow.
I had the worst drive to work this past week. I was traveling 5 mph! down one of our hills (in neutral) and still had the antilock brakes kicking in. Just keep the machine between the ditches! We made it.
White knuckles
Cool Creatures the Tsunami washed up!!
The above link is definately worth checking out. It is in Russian but the pics are worthwhile. We live on a bizzare world.
I went to the hamfest in Marathon this morning. I picked up a few connectors, some 100Mbps NICs for a buck a piece and a few other morsels of electronics.
I am receiving quotes for my new truck. The prices are coming in where I expected (a lot lower that most would think they would). I will sell my current truck in the summer. I will make a decision on a truck and a dump trailer soon.
I have been asked to speak to of a bunch of gun instructors tommorow about presentation skills. That should be fun. They are having the seminar at the Gander Mountain store so I will pick up a few lures when I am down there. Maybe some game loads too... I know, I need a clay pidgeon launcher. I will look for one of them as well.
This past week I was riding around with electric fork lift service techs in the Albany area. It was worthwhile. At first, I had to figure out what was bothering me, but I figured it out. I had to look at my role knowing what they do for a living. Having worked in the field and as a mechanic myself, I feel terrible that I cannot do a better job for these guys because of political impedance. The techs are alone. They need information so they can get out of the cold freezer where they are having a problem with the product. Or as I like to joke, so they can rub the metal flakes out of their eyes with their cold, bloody, greasy hands (really happens often). The overall resultant effect was a reaffirmation of the purpose of what I do for a living. I like helping the techs out. When you are in the field you are surrounded by reality. Things are obvious. Working in corporate, reality is scarce even in a high performance environment.
I am working on radios, computers, and some other stuff this weekend.
The air outside is cold, the snow is attached to the branches of the trees and the sun has brilliantly illuminated the still life. It is winter. It is very pretty.
I am working mostly on computers again this weekend. I am moving all the files into their appropriate storage areas. I have a quite a bit more to do. I am stuck with a 10 Mbps NIC in the machine I am typing on now (Pentium 233 we threw together). Simultaneous Internet access and file transfers can take quite a while. The progress box on the other machine here says 98 minutes.... uh oh, something is weird.
I am setting the new "work box" up to easily accept strange hard drives. It is a dual boot machine with linux and windoze. I will be adding a 5-1/4 in floppy drive to the complement of I/O. It has both MFM and IDE controllers. I am skipping all SCSI and CDROMs for now. Other future projects will be to figure out how to get the data of the C64 disks so we can run those games we had so much family fun with in a 6500 emulator that must be out there.
I sent out a bunch of RFQs for my new truck and dump trailer. It will be interesting to see what I get back. I did it by paper and mail. The option to submit RFQs is available on the web but that kinda defeats the purpose since I suspect there is a bidding arrangement via the web. Everyone knows who has the goods, and there are rules of engagement. I suspect a paper based is not there yet... too much data entry.
I am going out of town for three days to ride along with dealer technicians so I can further empathize with their work (and what I put the department through). This is not mandatory for me. The snow on the ground is the crustiest snow I have ever seen. We have been alternating between rain, freezing rain, and snow for the last few days. The llamas don't like it one bit. It is warm though. It has been over freezing in their llama house so I have not been running the heater.
Hopefully, I can get the EPROM burned for my 2 meter GE radio project tomorrow. I want to get some data links set up. With my satelite internet connection and all the batteries, generators, and inverters I have I will be able to be in touch without any power, cable tv, phone, gas, water or any other physical infrastructure. My tractor and jeep would fit the bill ok if the road went away as well. (I think I just jinxed myself)
I have been reading short stories lately which has been a great deal of fun. It is great to kick back a little. My finance class starts on the 24th.
http://www.rtzaudio.com/kg4lne/fm815.asp
http://www.members.shaw.ca/swstuff/phoenix.html
I have been racking my brain trying to get some GE Phoenix radios reprogrammed for the ham bands. No wonder I don't work as a software engineer.
Things have been pretty quiet. My new computer is working pretty well. It is a lot to get used to again though since I am not using "classic mode".
I got the tire fixed on the tractor. It was a bead leak. Duane (KB0VIW) showed me a few tricks when working with tires. Bonnie and I had turkey for dinner on new year's day and we made some pea soup to freeze. I made a connection with a guy who is going to look through my radio stuff to buy what he wants. I am concentrating on trying to keep only the stuff I really want. The stuff that I can replace can go. I need to get rid of stuff either by selling it on eBay or putting it in the trash.
I got my big orchard heater working that I bought at auction a while back. Now I can use that in the milkhouse. It has been proven to be safe enough.
I am looking for a new truck and a dump trailer. I plan on sending out some RFQs today. I figure that is the best way to get a good deal. There really is no way to get the upper hand with a car dealer, but taking steps to minimze the difference in positions is worthwhile.
I am headed to Canada this week for work. Next week I am in Albany for work. I may be traveling more by the end of the month as well.
I have been messing around with my new setup with the TV in the computer. The movie download is kind of large. I am still figuring this stuff out.