The Relay for Life went pretty much as planned. However, I got a sore throat and a nasty cough over the last few days. I wasn't going to sleep out in fear it might get me more sick. My friend DJ did the keynote speech for the event. She did a great job. There wasn't many dry eyes.
I have been incredibly busy the last couple of weeks. I have been combining a lot of things and planning my evenings for the whole week pretty much minute by minute. I was a bit annoyed that my trip between the home center (after my flying lesson) to the chainsaw place (closes at 8PM) that I got into a traffic jam. When I drove buy I took this pic of the reason I was in a traffic jam. I decided that I can be annoyed a little bit compared to these folks.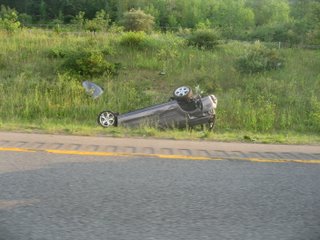 I am participating in the Chenango County Relay for Life event this coming Friday night. It is a fund rasier for Cancer research facilitated by the American Cancer Society (ACS).
I will be up most of the night Friday Night up in Norwich taking turns walking around a track growing awareness and raising money with my Team.
Donations can be made at: http://main.acsevents.org/site/TR/RelayForLife/RelayForLifeEasternDivision?pg=team&fr_id=9561&team_id=298915
There has been some tech news (several instances of the topic creted from Google) out that made me feel a bit glib.
http://www.wired.com/science/discoveries/magazine/16-07/pb_theory
This is what I posted in 2000.
http://www.theguysatwork.com/blogs/2000/08/ya-know-as-student-of-information.htm