I went to calling hours for Debby and Alan Howell this past week. Their 6 week old baby passed away from a heart defect. The baby was a beautiful baby.
The weather is great. I heard from a meteorologist that we are going to have a month of unseasonably warm and mild weather.
My mentor watched me do a couple of landings the other day and he seemed truly impressed. I call on my medical at least once a week. Man, I hope it comes through so I can get my licence. I want to be flying around New York state.
Here is a pic of the potential bakery/brewery.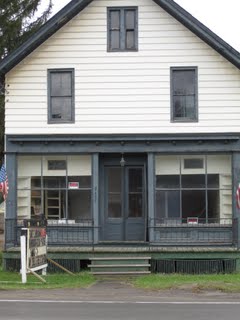 What a great weekend weatherwise. It was in the 60s today and calm. I regret not going flying today. Hopefully, this week I get my medical back.
DJ is accumulating capital equipment for a small artisan bakery; she now has a large bloggett double oven, a bread slicer (shown), water heater, a butcher block table, a stainless table, a dry curved glass display case, a commercial standing three basin sink and a Hobart 30 quart mixer as well as a bunch of smaller stuff. I am sure there will be a lot more news on this as it unfolds.
There is a pic of the smashed up Husquarna tractor. I bought the mower new in 1996. Someone smashed into it pushing it into Bonnie's porch destroying both. It is difficult to find any good parts left on it. Amazing. Of course, the insurance company only gives you pennies on the damage. Why bother with insurance most the time?