We have been working on Rosie. She isn't sick. She just seems too stiff to get up on her own. We are giving her meds three times a day and exercising her. The photo shows how to get a llama up that has been down. We have a llama sling and sometimes they just need a pull on the sling. Other times you have to use a come-a-long and winch the animal up. This is the third llama that we have had to use the sling on. We have got of use out of it for sure. It isn't much fun but that is the kind of work you need to do when you have animals.
Today I am buying aviation books, budgeting the lessons and the plan, listing a bunch of stuff on ebay and working on my book.
The weather is nice out there. The chickens are out and they are getting lots of bugs and enjoying their freedom.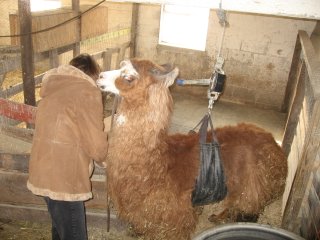 I have not blogged in quite a while. Spring is starting to spring around here. The daffodils are starting to peek out of the ground and almost all the snow is melted. It won't be long now.
Rosey the llama is down. We not sure what is going on.
I took my first real flying lesson tonight in about twenty years. Here is a picture of the plane, a 1966 Cessna 172. I am comfortable, but not confident. Flying in and out of a grass strip (2600 feet) is a bit different. The surrounding hills are about 1000 feet higher than the airfield so if you are cruising at 2500 feet you are only about 600 feet about the terrain. The final approach puts you about 20 or 30 feet above some trees at the end of the runway. I think I will get the hang of it but it will take time. The book work is the easiest for me. Taking all the flight information in and processing it in realtime is a bit of a skill to learn. Knowing what to look at and for how long is a trick. Knowing what controls to gain feedback by feel or by visual feedback is a learning experience as well. I will be going up again in a few days.