Its Sunday again. I played cards with a group of about 9 people last night. It feels as though I know (by sight) about 500 people here, 250 from where they work, 80 by first name and about 30 by first and last name. There are approximately 1080 people on station right now. People talk about isolation. There is no isolation with that many people on station. It is far less isolated than I am back home. Out in the field isolation is a totally different story and it doesn't take long geographically to get out in the field. My job gets me out in the field quite a bit.
My pager went off last night. A repeater seems to to gone down suddenly on top of Mt. Aztec. The science camp has HF radio and an irridium phone as backups so we may not get out there until later this week rather than immediately because it is not a dangereous condition.
The first picture is me on top of Mt 1882 talking to a science camp via my VHF hand held radio to determine if we were succesful in getting the Telephone repeater working (also VHF). Second is of the antenna farm at one of our shelters that we are trying to get a combiner working so we can use just one antenna. Thirdly is Scott base from atop Crater Hill. Scott base is the New Zealand Antartica base a few miles from McMurdo. The forth picture is a Russian helo from the KAPITAN KHLEBNIKOV the cruise ship http://www.quarkexpeditions.com/fleet/khlebnikov.shtml. The cruise ship canceled its tour of McMurdo at the last minute. The sea ice edge is 23 miles from station still. It was decided by the expedition leader on the ship that the time to ferry all the passengers to station by helo or to break through the ice (highly doubtful if possible with current sea ice) was prohibitive.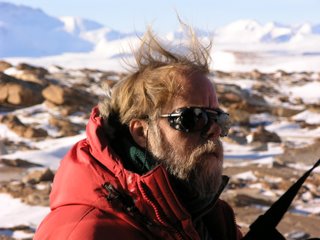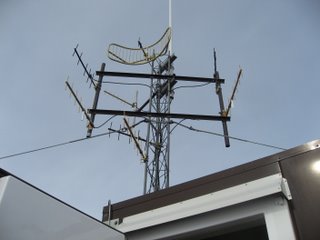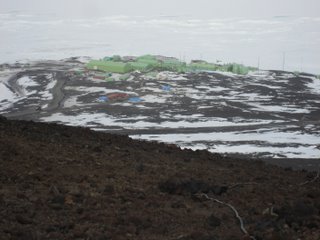 Here is an account of some guy that comes down for a week writing about Mac town and Antarctica. What a whiner! He shows up last night and he starts complaining about the experience. The consensus is that if you don't like it GO HOME! He has had far less hassles than anyone else who has been here. He is being treated as a Distinguished Vistor (DV). You may have to search a little bit due to a poor indexing system at MSNBC.
"http://www.msnbc.msn.com/id/15834019/page/2/
Today is Saturday (I had to check my watch). I am giving a tour to 14 people off a cruise ship this morning. The price of their cruise was $30 thousand dollars a seat. They are very interested in Antarctica and they are supposedly interested in meeting someone like me and they will have many questions. I have many questions for myself too. I am having some good reflection of why I am doing this. It is definately not in the path of least resistance to have embarked on the adventure. I am reading and reflecting.
I climbed crater hill yesterday to get to some flaky equipment. It was a work out for my ankle but today it feels like it made it stronger.
The first picture is a dive hut out on the sea ice. It gives a good scale for me of how large the outside shots are. The second picture I mistook as a mumified seal in the dry valleys. The mumified seals are in the area here. They are quite a mystery of how they got to where they are. They don't rot because of the cold, dry and lack of other organisms to scavange off the remains (both baterium and larger). The third picture is at Lake Hoare in the dry valleys and finally a shot from the top of Mt 1882. I swear I heard female vocal music over my helmet intercom when we entered Taylor Valley yesterday. The converstaions are often quite good in the helo.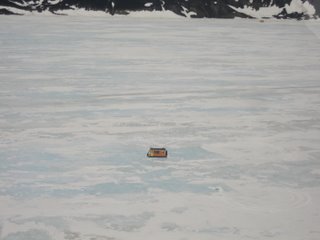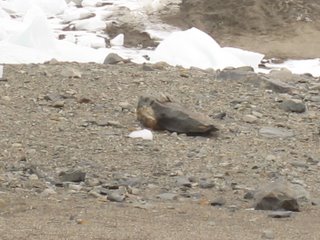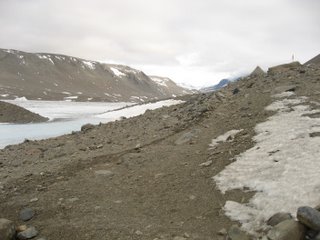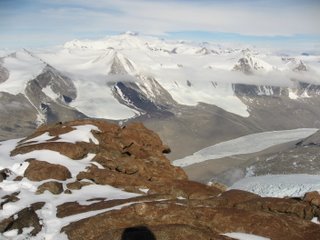 My Earthlink email is working again for the time being. The yahoo address is good for backup if I don't respond.
It has been a pretty exciting day. The photos speak for themselves. Well, almost. I was out in the dry valleys fixing a repeater and was along for the ride measuring the ice edge. We saw whales, seals, and penguins.
I went up to the hamshack and I talked with Alex from the Russian Vostok Station. That is good DX for Antartica ham radio. Vostok Station holds the record for the coldest temerature ever recorded on earth. It was -129 degrees below zero F in 1983. That is cold. It does get colder than -100 at the pole but -129 is really something.
It is exciting here, but I do miss home and Bonnie.
I have having serious problems with my earthlink email again (The problems is entirely at Earthlink's end). If you need to get a hold of me use chazd13736@yahoo.com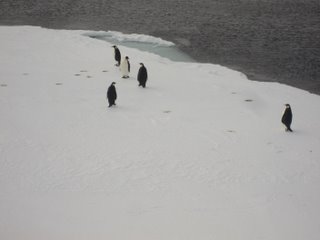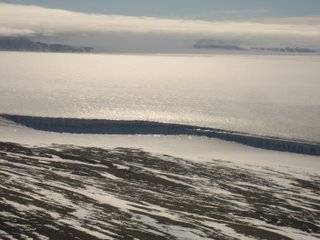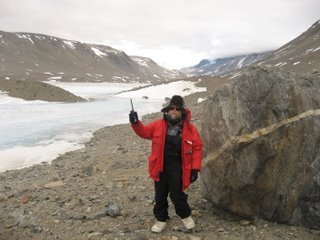 Deltas do get stuck. These pics I pulled off the public domain drive here on station.
I volunteered to be a tour guide for the three or so cruise ships that will come into McMurdo this year. That will be interesting.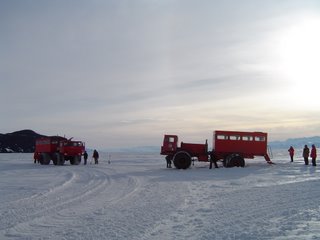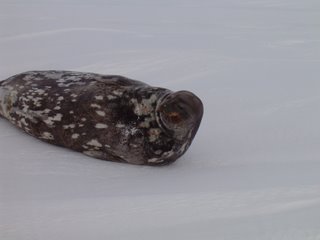 Today was kind of slow. I fixed a bunch of stuff and got soem stuff done but overall it was pretty slow.
There is an ice cream machine in the galley named "Frosty Boy". It is a self serve soft ice cream machine that dispenses vanilla ice cream. When Frosty Boy is broken or out of premix the Antarcticans become restless and irritable. It is important to ensure Frosty Boy is functioning.
Here is a picture of me on the ham tower the other day. It is only 30 feet. The other picture is of the bowling alley machine. The lanes are really warped and the pins are set by hand. It truely is a museum piece. I heard Brunswick wanted to buy it back.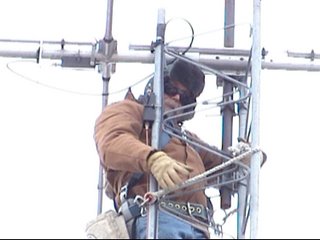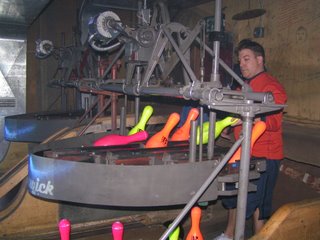 Isn't ice amazing.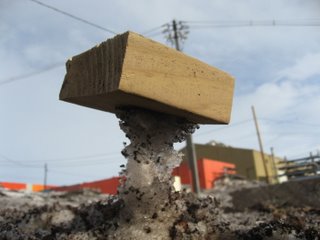 Today was a good day off. It even felt like a day off. My activities for today started with a fantastic breakfast as an encore from an awesome Thankgiving feast last night. I had my favorite food in the whole world as shown in the photo, smoked salmon with red onions and capers, two custom fried eggs, a salt bagel, a fresh biscuit, cranberry juice, coffee, a slice of melon and some assorted cheeses. I had Mike take this photo of my breakfast. Antarctica is very harsh, just not this morning. Note the two "green brains", one in my pocket and one on the table.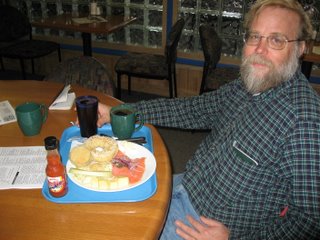 After that we went up to the ham shack as a encore of my most-excellent contacts last night from Japan, Patriot Hills Antarctica and Pacific marine mobiles. I got my climbing harness on and climbed the tower to rotate the tri-band antenna more towards North America. The 20 meter amateur radio band is tricky down here. We have to follow the dark line. We are still experimenting with some very challenging radio propagation solar cycles. Currently things are pretty much at the unfavorable trough for shortwave conditions, which normally run on an eleven year cycle. (more on that...science payload 3 on the LDB this year).
I also got to see a world premiere of Werner Herzog's movie "Rescue Dawn". It will be released by MGM in March. Herzog is in Antarctica creating a film here about us, science, and the drama. The movie I saw today was a very moving movie. It will be something you will want to see if you like real life drama. Herzog appears to be a "bridge" producer between documentaries and feature films and he discussed with us the nature of doing just that. I could easily identify with what he described as his role. He is by all accounts a very special individual. I don't say that lightly. His life's experiences are profound.
Tonight for dinner I really hit it off with more of the ANITA team. I had a great talk with the PI (principal investigator). They are doing some great stuff. I have a personal invitation for the launch. http://amanda.uci.edu/~anita/
I am off to watch another Herzog film right now.