Well getting my internet access straightened around is a big deal. I feel as though I had a big damp blanket pulled off me and now it is time to dry off and and figure out what's next. My antivirus is working again properly - and it is all good (cyberspace speaking).
I got about half of my new heavy duty posted signs up today. I found the property lines ok except for one corner. I have had problems at the corner before too. There is a iron pipe and all that .. I just cant seem to find it. Being color blind doesn't help. I just can't see a lot of the blazes. Maybe I should just buy a GPS again. Borrowing one makes more sense at the moment. I enjoyed my walk. There is nothing quite like it. It is certainly better than TV.
I used my new brush cutter around the pond. All the trees and brush are getting the axe (saw) this fall/winter around the pond. It needs attention based on what I learned in pond school a couple of years back.
The jeep decided to run today. It has a intermittent ground or something for the fuel pump. I did not get anything listed on eBay today like I was planning.
The pics show a "busy intersection" out in the woods that was easy to find and some "shrooms" that decided to sprout near the barn.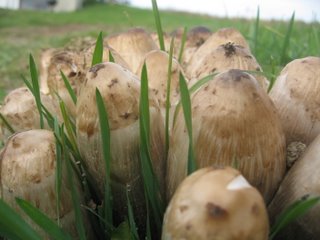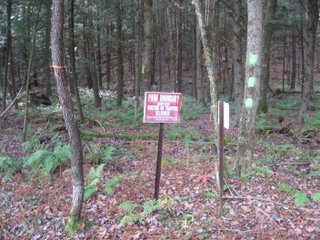 I got my internet at home working again via satellite. The LNA went bad and had to be replaced. This time thru Wild Blue. It is pretty fast. I am getting 1Mbps downloads. That is fast enough. One of the side benefits is that this system is that it is ethernet versus the USB connection on the old modem so I can network this connection to the new TV, the neighbors, and the toaster if needed. Now I have to change my email address and all that goes with that. I also have to create the simple webpage that is on the posted signs I will be hanging in a few minutes. No hunting allowed on the property this year. I reached the breaking point this past summer. Having the land is great but it does require some management that isn't always fun.
Having the dish tv is different. Now there are 100 channels of infomercials.
I got some more components for the electric car, hopefully I can start getting the test stand operational today. I left a note (offer to purchase) a Geo Tracker that is off the road. With a little luck I will get that. Worst case is that I have to buy one retail (completelely functional) and sell the engine and other stuff I won't be needing like the, starter, and radiator.
I have quite a list to get done this weekend and fair amount is based on having internet again. The jeep is not operational and I had to reorder the manual (which I seem to have lost) so I can troubleshoot.
There have been some nice sunrises lately and I have been taking more photos. Here is a unretouched sunrise the other day on the way to work and my electric car test stand.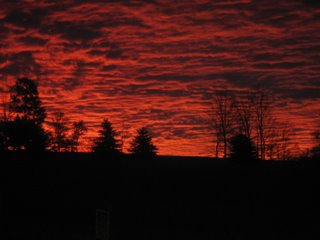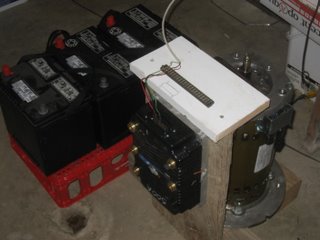 Man o' man getting on the internet has really been working againist me lately. I got the new tv (great). I got the dish for "Cable" tv, and I had my new internet dish installed (Wild Blue). The Wild blue worked for exactly 2 days and quit. I am trying to get it fixed. Hopefully today the guy will be out. I am currently using a WIFI connection down in Binghamton. We can receive 7 hi def stations locally, about 12 analog signals and then we have the dish and the internet connected to the TV via VGA. I am working out the details of how to hook all this stuff up including the subwoofer I installed in the coffee table.
I have been taking a lot of photos lately, stopping the truck on the way to work or whatever. It is worth it. Of course ;-) at this sitting I have almost none of my new pics with me.
I am working on getting my electric car drive train working. I built a test stand and a programming interface for the controller. I bid on a geo tracker with a bad engine on ebay, but I let it go. There will be others. The idea of 4 wheel drive makes sense. I am working on getting a range of 60 miles on the battery power. One of the really nice features about the controller I plan on using is the regenerative charging of the batteries. I will have a pot hooked to the accelerator as well as to the brake pedal. I am using one set of batteries for testing/development and another for the car probably. Fun stuff, pure playtime.
I have been communicating with the guys on the ice as the season starts up and they are trying to get the equipment working. I insist on them sending me photos when they email me or I won't comunicate with them :-) I miss some of the aspects of the work environment.
Of the pics I do have with me at the moment I have Bonnie's jack o'lantern and a view on my ride to work Monday.