I had a interesting experience last night (like most nights). I volunteered to scrap out a fairly large camper trailer to help out my friend Roger. He is moving and he needed to get it off the property. So I told him I would take it, tear it apart and sell the aluminum (maybe 200 bucks). Of course, there is quite a bit of nuisance involved and the "fluff" left over from a camper is no fun at all. Most junk yards won't take them because of the amount of fluff. So I hooked up the truck, no safety chains, no lights, and a tire that is leaking air. Wouldn't you know that moving the trailer caused the leak to get bigger. And after filling it with air a couple of times, the tire disintegrated. "OK, I can deal with this." I am about three miles from home and there is a fresh layer of new asphalt down on the road up ahead. The new asphalt is so rare in my neighborhood; I really couldn't bear the thought of having the bare rim chew it all up. I did drive a few miles on the rim, but the new road was too much. I decided to stop at one of the local hillbilly houses that looks more like a junk yard than a home. All I had to say was, "you want it?" There was a great deal of excitement, "Just back r right in here, w'll strip r tonight!" The liliputians were all over that thing like piranas. It was a great end to a problematic situation and I got the chance to mingle with some native "Bershirians". The next day I had a macabre need to drive by to see what the bones looked like.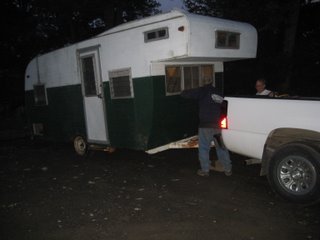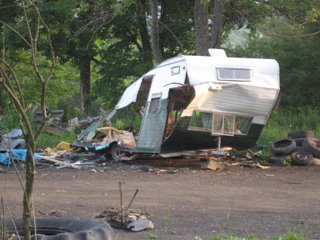 I finally cracked the code on lime in my fields. Trying to find the cheap/smart way in farming is difficult since farmers are generally very resourceful and they figure stuff out. My lime project has been in my thinking for years. Down here we need lime on our soil for hay. The soil is great for berries, but for hay it needs to be sweetened every 10 years or so with 2 ton/acre of a lime type product with minimal mineral values. I found a close-by source (Lansing) of fine concrete dust. The numbers are great. The price is cheap since it is a byproduct and I found a guy with a tri-axle dump truck in between the source and the farm who was also willing to drive it out the field. It was about 1/4 the money and much higher quality than what most other folks do. I will be spreading it at the same time I mow. The mower on the front and the spreader on the rear. That is efficient.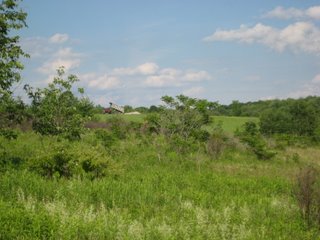 Google gadgets in action.
In retrospect, I got a lot done in the last few days. I looked at the dozer. This coming weekend we will probably get it started. There is a fuel problem on the pony motor. I moved a bunch of junk for a friend and I ended up with some of it, including a genuine 1910 electric lamp post from downtown Penn Yan NY. It is cast iron and formed tin. I like it. I am not sure what I am going to do with it but it may end up in the garden as focal piece.
I ran in the corporate challenge 5k race. I finished in just over 25 minutes.
I got the jeep stuck and unstuck. The trick with getting stuck and unstuck is simple. Don't force it. Get a bigger tractor. If you don't have a bigger tractor, find someone else with a bigger tractor. Simple.
I made a nice little whirly gig for the garden out of broken salad tongs. I enjoyed that more than I realized I would. I am making a bigger one out of an old window fan and lamp parts.
I have my 1951 Evinrude outboard dissembled almost ready for stripping. I had to deal with a lot of stuck screws. I still have one that is a real challenge that I am still working. I also found a source for canvas for my canoe. Art supply stores are where to look. It makes sense.
I gave a presentation at the Center for Advanced Microelectronics Manufacturing (CAMM) Friday. That was interesting and fun.
I had the llamas sheared (finally). They were roasting. Professor was terribly behaved. I used Aries to calm him down and Aries even spit at professor a couple of times. All the other llamas were good. They are all nice and lightweight and clean shaven, like me. Yes, the moustache is gone now too. Looking at my hair in the following pics I might have to shave my head next.
My chainsaw was hit by a falling tree (go figure). It turns out the crack in the plastic case is nearly fatal damage. It is leaking oil. It is hard to believe that it is cheaper to buy a new saw than properly fixing a crack in the plastic part! The mechanic I saw said he can glue it, so he is working on it.