Well, I didn't get the car I was bidding on. I was out at a party when it ended so I was short by 100 bucks. There will be others. I did make the connections to borrow a trailer to get the car when I finally do find one. The base model Geo Tracker 1992 vintage with a manual transmission would be perfect. The body has to be good. The engine can be rough.
I took some great pics of sundogs at sunrise on the way into work. It was 0 degrees on the farm this morning. The llamas are locked in and comfy. We have a sick chicken though.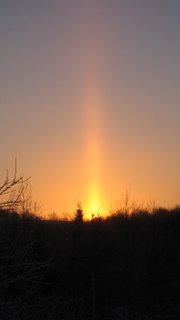 Al Russell came down on Saturday. It has been quite a while. There was a lot to catch up on. We went out back with the jeep and I got another flat. We walked back and I went back Sunday with the weenie spare and the tractor. I used the 3 point hydraulics to jack up the jeep in 5 inches of new snow to change the tire and get the machines out of the woods. Although it was a nusence. It was fun being out in the woods in the cold and snow.
In addition to my anniversary at my job. This weekend marks our 18th wedding anniversary. Where does all the time go?
It got down to about 6 degrees last night with lots of wind. It was just plain nasty out. Listening to the scanner last night with the reports of car wrecks, personal tragedies and what not it seemed like the end of the world.
The beavers are back down at the beaver dam and they are as destructive as ever.
I am bidding on a Geo Tracker tonight for electric conversion.