My mom is doing better. She is still in the hospital, but somewhat better.
This week has yielded several insprirational elements. Let's focus on a few.
Look for inspiration. Look! It is all around you all the time. We forget to do that. It is easy to be distracted by the everyday events and moments. Every element of nature is inspirational. They are all miracles. Everything is internal.
Choose your character. Choose. Changes aren't easy. Choose, and move towards the target.
"If you haven't ever have been at least a little embarassed by your past you don't understand growth and development. For goodness is made of that stuff." ---Charles Dowdell
My friend and co-worker Clark Wallin passed away very suddenly Saturday Night-Sunday Morning. He was in good shape Friday. We didn't have a lot of discussion or contact Friday, but we talked. He seemed a little pre-occupied, but nothing much out of the ordinary. Clark and his wife were fellow llama/alpaca ranchers. In fact, Clark hooked me up with Rosie and Ultima (rescue llamas). We spent time here on our farm as well as on his farm. I learned practical matters from Clark. He was easy going and amicable, well liked and filled with virtue. It was a shock. It will take a while. There is a service Wednesday evening.
Oh yeah, here is a pic of the annual Ketchumville halloween TP aftermath.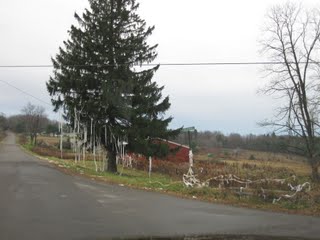 This time of year is always busy getting ready for Winter. I spent most of the weekend working on the solar system. I had some successes as well as a set back. The heat exchanger is broken! I couldn't believe what I was seeing. I charged/filled the the domestic side of brand new unit (although waiting for me to install for almost a year) and water started coming out the loop. I plugged the loop and I am planning on some interesting conversations with the Rheem people. It was a good thing that I didn't have the loop connections tight. I wouldn't have noticed the defect and the cross contamination would have put antifreeze in my hot water supply and regular water in the loop possibly breaking my collector. I have just a couple more fittings and some control wiring. This was a bigger project (still not done) than expected (usual). I look forward to the next project at this point.
The basement partially flooded this week (drainage issue). What a drag. I mean my advice is to everyone I know. "It is not if your basement floods it is a matter of when." My basement has been very dry for the last 8 years; it is a walkout basement and no sump or anything. These things happen, even if only by a leaking pipe.
My FAA medical should be back (this week for sure). What a complete hassle. The FAA medical process is the means to take away General Aviation privileges. My general physician and everyone else knows I am perfectly fit to fly a plane. A typo screws it all up.
My Mom is in the hospital in Florida. That sucks.