We are working through mounds of paper work to be able to deploy. Most of it is pretty clear but it is voluminous. I am still unsure at this point if I can keep my wisdom teeth. The dentist will set my fate. There is just a lot to do in a short time to get PQ'd to get to work in Antarctica.
The following photo is from an accident about 2 1/2 hours plane ride from McMurdo in 1998. The c-130 hit a crevasse and twisted the craft into the chasm. I don't think anyone was hurt.
Used without permission from http://www.gmra.org/n0nhj/ice99/p14.htm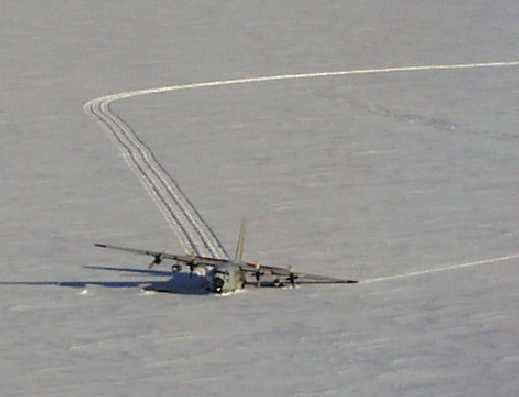 Bonnie and I ran down to Washington DC for the Toastmasters International World Championship of Public Speaking. We had a good time. We caught up with Jim Thompson for the event. We both noticed the overall quality of the speeches was even higher than last year. One of the rules is to have 2 minutes of silence in between speakers. This year I noticed that two minutes is not enough to get the last speaker out of your head. The speeches are all that good. Everyone of them moves you. Often times the speaker has you taking an emotional roller coaster with some unexpected twists. The guy who won second place has been trying to win, I think he said, for 28 years. This is as close as he got so far. After that we got right back to Berkshire. There is a lot to be done before winter.
As part of the trip I had some more good conversation with someone that has been to the ice. I also got a book that was published this month on "How to Survive Antarctica". It was a super quick read. This book says, "Nobody comes back the same."
This is a pic is of my Aunt Florrie and Cousin Antonia who live in DC.