I went and looked at the Solon Pond Mill. I was mistaken last time when I was up there in 2000. It was Summer and everything was overgrown. The mill is about an 1/8 mile from the building I thought might have been the mill. The mill is in rough shape. But everything is still there. I couldn't get underneath to see if the turbine was in good shape. I had heard that it was buried in muck. I suspect it is there, but probably in rough shape as well. It is a combination grist and saw mill, and could be restored to do exactly that. I am going to pass. I was thinking it would make a great homesite however. There is 3.9 acres (a lot for a mill) and you could build a nice house that looked period and work on getting an awesome water powered workshop out back. There is a planner, and it looks like a jig saw and I bet a few other pieces of woodworking equipment in there. All the shafting looks good. It is fun to think about the coolness of starting with logs and making furniture all out in that small mill with water power alone. The grist mill looked almost pristine. The floor has fallen through in an area of the shop above the creek.
The roof has fallen in over a portion of the sawmill. Definately a handyman special. The seller said that he had the design to rebuild the dam using precast. I thought that was a great idea. The mill pond is approximately 1/2 acre in size. There are lots of trees that would have to come down both in the pond and around the mill. They are too looming and destructive. One of the neat things is that the mill is right over the creek. It would look great restored, or at least functional. In the photos you will see a log of the grist mill tonnage over different years written in pencil on one of the belt ways.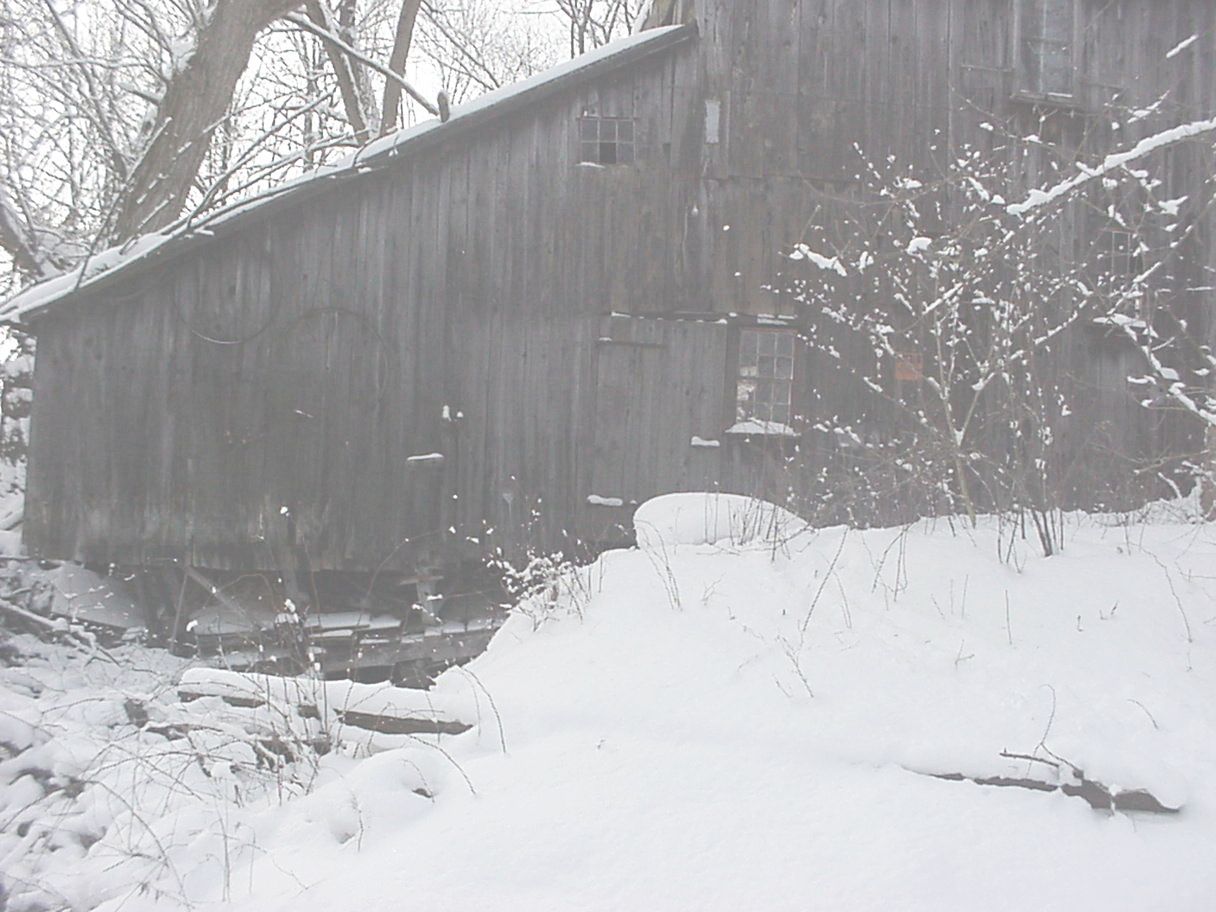 Things have been busy. I think though that things are always busy and not busy at the same time. It is often how you view it.
I had a pleasant experience a while back. The power went off for several hours in the middle of the night. The house stayed warm and the grandfather clock still chimed. The way I noticed the power was off was because the clock radio was blinking. I may have to get a wind-up alarm.
We are going to look at an old water mill this weekend. We looked at it years ago. It is for sale now.
The following pic is a different old water mill I discovered a few years back. For people who are not looking, it can be very difficult to appreciate what they are. Most of them are not being saved. They are slowly but surely going away.