Here is one of my neighbor's RV at the local grocery store in Whitney Point NY. This is indeed a Redneck Camper. Notice he is in a handicapped parking spot. He even hit the sign behind the truck. I can't make this stuff up!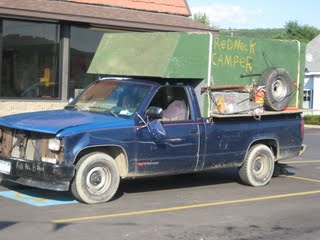 I have a theory. Golf is an outdoor activity for people who don't like the outdoors. I don't see many golfers after the weather turns the slightest bit cool. I think the over groomed golf course is an physical expression that "the outdoors does not have to be untidy". It goes on and on.
DJ and I did some farm sitting for an organic farm a few miles away. The farm is off grid and they get a little electric from solar panels. The house is underground so I imagine it is pretty energy efficient. We milked a goat by hand. The new experience was worth the price of admission. Now we are making cheese with the milk.
My FAA medical has expired. I am getting that back in place. My solo has been postponded until that is done. Learning to fly is done thru series of learning experiences and plateaus. It can get a little frustrating, but it will come. The learning is a combination of confidence and skill building. Each is neccesary. I definately understand the saying that, "flying is the most fun you can have with your clothes on". When I think about flying and landing the plane a warmth comes over me.