Isn't ice amazing.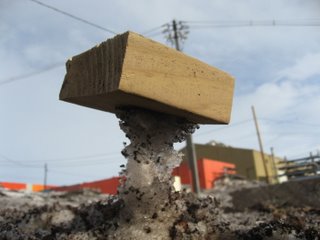 Today was a good day off. It even felt like a day off. My activities for today started with a fantastic breakfast as an encore from an awesome Thankgiving feast last night. I had my favorite food in the whole world as shown in the photo, smoked salmon with red onions and capers, two custom fried eggs, a salt bagel, a fresh biscuit, cranberry juice, coffee, a slice of melon and some assorted cheeses. I had Mike take this photo of my breakfast. Antarctica is very harsh, just not this morning. Note the two "green brains", one in my pocket and one on the table.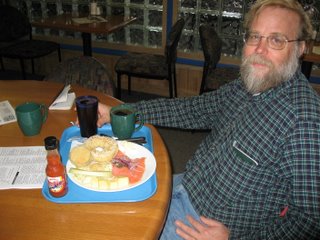 After that we went up to the ham shack as a encore of my most-excellent contacts last night from Japan, Patriot Hills Antarctica and Pacific marine mobiles. I got my climbing harness on and climbed the tower to rotate the tri-band antenna more towards North America. The 20 meter amateur radio band is tricky down here. We have to follow the dark line. We are still experimenting with some very challenging radio propagation solar cycles. Currently things are pretty much at the unfavorable trough for shortwave conditions, which normally run on an eleven year cycle. (more on that...science payload 3 on the LDB this year).
I also got to see a world premiere of Werner Herzog's movie "Rescue Dawn". It will be released by MGM in March. Herzog is in Antarctica creating a film here about us, science, and the drama. The movie I saw today was a very moving movie. It will be something you will want to see if you like real life drama. Herzog appears to be a "bridge" producer between documentaries and feature films and he discussed with us the nature of doing just that. I could easily identify with what he described as his role. He is by all accounts a very special individual. I don't say that lightly. His life's experiences are profound.
Tonight for dinner I really hit it off with more of the ANITA team. I had a great talk with the PI (principal investigator). They are doing some great stuff. I have a personal invitation for the launch. http://amanda.uci.edu/~anita/
I am off to watch another Herzog film right now.