I am proud of DJ. She has done well over the last few years surviving a nasty-bought with cancer, being widowed suddenly. If that wasn't enough she got laid off from the Raymond Corporation without cause or warning. In fact she commonly worked lots of extra hours for years before being stricken with cancer and had positive performance appraisals. Nice management, not. Inconsistent, yes. Maybe if she was Italian she could have held on to her job.
Now she is successfully running her start-up gluten-free bakery. She did all that in about 3 years.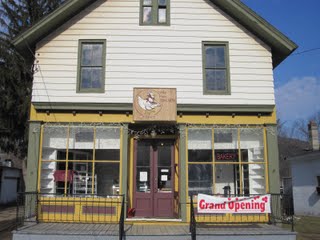 I finally have real broadband access! Through my ham radio connections I managed to get a terrestrial link using a Motorola Canopy solution (5.7 GHz) and a 15 mile (plus) path. Of course, I would have never been able to do this except for I am on a hill that faces the tower in Binghamton. It is a haul. It is safe to say I am at the far fringes. I am working to help expand the system with the installation of a new tower on my property. The dish on the roof is fairly big (nothing like the old c-band TVRO dishes though). I was hoping we were going to get 10 or more Mbps, but I have to settle for speeds just under 5 Mbps. Considering with Wildblue (satellite) I was only getting 600 kbps with 900 ms latencies; I am very pleased.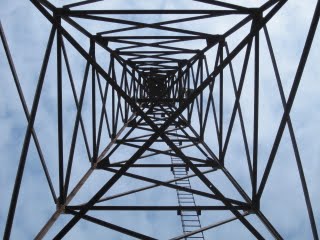 Here is a nice you tube video of a difficult landing, more difficult than Greene NY.
I had a small ceremonial fire of logo wear this weekend. All the polyester and rayon really stunk.
I took these pics when my mentor was at the controls. We flew down to Towanda (Bradford County PA) a few days ago for lunch. I have been getting quite a bit of cross-wind landing practice. The first pic is Owego NY and the second pic is the normal view of The Raymond Corporation as we turn baseleg on runway 25 in Greene.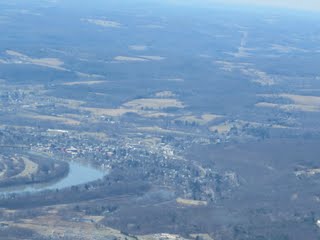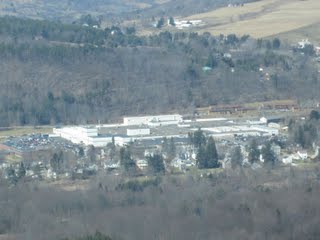 Harrison Ford: I have 8 planes, 1 woman By Ruben V. Nepales Philippine Daily Inquirer First Posted 16:53:00 03/07/2010 Filed Under: Celebrities, Cinema, Entertainment (general), planes LOS ANGELES – Actor-pilot Harrison Ford, asked in our recent interview about how many planes he has, answered with his trademark lopsided grin: "I have one woman but I have eight aeroplanes. The planes have different purposes and the skills required to fly them are different in each case. I've always been interested in this continual process of learning and perfecting skills." Harrison, who can be terse at interviews, was in a good mood in this chat . When a colleague prefaced his question with, "You play a cranky scientist in 'Extraordinary Measures' and a cranky TV news anchorman in 'Morning Glory,'" the actor with the gruff reputation playfully interrupted and quipped to laughter, "Yeah, what about it? Are you getting to something? What's your point?"

I had a great flying lesson today. The winds were highly changeable, but mostly cross the runway and a bit from the tail. My throat got dry like the old days. It all builds experience. The weather (to a bystander on the ground) seems perfect for anything. My instructor was saying how people on days like these figure flying must be perfect because of the visibility. Not so! He went on to say "They aren't feeling what we are feeling." I am very grateful of my instructor, all of them. It looks like I will be taking some pics from the air Wednesday.
The last of the snow is leaving. We will most likely have a wet snow or two before summer, but the accumulation is over for this year.
It appears my blog will be changing in the next two months. I have not decided exactly how yet (but after nearly 1000 posts and almost 10 years) changes in the the hosting environment can be expected. I really appreciate the occasional email that comes in from someone I have never met expressing gratitude regarding my take on something.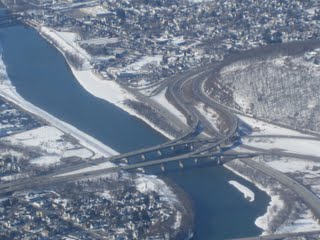 The requirements to obtain a private pilot certificate for "airplane, single-engine, land", or ASEL, (which is the most common certificate) are:
* Be at least 17 years old That was easy.
* Be able to read, speak, and write the English language That was easy.
* Obtain at least a third class medical certificate from an Aviation Medical Examiner (except for glider or balloon) Got it, what a pain in the neck.
* Pass a computerized aeronautical knowledge test Passed, done
* Accumulate and log a specified amount of training and experience, including the following:
o If training under Part 61, experience requirements are specified in Title 14 of the Code of Federal Regulations section 61.109 including at least 40 hours of piloting time including 20 hours of flight with an instructor and 10 hours of solo flight, and other requirements including "cross-country", 10 hours of solo (i.e., by yourself) flight time in an airplane, including at least I have enough instruction.
+ Solo requirements: I am working on this.
1. 5 hours of solo cross-country time
2. One solo cross-country flight of at least 150 NM total distance, with full-stop landings at a minimum of three points and with one segment of the flight consisting of a straight-line distance of at least 50 NM between the takeoff and landing locations
3. Three solo takeoffs and landings to a full stop at an airport with an operating control tower.
+ Night requirements: I have no night time experience yet.
1. 3 hours of night flight training
2. One cross-country flight of over 100 nautical miles (190 km) total distance
3. 10 takeoffs and 10 landings to a full stop (with each landing involving a flight in the traffic pattern) at an airport
+ 3 hours of flight training on the control and maneuvering solely by reference to instruments I have about half of this already.
o If training under Part 141, at least 35 hours of piloting time including 20 hours with an instructor and 5 hours of solo flight, and other requirements including cross-country and night flights
* Pass an oral test and flight test administered by an FAA inspector, FAA-designated examiner, or authorized check instructor (Part 141 only)
The last few days of sunshine has been very welcome. It has been refreshing and rejuvenating. I got a pic of a sundog Friday. I did some solo flight work Saturday. Hopefully, I will have my license in a few months.
I was a bit surprised when I went to feed the animals and there was a chicken just as comfortable as could be riding around on Calisto!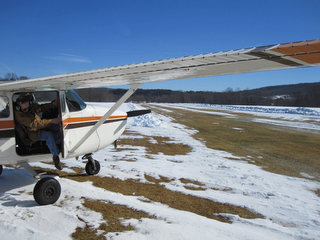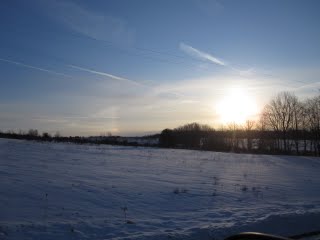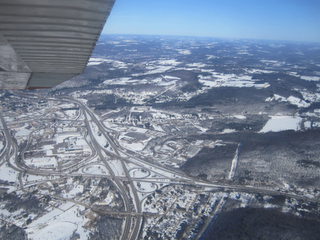 Our doubts are traitors, and make us lose the good we oft might win, by fearing to attempt. --Shakespeare