The guys got off the mountain last night. They had quite a time. They almost broke into the survival bags. They left the bags and some tools to come back and get them another time. I understand they had all their ECW on. That is extraordinarily unusual. One of my co-workers is out at WAIS divide (a deep-field camp). He called in on a satellite phone (we get thirty seconds of some poor reception because of the satellite being so low on the horizon. There was a pretty nasty storm going on so there was no work getting done outside. I shipped him a new HF antenna today and some climbing gear.
My ankle is getting a lot better. It is turning black today. I guess that is a good sign. The paper work is worse than the injury. --more on that one--
I worked on the NASA system today. The NASA guys were really pleased that I managed to get the stuff going even without the correct components. There is often talk of McGyver down here. You have to fix what you have to fix with what you have to fix it with. It is a challenge and a treat because that means you can spend some time fixing stuff that you would send back to the manufacturer or throw away back home.
The food here is great when you consider that 90 percent of it is regular institutional food that is way past its expiration date. We get almost all of the foodstuff from vessel, meaning we get many tons of it in February. We use that food and other food that is older the next year or the year after or so on. Some of the stories I have heard about expiration dates is hilarious. But really, the food is good. I filled out a comment card for the galley crew expressing my appreciation. They did appreciate the comment. It is on the bulletin board.
I am planning on getting on the ham bands this coming sunday when I am out at Taylor Dome. That would be rere DX to be sure. We would probably even QSL. It will be about 9 PM Next Saturday in the Eastern US. I will try 14.243 MHz. We have a spot figured out on 40 meters as well I think at 7.090 MHz. We are in ITU region 3 here. The rules get tricky for someone who hasn't spent any time trying to figure out the rules. I will be using KC4/N2TYQ. I will be using a Datron PRC-1099 with a dipole. I think it has 50 watts output. I might hit New Zealand. I am hoping for more.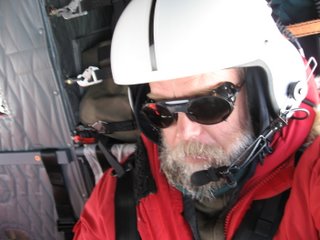 <