Here are some pics from a Cessna 172 from Sidney and Afton NY. Sidney was hit hard by the floods. Numerous significant businesses are under water.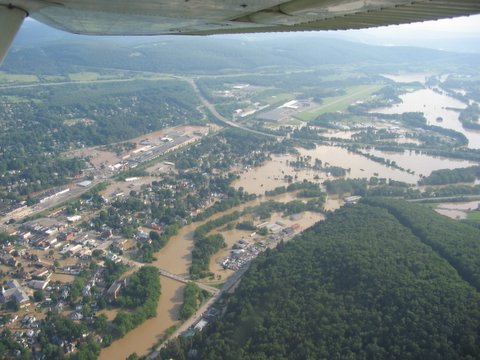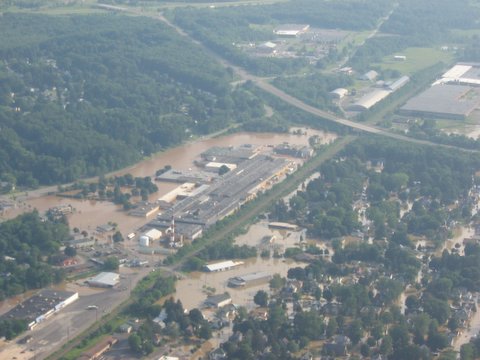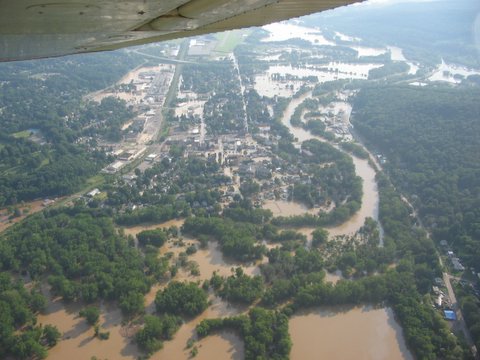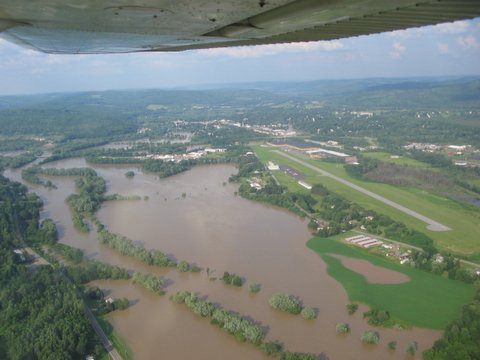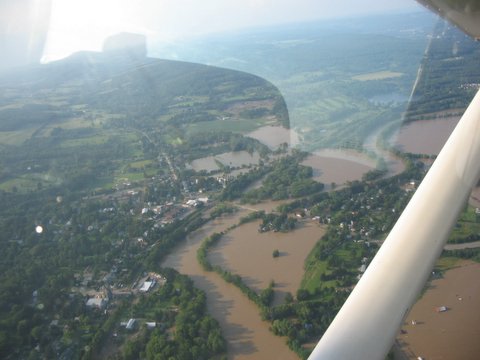 The flood waters are pretty much receeding now. It has been a real event here. Work is closed again today, no electric. I went in for a while then came home. Of course there is a lot to do at home. I checked out our pond yesterday to make sure it was still there. We made out ok. My drainage work of the last couple of years paid off. I know my driveway would have disappeared if I had not done the work. A lot of people are affected around here in one or more ways. This is the worst flood around here since 1935 which spurred on several dams and water management projects. Curiously, I went to see how high Whitney Point resorvoir got and it didn't seem to get even close to the spillway. The video on the national news of the house getting washed down river was in Binghamton.
We are getting two more llamas this weekend, two females.
Today is a bad day in the Twin Tiers area. We are experiencing very bad flooding. There are reports of houses being swept away and so on. Up on the farm we are high and almost dry. Work was shut down today because of flooding in Greene. One of the folks had their car swept away as he was trying to get to work. A Bridge on Route 88 collaped this morning.
The following pic and movie is the Chenango river before cresting (I believe) at about 8:30 AM on Wednesday June 28th 2006. This is unquestionably a significant event. We haven't been to crest yet. Stay tuned.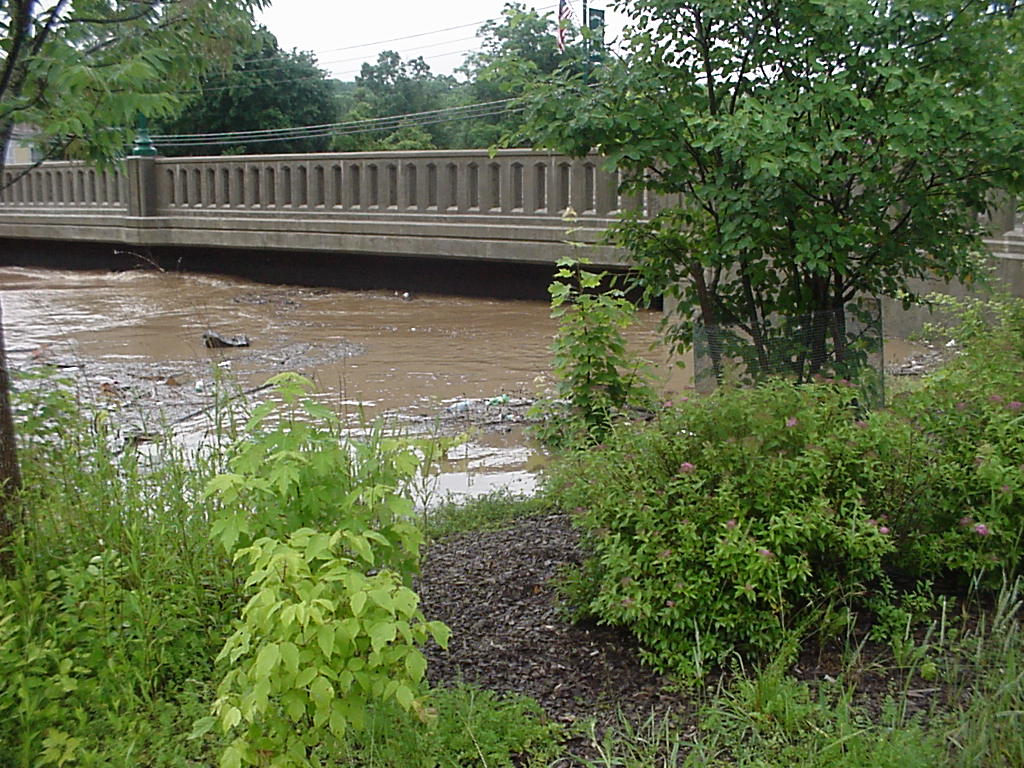 Click pic for video
"It is not the strongest of the species that survive, nor the most intelligent, but the one most responsive to change."
--– Charles Darwin, biologist
Everything is collectable. I have a small fruit label collection started a few years ago. I found this website that is pretty much amazing serving up the art and science of collecting fruit labels. I have several labels not listed on the website.
Fruit labels (starting in the "P" section).
I started on the fence. I rented a good auger setup for the Bobcat. I had to enable the aux hydraulics and all that, but it is figured out and I am getting a process. I will be readjusting what I have in the pics today. I started in the back because I know I am going to get better results the more experienced I get. Setting all these posts in concrete is a real dilemma for me. It feels permanent. I have to get it right. It is just plain difficult. This morning I decided that this is another job that cannot be done with just one person. There are too many points to look for to make it true. Just like with all the other projects I have done, I am not going to be able to look at a fence the same way again. 89 more posts to go.
It is Field Day weekend as well. There is a Field Day radio contest thie weekend (almost all weekends have some radio contest). Field Day is a traditional time when amateur radio operators setup a radio station away from their normal station and/or get on the air using their own power. It is fun. I am monitoring 14.234 MHz for my chance to talk with the folks at the South Pole Station. The conditions haven't been right yet.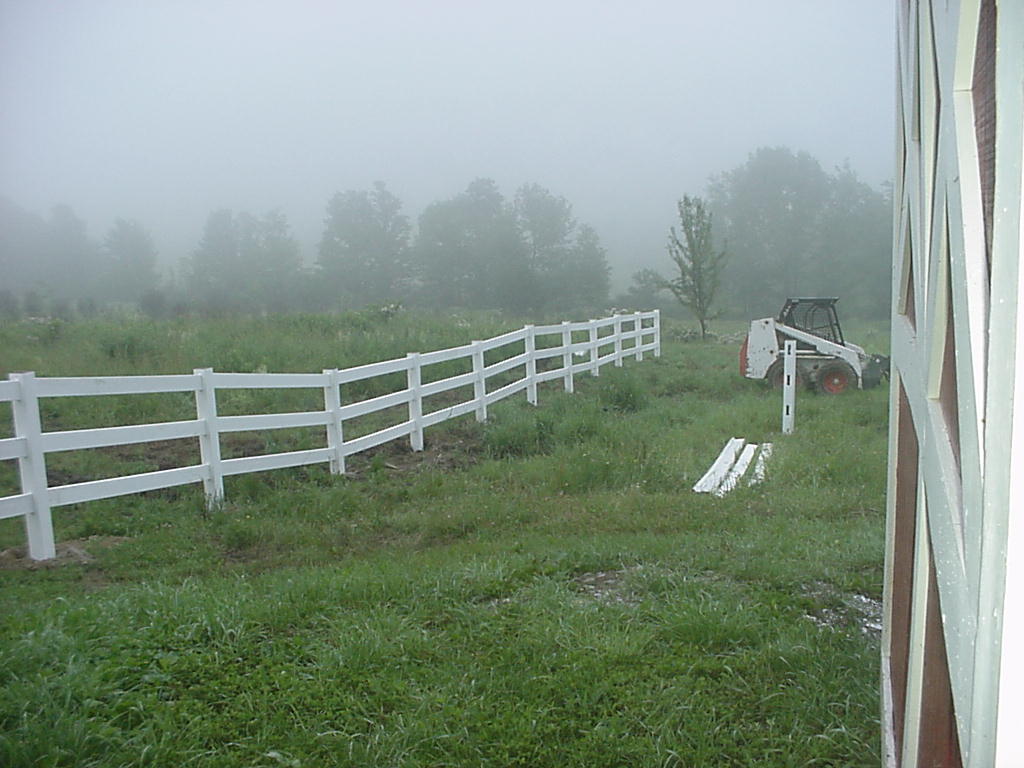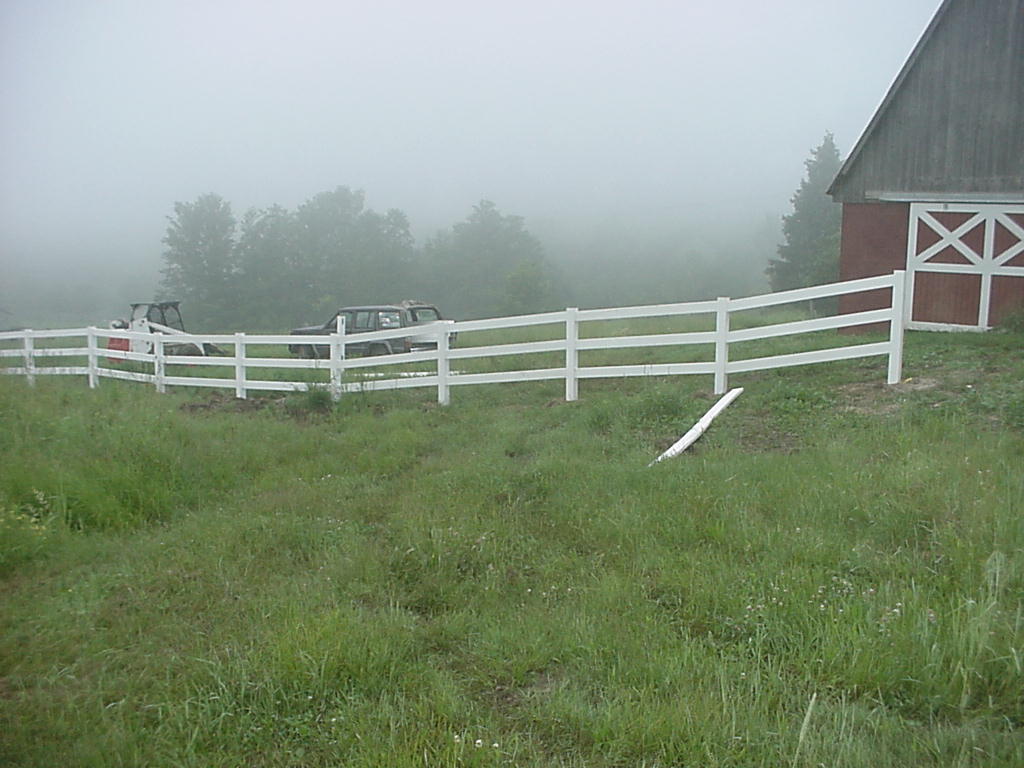 Opportunity - A favorable or advantageous circumstance or combination of circumstances.
In time of change there are new circumstances that if viewed as such provide advantageous circumstances as they relate to personal values.
For example: Rising oil prices is an opportunity for the oil companies to receive more revenue whereas rising oil prices for the masses is not a good thing.
Opportunity depends on values since it stems from advantageous circumstances.
It was hot this past weekend. I don't know what the temp was but it must have been well into the 90s. I decided I was done making excuses about the trim on the southside of my barn, so I was up there sweating buckets "gettn r dun". I moved and chopped firewood, cleared some for the fence and generally did farm work. I finished mowing my hay field this week. It feels great to look back at the 18 acres and see alternating stripes of grass. Next year, I plan on baling.
The big news is that Bonnie "made me" buy a fish pole as well as a new reel for my larger pole. That was fun. I have a very nice Fenwick/Abu Garcia ultralight now. Sunday morning I got up at the usual early hour (about 5:00), drove through the woods with my Jeep to the far corner of the property. I then carried my fish gear through the park about a mile to the very serene, slightly foggy, glass-smooth lake. I fished about 45 minutes. I hooked a nice bass. The fish jumped nicely and then spit the hook; Mr. fish said, "thanks but no thanks." Of course as you can tell through this narrative, I forgot my camera. The woods and park was nice. A great way to start a day.
The sun sure came up this morning. It is brilliant out. I will be in Syracuse all day.
The following photo is of my orange tree. It is one of my most valued possessions. I was having a few bad days in early 1999. In my lunch I had an orange with just a overwhelming amount of seeds in it. I decided at that point I was going to make something positive and I germinated the seeds taken from my mouth in a foam cup lined with moistened paper towels. The seeds sprouted and I transplanted the select seedlings in progressively larger and larger pots. I am working these days on trimming and shaping the tree which is an even greater thing to do than germination. I enjoy looking at the tree during times of stress. It is a symbol for me of growth, rejuvination, solace and action-based hope.
"Tradition holds that three basic virtues are necessary to create a bonsai: shin-zen-bi standing for truth, goodness and beauty." http://bonsaisite.com/intro1.html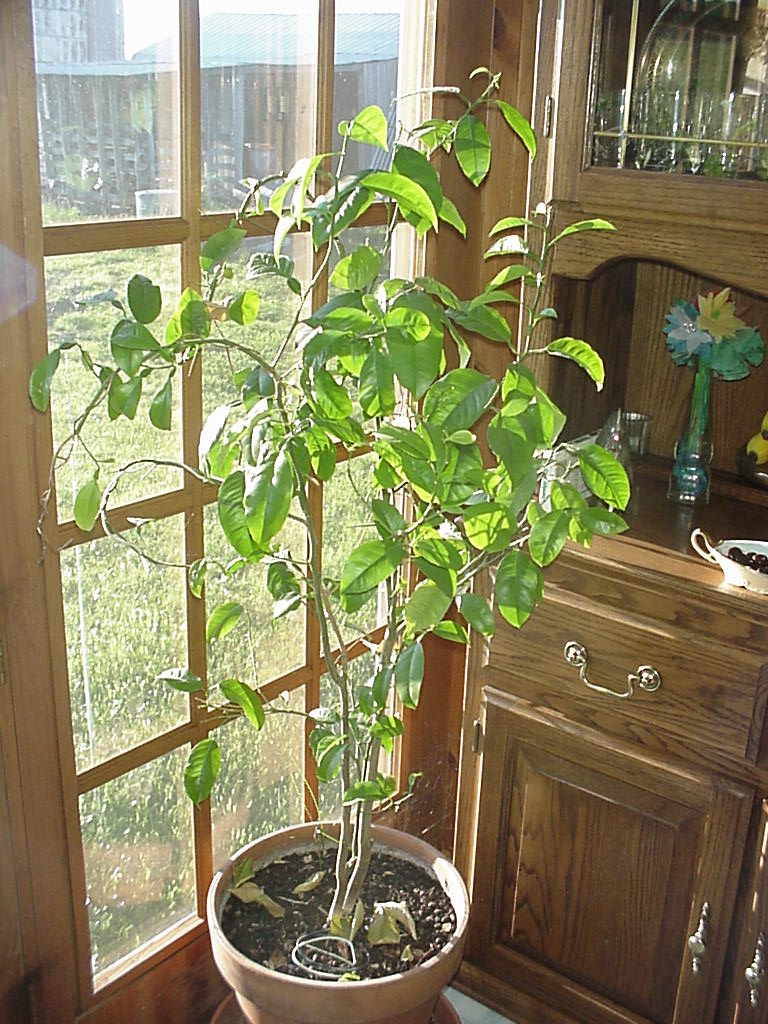 I ran 25:45 in the 2006 Smithville 5k. I was a bit off my plan of 24:30. I could blame it on a multitude of things, but it was all me. Running like this is not a team effort.
I feel good about my improvement from last year and the accomplishment of my goal. I suspect next year I will do better.
I am about to go run the 5k over in Smithville. The Tioga cat decided he wanted to be in a photo this morning.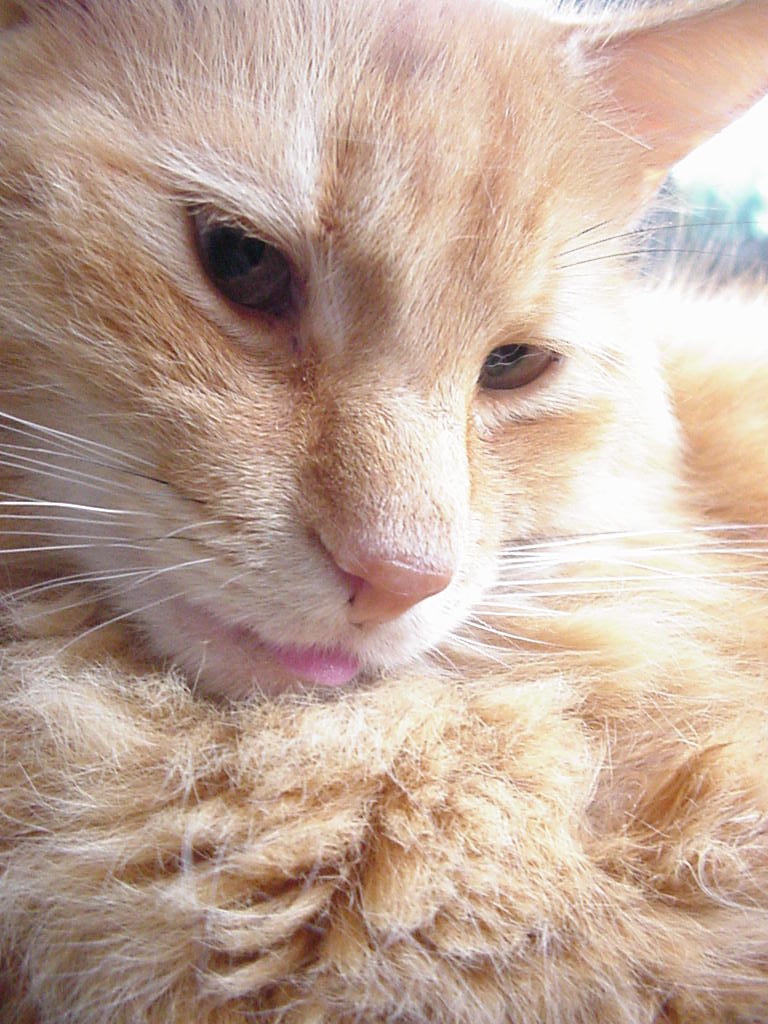 I sneaked up on some deer this morning before work.
I am running the Smithville 5k tomorrow morning. I expect to finish in 24 minutes 30 seconds. I am picking up the post hole digger tonight. Hopefully, I can get it working this time and get some holes drilled. The llamas will appreciate the grass the deer were enjoying this morning. It is a weird juxtaposition between the deer and the llamas. They are curious about each other. Both the deer and the llamas are limited by a fence.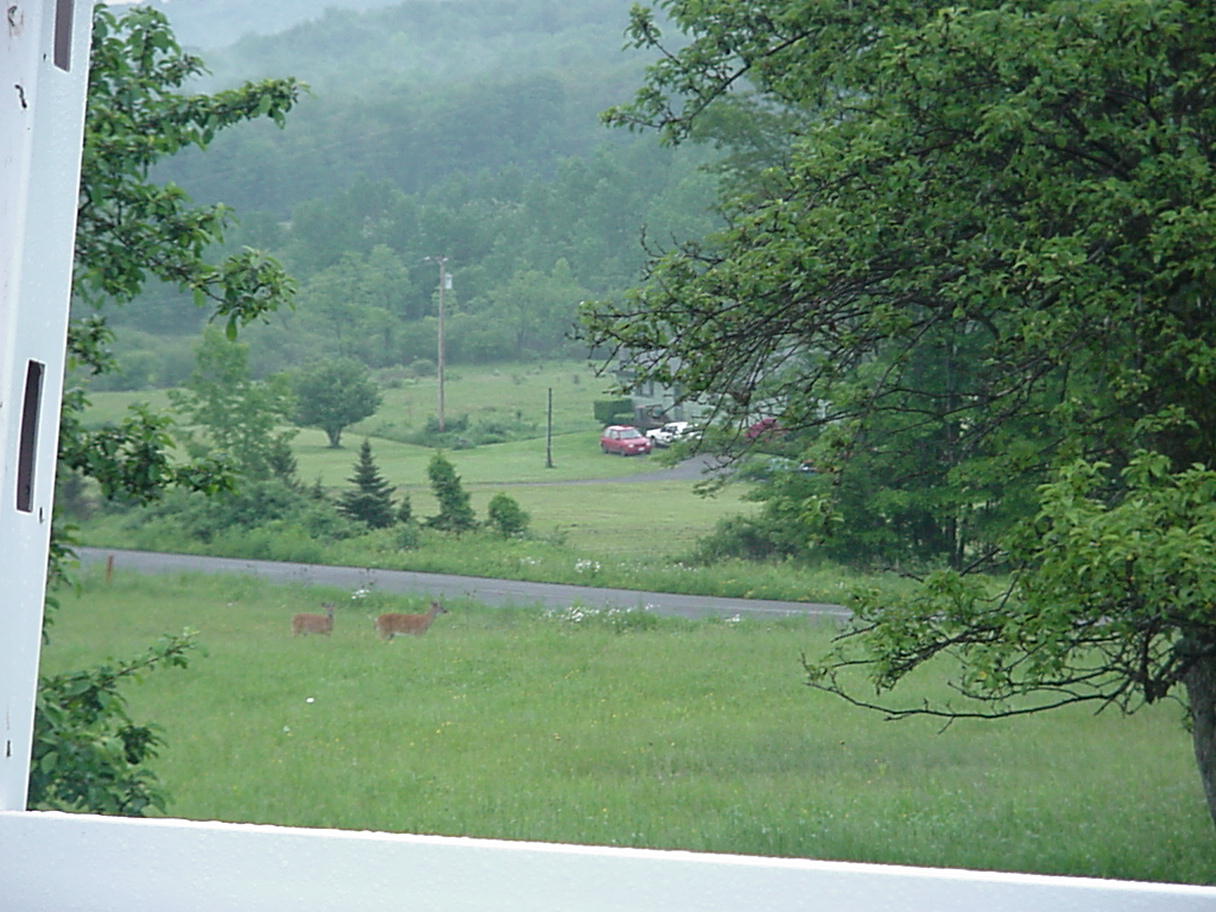 Click pic for video
I was excited to hear the national spelling bee was to be on "regular TV" a couple of days ago. I was very much in agreement with the news hour, in regards to "That it is great to see kids get this kind of recognition for mental achievement not just achievement in athletics". I remember writing a great paper regarding the "revenge of the nerds take II". Just like when Bill Gates and all the other non-bureaucratic engineers started to get real attention from their achievements we will see information savvy folks do the same. Forgive them they know not what they do. Ask the folks who are working the Google enterprise.