It is Easter. I am on spring break this week so I only had to spend about 1/2 an hour on homework. That was nice. We got some gravel down in the driveway this morning. The driveway is just downright bad now, a big improvement over its previous state. I have to calculate how much crusher run to get... Actually forget that I'll just order a super jumbo truck load. That should be good for a couple of weeks. I am also figuring out how to lime my fields. I need about 40 ton of lime. I am planning on mounting the spreader to the rear of the tractor so I can apply lime while I am mowing.
We had another chicken croak. She was sick and one of her sisters poked her real good when I was in with them. She dropped in about five minutes after that, Dead Chicken.
Douglas has an ant farm working in the kitchen. That is a lot of fun. I am going to have to post a little movie of the ants in their mindless drive to make tunnels. No plan, no real reason, just instinct.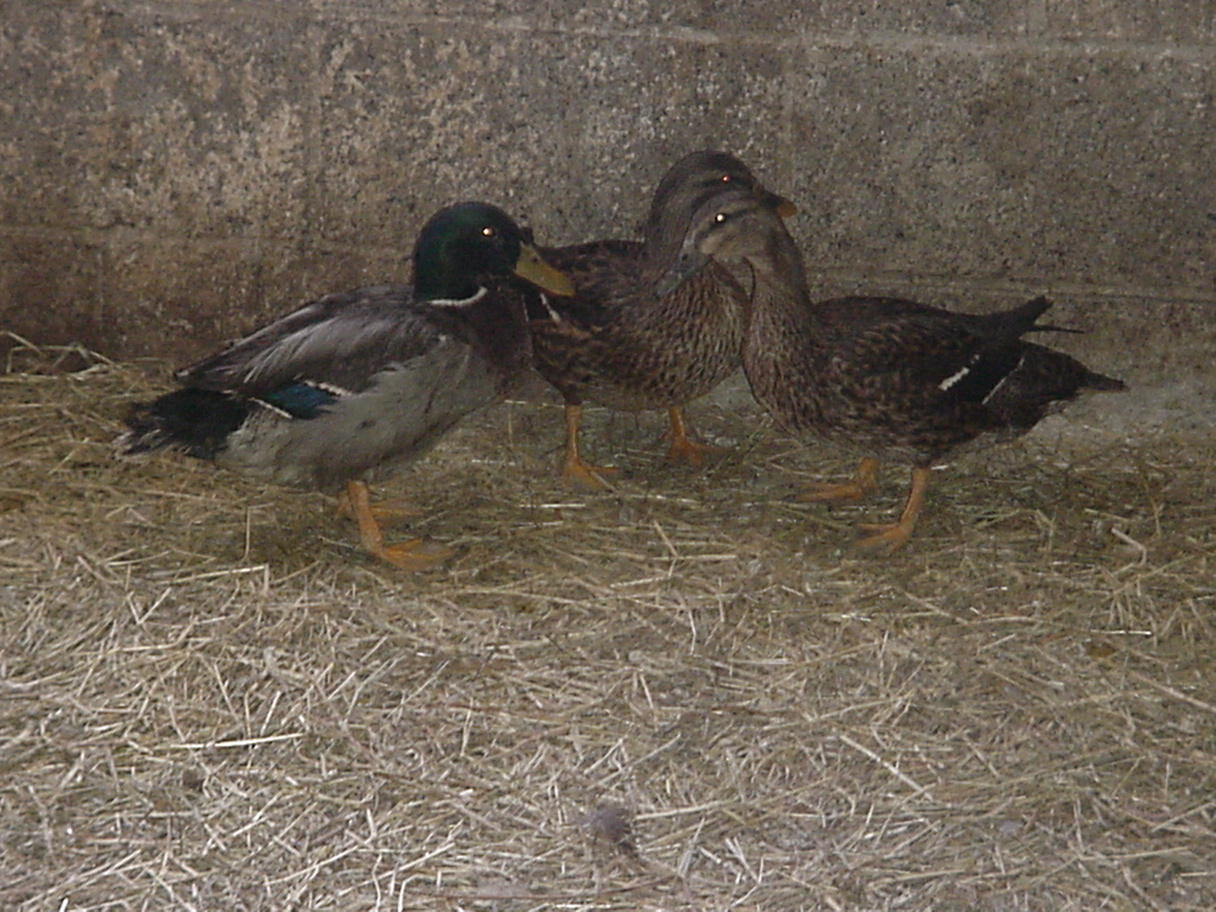 Click pic for video
The following is a picture of my desktop. I am watching a TV program in the upper right (Skeeter Davis). I have my class in the center and ebay in the rear along with the e-mails, of which many are unread.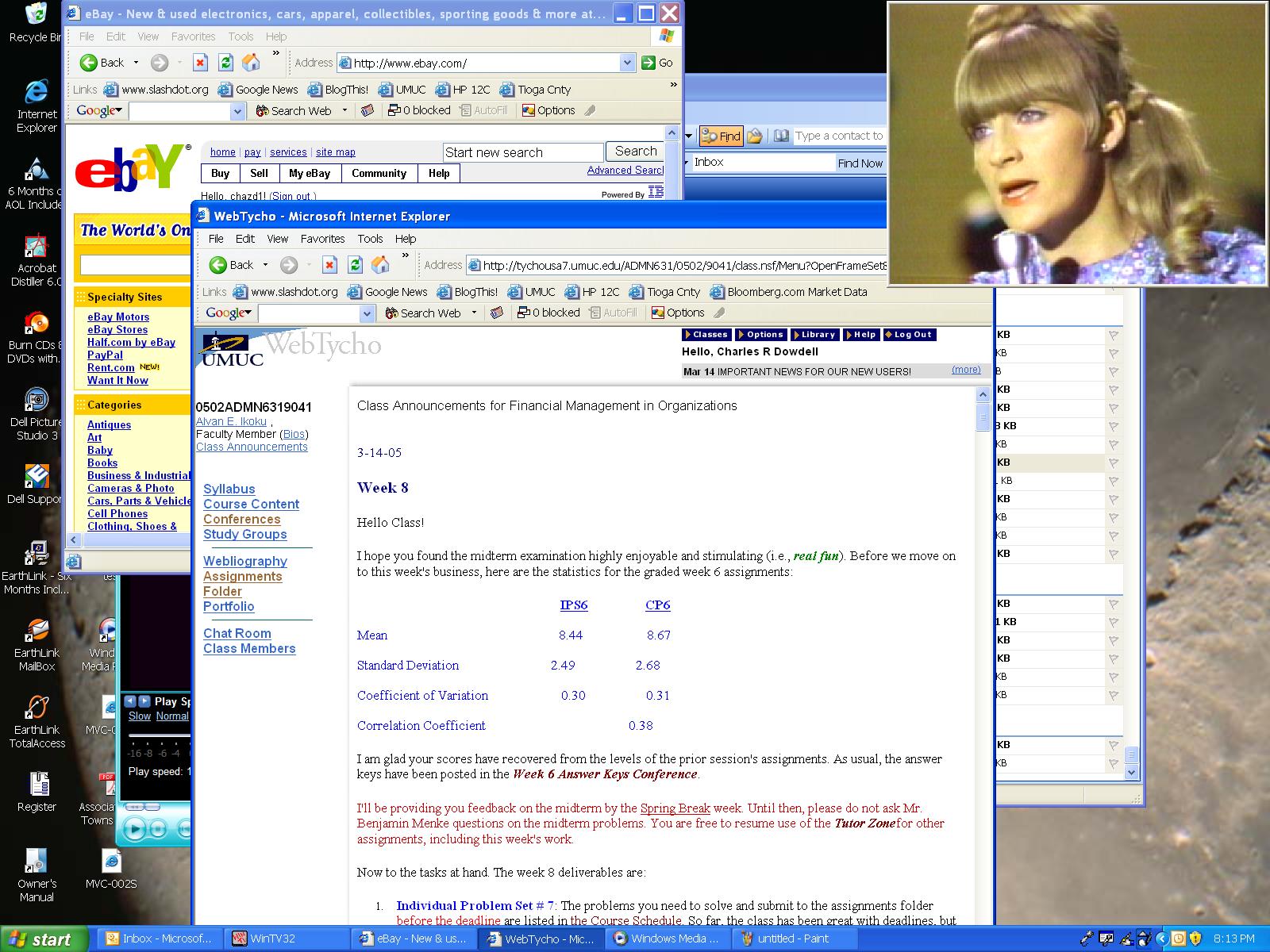 The Internet is a fad; I told you.
It was nice weather today. My homework took less time than usual. It still took hours. I don't know what I would do without my new calculator and my Barron's Dictionary of Financial and Investment Terms.
I started all the machines today. I can see spring is coming. We had a lot of melt-off today. Despite the mud out there, the drainage system I put in last year seems to be handling the water quite well. I have a lot more of that kind of work to do. The latest plan calls for a well, spring, alcove kind-of-thing that you see in Europe everywhere. Originally, I was going to put in a hand pump, but now I am considering a gravity, always-running feature next to the future garage. I am looking forward to working on the brick or stone work.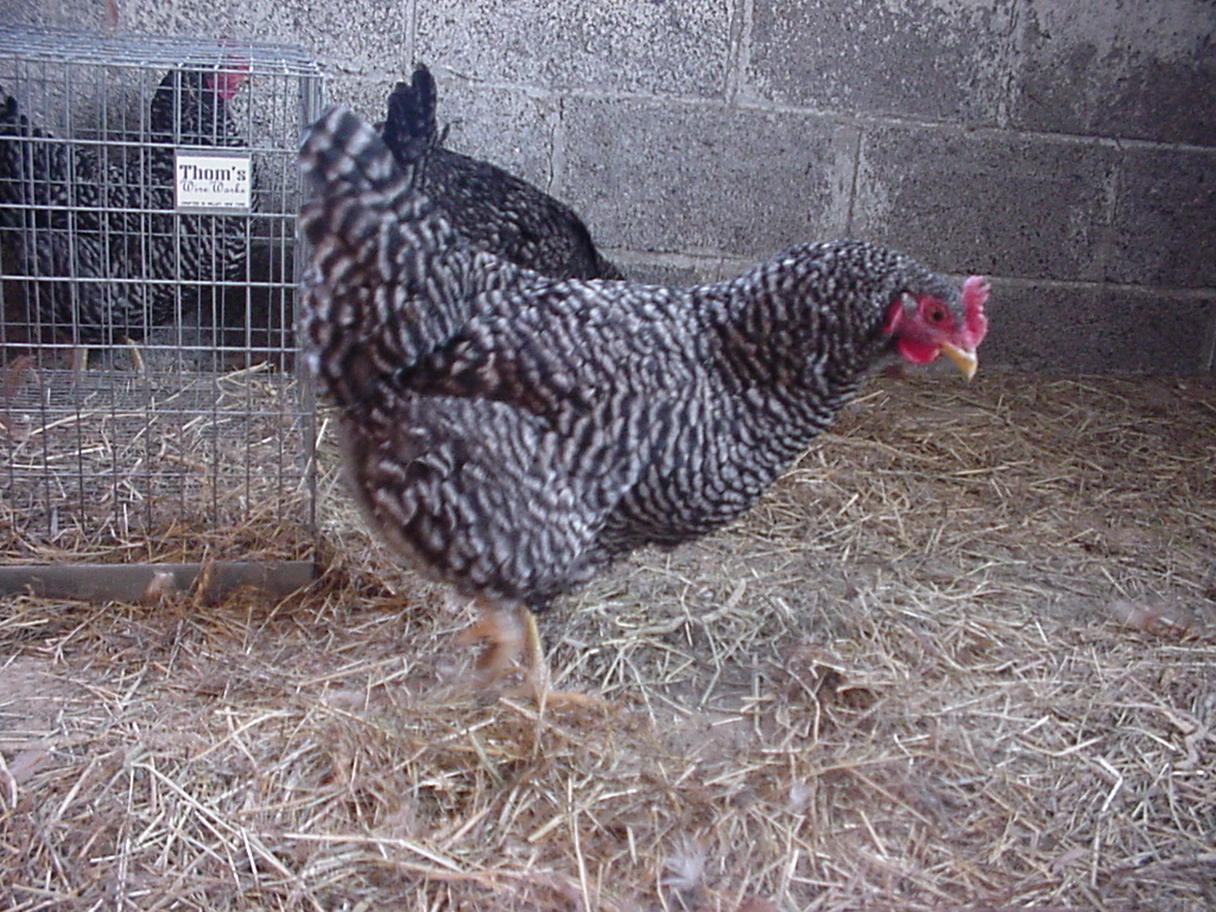 Click pic for video
I saw two nice sundogs this morning on the way into work. They are a curiousity for sure. For example, what sets the distance from the sun to the sundog. The air seemed clear. It did not seem like there were any ice crystals in the air, 6-sided or other-sided. It was nice to see it and know what it was.
I turned in my midterm exam, 14 pages of financial analysis. I am optimistic. I spent quite a bit of time on it, that is for sure. Some things still don't make total sense. It is those pesky things that help you to learn though.
This Tuesday we have a Berkshire town meeting in regards to our new "Road Preservation Law." Wednesday we are having the Tioga County planning board meeting in Berkshire. We have a couple pieces of business I need to review beforehand.
I took a couple of hours off yesterday. Douglas's friend Jamie came down with a vintage snowmobile (Bought as scrap metal). They spent all day Saturday and Friday night cruising around the property. I took it around for awhile and did some jumps and stuff. It was kinda nice getting around so easily in the deep snow that would be very difficult to get to otherwise. The property is faring winter well (what else would it do?) It was a good distraction from school. It is inane fun. It all turns to work as compulsion takes hold.
The animals are well and the higher temperature today boosted their animal spirits.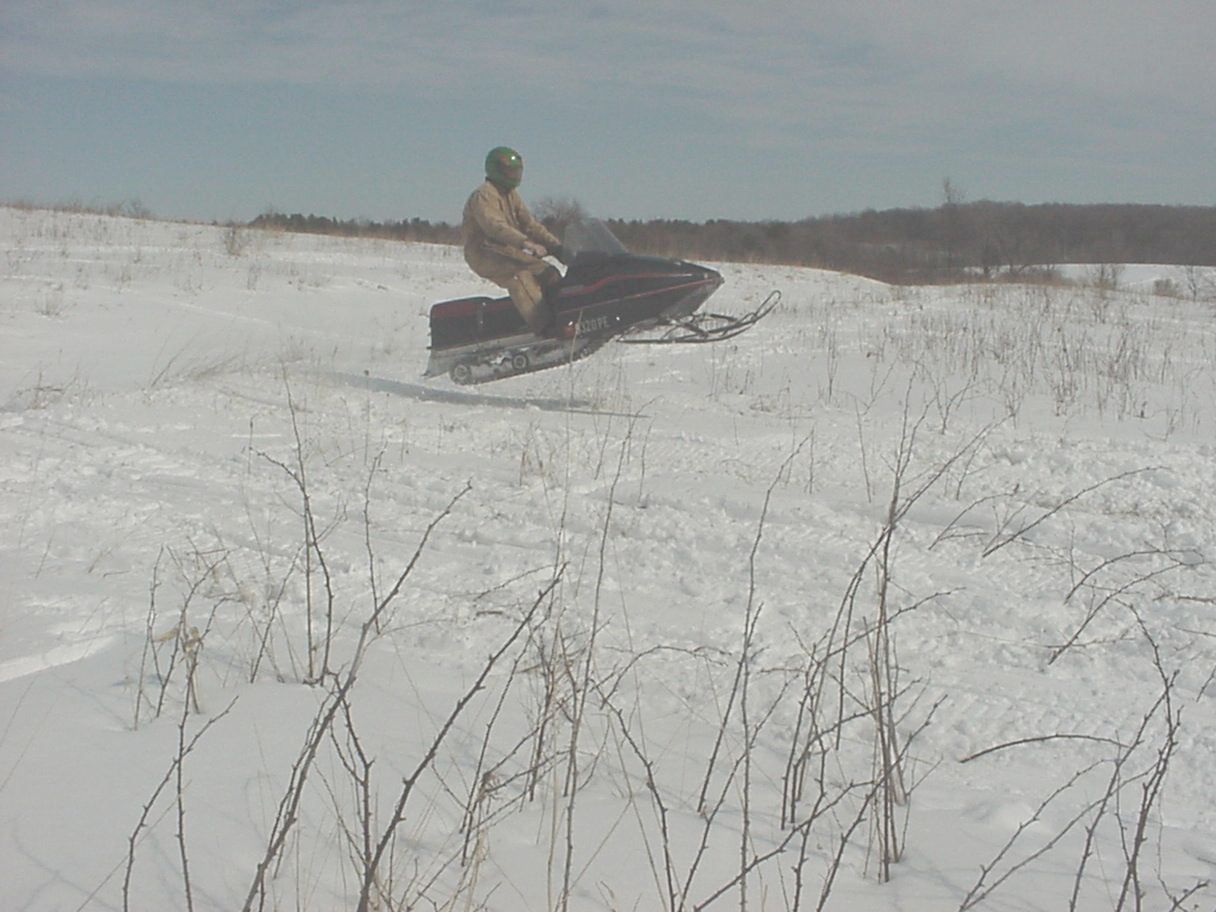 Click pic for video
I need to fix the archive issue with my blog. I really have to add the RSS feeds. (blah blah blah more projects Argghh!!!?/ ). I probably should drop out of school and devote more time to the web world. I see some cool stuff to get going. How things change. Earlier in my life I would drop out to pursue things. Now, I stay in not to pursue things. It is priorities, basic priorities.
I will have to start posting more pictures soon. There is so much happening.
I just got a chill. Bonnie says that happens when someone walks on your grave.
It is windy and cold out there. It was 50 Above yesterday. I really hate the wind (so do the llamas). It seems that wind is one of Mother Nature's recycling devices. First from the north for 12 hours then from the south for 12 hours. We give up already.
I was thinking about some of the best speeches the world has ever known (Disclaimer: English language, recorded, rich media, history). One that always comes back is the one of Martin Luther King Jr,. Of course, Winston Churchill and our great U.S. Presidents are right in there too. Fantastic!
Most people do not realize that he (King) was killed (look up assassinate in the dictionary) shortly after he gave this speech. Consider that fact as you listen to this audio (about 19 minutes, scroll ahead to the last 6 minutes or the last 3 minutes for most of us people on a busy schedule. Just make sure you understand the "if I had sneezed" reference). It is worthwhile. I apologize for the real audio format. Many people do not realize that RA is a demonic format.
Toastmasters Note: Listen for when King confuses 1200 Miles with 1200 feet. He moves through the speech fludidly and without reflection. Skill. He moves on with confidence and grace.
I have a dream speech (about 18 minutes, how many commercials is that on TV?)
Other than that, school is challenging, work is challenging, the farm is challenging. I picked up three more laying chickens from Cousin's Liz and Ken. Currently, the pecking order is being established between the Rhode Island Reds (incumbents) and the Barred Rock (challengers). No, I am not having cock fights. I now have 3 of each breed and they now share space. They are all very nice chickens. I have two eggs today from the challengers.
"Nothing can be enjoyed by us without it first having cost labor..." Abraham Lincoln
Life is interesting if nothing else.
We are getting a few more chickens. Bard Rocks they are. Refugees from a 4H project, layers they are.
We have a bit of snow, measured in feet not inches. It will keep us all busy between getting gas for the machines, the moving, the discusions and so forth.