From my Dad (about Tivoli NY) reproduced with permission:
I went back to Tivoli this weekend to attend a high school reubion. The school closed in 1965 and the reunion was for all the graduates ever. It will probably be the last since every body is at least 60. Although I had gone back to Tivoli fairly often over the years, I hadn't seen any schoolmates in 50 years or so. It turned out that Mary Alices's cousin had worked for IBM Kingston and built a house up Kerley Corners Road looking down on the village with the "million dollar view" of the Catskills. He retired and sold it four or five years ago and moved to Pine Plains.
About 100 people showed up at noon on Saturday for a cookout at the American Legion Hall. The old hall next to the Fire Station had burned down some years ago. The new one is a lot farther from the road. A good venue for this sort of thing. We had hamburgers, sausages, etc. The main thing was meeting everybody and finding ou t what people were doing.
I walked all over the village, reminiscing, and reliving the old days. The school is still there. It and the gym have been divided into a dozen appartments. The village has been transformed. It used to be a poor place with rundown houses and buildings. Then, the Beehive was active as a garment sweatshop. It now houses some Antique dealers. The village is now yuppified with an influx of people from Bard College. There are at least 5 restaraunts on Main Street. One is in the old Methodist Church. Wally Moore's soda shop was vacant for a lot of years and is now a Deli. Most properties are painted and fixed up with a vibrant pallette of colors. St Paul's is still going strong. The rectory has 4 or 5 apartments and the parish hall has disappeared. The field across Woods Road is a 20 house subdivision. Trinity Church closed a long time ago and is now a private residence.
Later we had a roast beef dinner with about 150 people. I sat with Vera Rifenburg, my only classmate present from 1948. There were 5 of us. Betty Downing married Bill Lasher and both have died. Bob Assanakis is in Florida and Buddy Moore is down south somewhere. I also sat with Betty Moore and Dan Takacs who were married in 1952. Dan was the Superintendent of Schools in Wappinger Falls. Lois Rockefeller was also at the table. She is quite infirm.
Other people in the class of 1949 or 1950:
Present:
Jean Pillon still lives in Tivoli. Her brother, Bummy, was killed in Korea.
Peter Sturges still lives on the family farm
Absent
Lloyd Demboski studied to be a mortician, but got into New York State politics and is still involved up in Albany. Audrey Lester lives in Virginia Veronica Lester lived in France and Belgium for many years, but is now living down south somewhere. Larry Takacs lives in Poughkeepsie, He had an accident the day before and couldn't come. Michael Teck, Rosemary (Tootsie) Coon and Mary Downing have died.
A lot of kids went to Plattsburg State Teachers. A lot of people have been priced out of living in Tivoli, but a fair percentage (50% ?) still live within 30 miles. As a group they are good, low profile, ordinary people. The salt of the earth. I'm happy to have gone to school with them.
That's about it. By the end of the evening, I was into sensory overload. If you have questions, I'll try to remember more.
Victor Dowdell
Stressors of late have been cumulative. I discovered some fraudulent charges on one of my accounts, my foot, and work. The pain in my foot was really bad the night before last. Today it is much better. I expect to be off the crutches in the next couple of days. I won't be running anytime soon though. All in all I am doing pretty well.
What was up with Google having Morse code on the splash page today? Morse code is of course not a written language. It is an audio language. It should have been displayed as "DAH DAH DIT   DAH DAH DAH   DAH DAH DAH   DAH DAH DIT   DIT DAH DIT DIT   DIT"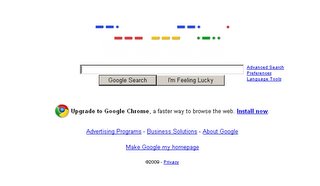 Well my foot-thing or my Achilles-tendon-thing is really a pain-thing at this point. It was a nuisance. Now it it is a downright inconvenience. I am on crutches. I am back at work, but on crutches. Rather than have a ruptured Achilles tendon which can be crippling, I am doing the right-thing and taking care of it with no weight on it. What a pain in the... well the ankle. It hurts, but I will survive, actually thrive. Farming on crutches is a bit of a challenge. I was out back (good thing my new jeep has an automatic) with the chainsaw. Exhausting.
My editorial piece in the town newsletter will be distributed to all the towns folks on May 2nd. It reads as follows:
Conservation of our most important assets.
Community pride is a real thing. I believe in the potential of any town or community that understands and senses the power of community pride. Two years ago I was fortunate enough to be selected to participate in the United States Antarctica Program. I spent four months in Antarctica working with science teams establishing radio communications to support science work on the most desolate and forbidding continent on earth. During this time I learned a lot more of what "community" is all about. Having to work very closely with hundreds of other folks in an extremely remote location we absolutely had to rely on each other. Each person knew that there was no one else there to help us. We had to get every task done by ourselves. It was all work, thankless or not, boring or exciting, it all had to be done by ourselves. I believe the same is true in our town. After all, Berkshire is almost as remote as Antarctica.
It is surprising to me that today, in the United States, only three hours away from NY City, we have property that resembles third world conditions. We see property in our town that is unsafe, unstable, unsightly and deteriorating. Often times, we see several of these structures on the parcel of land and the property owner is living in a structure nearby.
In a recent visit to Kidron, Ohio, I stayed with Amish people in the heart of Amish country in Ohio. The Amish are (of course) extremely poor. In fact, most live below the national poverty level. I also noticed that their property was not deteriorating, unsightly, unstable or unsafe. Staying with the Amish people helped reinforce my understanding that there is little or no direct correlation between poverty and living in squalor.
No amount of laws, legislation, fines, or other punishments will be totally effective in making our town's property safe, stable, attractive or in good repair. These countermeasures will in fact increase your taxes as the level of government involvement increases. It is a natural fact that the individual property owner needs to ensure the condition of their property is up to the standards of the community.
Next time, when you are driving home, ask yourself as you approach your property. "What kind of person lives in that house?"
Do you need help? Ask your community.
Charles Dowdell
888 N. Ketchumville Rd.
Berkshire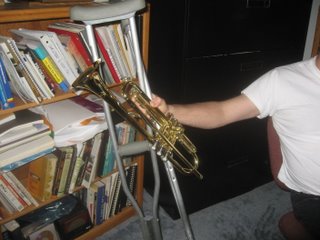 DJ got me a trumpet for my birthday. My lips are bruised now, but wouldn't you know it, I haven't played a trumpet in 30 some-odd years and I pretty much picked it up and played a bit of a tune. Just don't ask we what I had for dinner the other night.
I injured my foot. I am hobbling around at the computer with a trumpet. I seem to have Achilles tendonitis. It is quite painful and if I don't stay off it it can be quite a debilitation. I need to run more. Not just right now, however.
My meeting in Nashville is winding down and I plan on being home Sunday. The place is kind of neat. I am not crazy about resorts and I am usually not interested in the commercialization of fun. But it is good to do something different and it will be good to be back home.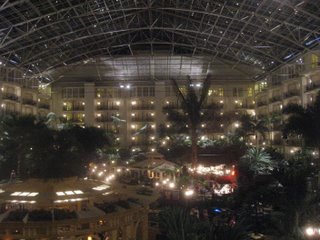 I had a good birthday Tuesday. Yes, I am another year older. I am currently in Nashville TN for a few days for work. And after traveling quite a bit for years I was unfortunate enough to have the Airline lose my luggage. Now I am scrambling to get what I need. I now own a new Golf shirt, Golf belt, Golf socks and Golf underwear. I am now even thinking about taking up golf. The cashier at a restaurant asked me a question about golf since I am obviously very knowledgeable about golf based on the money I drop on Golf clothes. I was happy with myself that I didn't freak out at the airline. They can't help it. They gave me a very informative pamphlet about lost luggage and educated me that I was carrying around a type 22D piece of baggage. There was a brief point where they started to point out where *I* made a mistake that lost my luggage, but I pointed out that I did everything in my control. Not that it could possibly be their fault, it did neutralize the discussion.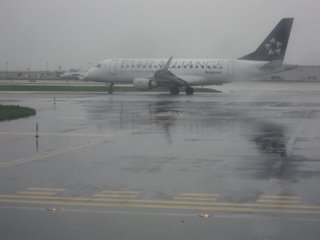 Now here is an Easter egg. It is "eggzilla." It is over 3 inches long by 2 inches. One of the chicks must have had to really work to get this one out. It is a whole omelet in one chicken egg.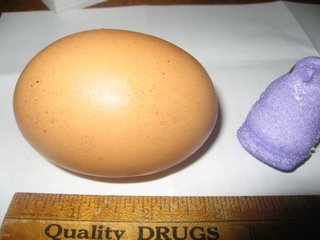 The turkey population looks good this year. I pulled over a couple of times just to watch and listen to the birds. I will have to make some time to do a bit of Spring turkey hunting.
I was a bit over confident the other night flying. It was a bit squirelly with the wind and I bounced a couple landings. No two landings are exactly the same no matter how hard you try.
Today I am doing masonry work in the milkhouse and fixing the wheel studs on the jeep.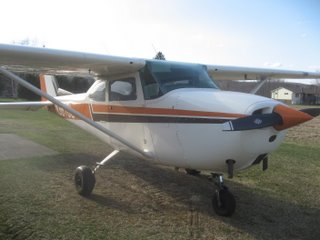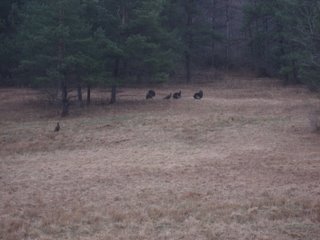 This is one of my favorite pics I took when I was in Antarctica.
This is us comms folks coming down from the summit of Mt. Terror to the Helo. The weather was nice on this particular day, but it was quite cold. The helicopter didn't start the first try. It made us all think. We relied on the helo so much. Spending time on this mountain was quite a thrill. The thin air always made us euphoric. We saved the oxygen for the pilot.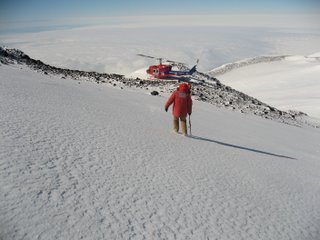 I have been performing field trials with my new jeep. It is a lot cheaper than using the tractors, a lot more comfortable too.
It is nice to live around here. Despite the 2 inches of snow this weekend it is very nice.
I am accelerating my flight training. I expect to have my private pilot licence this year. I am studying for the written exam and I am also studying for the Certified Information Security Manager(CISM) test in June. Neither of these tests is cheap.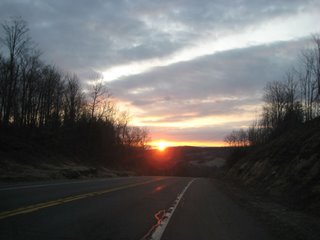 I am trying out a new blogging tool.
It has been a tough week for many. Binghamton made the national news albeit not in a positive light. I wish someone had a concealed carry pistol permit on site and could have taken the rabid dog down before he hurt or killed more people. Too bad.