It is Independence day once again. I am monkeying around with stuff here on the farm. The gates are coming along and I managed to fix a bunch of stuff. It is raining on and off.
The llamas got out a week or so ago. It really startled the neighbor to look up from the sink and see Professor looking in the window. The llamas, I guess, were just bored.
Here is a picture of my Recirculating Infusion Mash System (Rims) I built a number of years ago. It was quite an innovative device for all grain brewing of beer. I designed the electronics and the compact system. It is now out of my house. I have too may hobbies. I want to concentrate on a few such as the dozen or so I have left.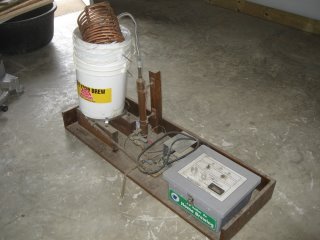 This picture shows Calisto (the white one), Professor, and Artemis chilling on the scene yesterday. Artemis is in the dirt spa. This is where the llamas take turns rolling around in the dust and enjoying their dirt.