My exercise regimen is paying dividends. I am somewhat surprised at the progress. I am running 3.1 miles (5k) in 24 minutes now. The amount of weight I use on almost all the machines has increased, except for the biceps. I have backed off a little bit on the overall routine just to take the edge off it. Further progress I am sure of, but I can take more time.
Bonnie's sister is down this weekend and we celebrated Bonnies birthday.
I made Baked Alaska. I did quite a bit of research before I started. My recipe was a combination of recipes I gleaned from the web.
I made a 13 x 9 inch chocolate cake, cut into 6 pieces. I took a half gallon of french vanilla ice cream and cut that into 6 even slabs. I refroze the ice cream slabs in foil in the big cold freezer we have downstairs. Then it is time for the meringue. I used our own chicken eggs being careful to use the oldest eggs we had. I read that you should use eggs at least 4 days old. (That was difficult). I had about 9 or 10 egg whites being very careful not to get any yolk and avoiding getting any hand oils in the egg whites. I added about an 1/8 of a tsp of cream of tartar in 1 cup of confectioners sugar. I very vigorously beat the egg whites with an electric mixer and slowly added the sugar-mix. Minutes later I had a stiff meringue. I assembled the deep-frozen slabs of ice cream and cake on top of brown paper on a cookie sheet. The assembly then got covered with the meringue, carefully and completely down flush with the brown paper, looking for leaks. I froze this new assembly for a couple of hours. Placed the alaskas in the oven at 450 degrees for about 10 minutes. (could have gone longer). I garnished with canned pears and chocolate sauce. It was good.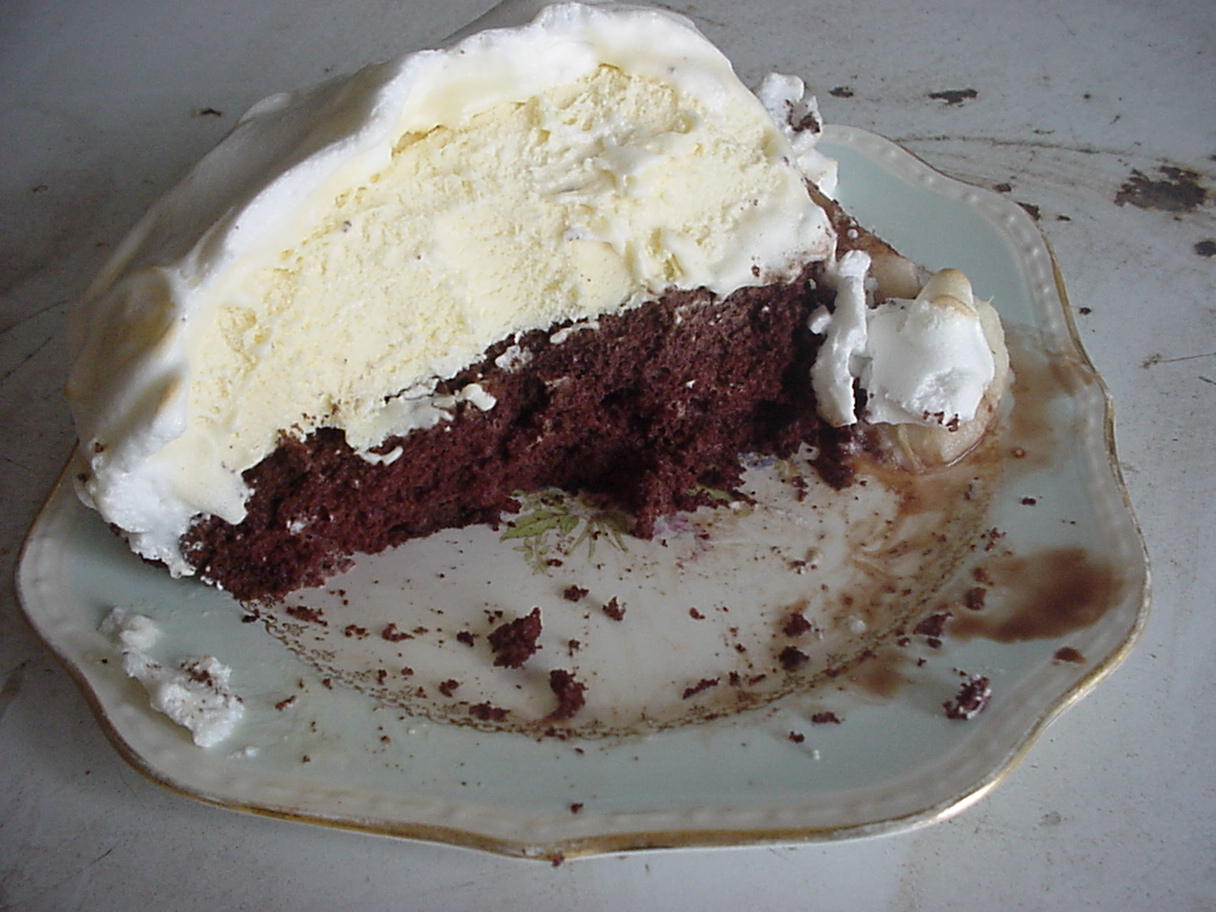 I had quite a treat this morning. I have pictures of a Sundog. Sundogs are created much like a rainbow except that the refraction is done in atmospheric ice crystals. They are distinctive from rainbows since they most often look almost purely vertical. In my pictures you can see they are gently curved, although not nearly as much as a conventional liquid-water rainbow. I was very pleased to get the pics. I am again surprised at the number, variety and intensity of rainbows I have seen on the farm. As with all rainbows, seeing them in person far exceeds the experience seeing them imaged.
Here is a decent link that explains Sundogs. Sundog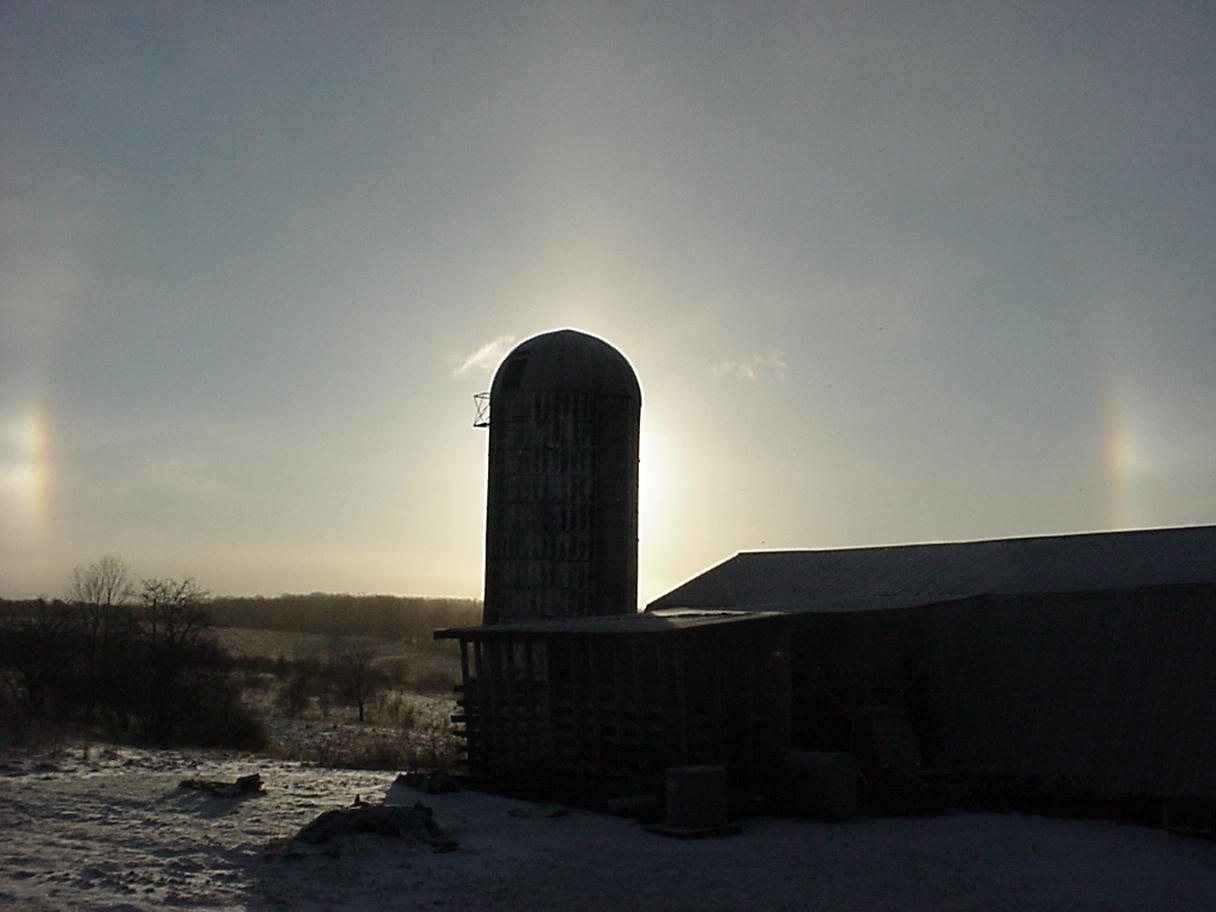 Click pic for video
There must be a term surrounding the concept of analying but not understanding. I mean the alpha llama Professor can stare at me and a match, watch me strike it and light the heater so close, right next to my face with all his might and sadly will never figure out how to make his herd-friends warm when he wants. This is a fact of which I am certain. The same condition applies to watching something like the Nightly Business Report. You can talk about all sorts of stuff and show all sorts of graphs, how do you communicate what took you a lifetime to figure out to another individual?
The llamas got their rabies shots the other day. In NY we have to have a licenced vet administer a rabies shot. Jim the vet said, you have to watch out, your llamas may give llamas a good name. It took about 15 minutes for Dr. Jim to get them all. He agreed, our llamas are well trained.
It was cold this weekend; It got down to about 5 below on the farm. It was pretty windy and nasty until it got down to about zero. The cool air felt great. The wind was a pain. The llamas decided to hold up for most of it in their house until the temperature dropped and the wind calmed. They have the heater, their straw and each other.
I decided to spend some concerted effort on CAD for the property. I am getting frustrated on my lack of progress on the plan. We have lots of concepts. I have the tools; let's get it on drawings with scales, numbers and realities.
I am somewhat taken back that the GE low voltage switching system that seemed ubiquitous with remote switching is no longer made. I was relying on that stuff. I hope there is a replacement. I suspect there is.
I have been getting a Debian (linux) machine going in the ham shack. My common sense and "off the cuff" realization continues to be that Linux is unix but since there is no real "paper trail" (talk about a hold-over) of information theft it is good to go. Bravo. Think what this means with emerging societies since often they don't have have the same sense of information ownership as us. As pragmatic testimony, at least they are getting unix not winders. I hope (and have hope they do) the people making these deals have a clue.
The following pic I titled, "When we don't fit in."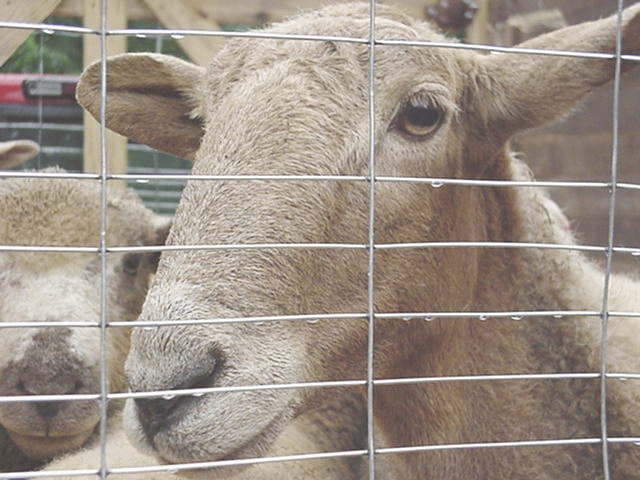 This pic is titled, "Too much coffee in the woods"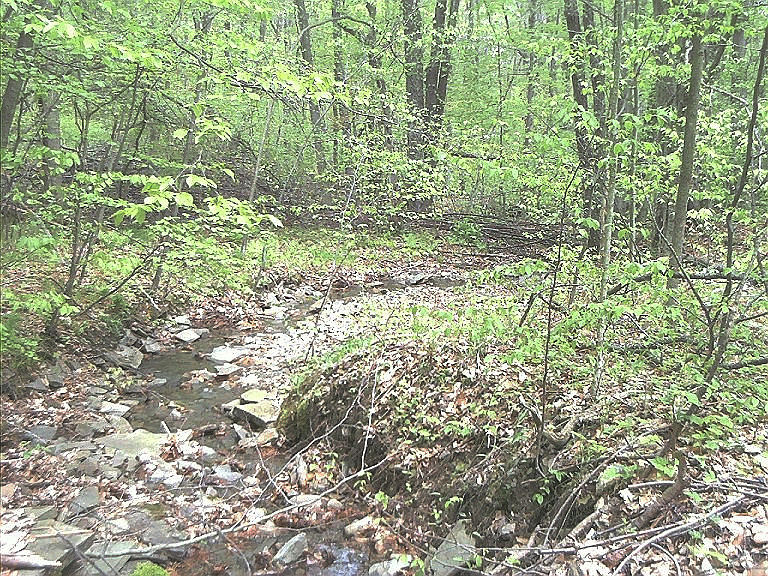 I went and looked at the Solon Pond Mill. I was mistaken last time when I was up there in 2000. It was Summer and everything was overgrown. The mill is about an 1/8 mile from the building I thought might have been the mill. The mill is in rough shape. But everything is still there. I couldn't get underneath to see if the turbine was in good shape. I had heard that it was buried in muck. I suspect it is there, but probably in rough shape as well. It is a combination grist and saw mill, and could be restored to do exactly that. I am going to pass. I was thinking it would make a great homesite however. There is 3.9 acres (a lot for a mill) and you could build a nice house that looked period and work on getting an awesome water powered workshop out back. There is a planner, and it looks like a jig saw and I bet a few other pieces of woodworking equipment in there. All the shafting looks good. It is fun to think about the coolness of starting with logs and making furniture all out in that small mill with water power alone. The grist mill looked almost pristine. The floor has fallen through in an area of the shop above the creek.
The roof has fallen in over a portion of the sawmill. Definately a handyman special. The seller said that he had the design to rebuild the dam using precast. I thought that was a great idea. The mill pond is approximately 1/2 acre in size. There are lots of trees that would have to come down both in the pond and around the mill. They are too looming and destructive. One of the neat things is that the mill is right over the creek. It would look great restored, or at least functional. In the photos you will see a log of the grist mill tonnage over different years written in pencil on one of the belt ways.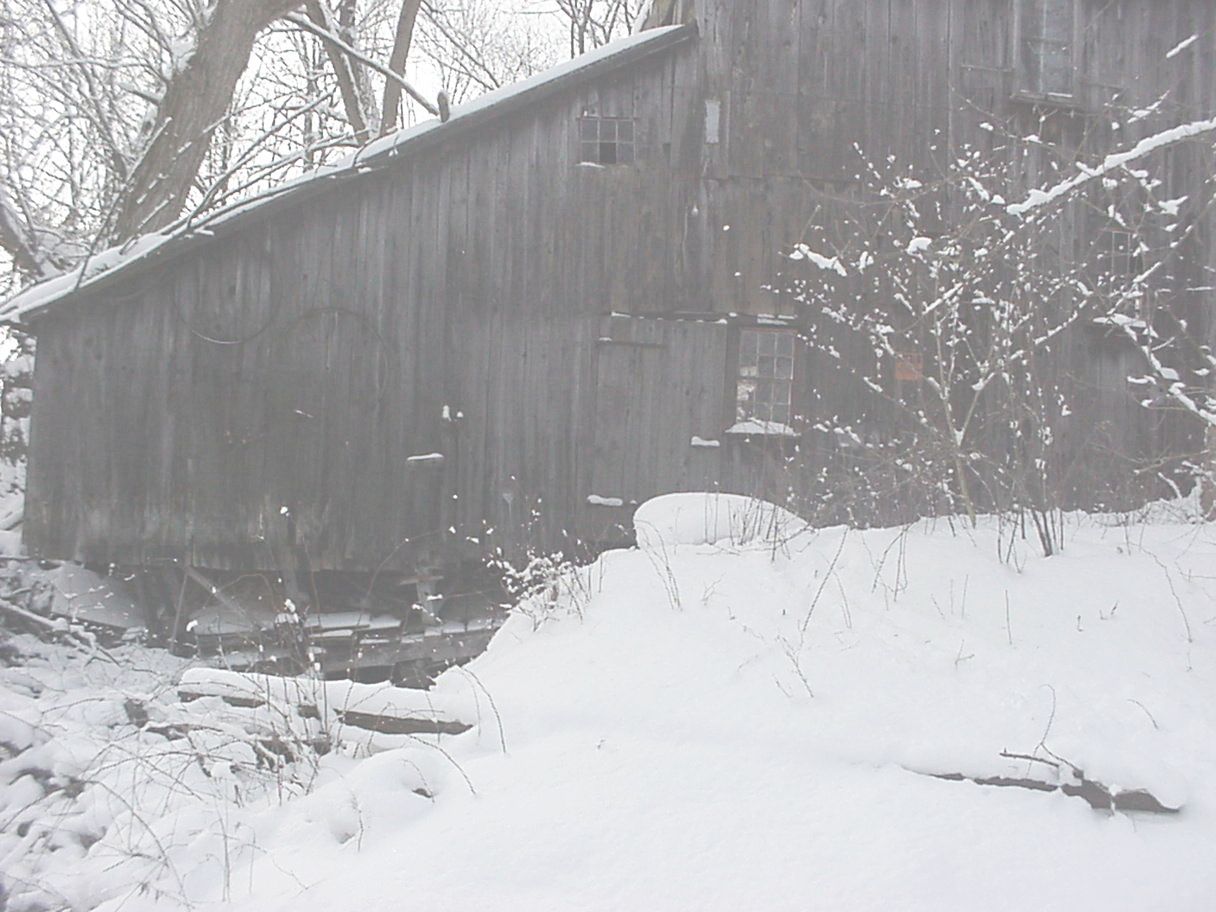 Things have been busy. I think though that things are always busy and not busy at the same time. It is often how you view it.
I had a pleasant experience a while back. The power went off for several hours in the middle of the night. The house stayed warm and the grandfather clock still chimed. The way I noticed the power was off was because the clock radio was blinking. I may have to get a wind-up alarm.
We are going to look at an old water mill this weekend. We looked at it years ago. It is for sale now.
The following pic is a different old water mill I discovered a few years back. For people who are not looking, it can be very difficult to appreciate what they are. Most of them are not being saved. They are slowly but surely going away.