$BlogRSDURL$>
Chazd's (Charles Dowdell's) News Burps
This is the online journal of Charles Dowdell.
www.theguysatwork.com
charlesdowdell at gmail.com
Thursday, September 28, 2000
Welcome to Wegmans Food Markets Inc.
We went to Wegmans in Pittsford today for lunch. They have a great selction of tasty sandiwiches and and sushi and all sorts of other interesting foods.
When we were there, a gentlemen was overcome and an ambulance crew tried to revive him. I am unsure what happened to him. It was weird watching all these people gather their lunches and poke around the food with this guy fighting for his life. It is a weird culture we live in. What a contrast in the same scene.
Wednesday, September 27, 2000
Home Page
We had dinner at Mom's tonight. We had meatloaf, and some other interesting items. Where has all the time gone. I am old now.
Monday, September 25, 2000
eBay - Your Personal Trading Community
I had my community TV producer's training this evening. We went over the Camera controls, Super VHS. The cameras are kinda cool. Big fancy camcorders. I am looking forward to producing some stuff on the TV.
Someone at work gave me a half a dozen Estes Rocket Catalogs from the the 1970s. I suspected they were collectible... and it appears they are. There may be over a hundred dollars there. He said he didn't want a cut unless the price gets over 5000 dollars. These kind of people make my day.
Things moved OK on ebay this week for me. It is incredible exposure.
There is no other way to market something so small to so many for so little.
A friend of mine at work told me today his wife broke her leg. That would be bad enough but, he is still getting over back surgery. He is in a back brace. They have 4 kids. I told hime if he needs me to move anything.. just let me know I'll come over.
Saturday, September 23, 2000
Syracuse University
I have homework to do today. I also have to work on the house. Drywall (my favorite) BAH!
The Elmira hamfest is next weekend. That should be a lot of fun. Doug McManus and Greg Mills and I are going down Friday night and camping out. I have to load the truck to the gills on Thursday night. I will have to remember to get a photo of the truck all loaded up.
The new computer is working well. I just spent some time mucking around with the network here at home so douglas can use the printer hooked to my machine. I will be doing alot more screwing around with the network stuff sonn enough. The Linksys Router/switch I bought is definately cool. It is amazing that the functionality that thing has recently cost thousands of dollars. The linksys box cost 150 bucks. Amazing.
Friday, September 22, 2000
Performance Technologies is a global supplier of telecommunications and networking products
We had a meeting at work this morning regarding the new building they plan on building. They were originally going to build just up the street but I guess the lease holders aren't happy about the detention center planned to be built adjacent to our site. The mayor is supposed to sho up here Monday. I guess he is going to try and ply management.
They are planning a two story building. I have suggested to them that for a team environment, two stories would not be best.
I just have a feeling that I will be stationed on the ground floor while the people who have important things to do will be on the second floor.
As a technical writer for over 10 years, I am so incredibly sick of other employees considering my job as secondary or fluff. They consider information as a "fill" or "something nice to offer our customers". These people don't understand that information is what our business is all about. It is what we use to develop our products, build our products and market our products. An information manager can improve the processes involved in any of these areas if allowed to. I am saying
conscious
Information Management
not
information technology.
Who was it that said, "We thought we were in the wine business, but actually we were in the bottling business and we don't know anything about wine."?

In the preceeding quote, substitute "wine" for "information" and the world makes more sense.
Thursday, September 21, 2000
Well I forgot to log that I did win my speech contest at the club level. I participated alone.

Now it is on to the Area Competition, Area 6 that is. I expect approximately 60 or so people to attend. I hope I can be funny. I taped my last effort... listening to it, I can see that I need to relax a little more. No one thinks a person is funny if they seem uptight.

Cheese is the word of the day. I am working on a class assignment on the classifications of cheese. It is very interesting. I only left a few cheese books in the main library in rochester, just a few. Just thinking about all that great cheese makes me reach for the fibercon.

I have an internal interview at work today, for a marketing position. I am curious, to say the least.

I got all my computer parts together last night and got it up and running. It is nice to have a big 19 inch screen at home. I have a lot more stuff to do to get the network the way I want it and get my development environment set up.

It lokks like my "Theory of Classification" class is finally starting to go.

Tuesday, September 19, 2000
I have to give my humorous speech tonight. The title is "goals." If I win at the club level I then give the speech at the area level next month.

It is kind of fun and kind of stressful.

Monday, September 18, 2000
The brew club Oktoberfest was a lot of fun yesterday. I ate 5 dozen clams, bratwurst, a few different chilis and of course some very good beed, mead and barley wine.

All in all, it was a good time. I am kinda tired today. There certainly isn't much activity in my distance class at SU. They seem to be having server problems again.

I have a speech to write (humorous), attend TV production training, buy snow tires, plan for tommorow's toastmaster meeting, go to the library to return books, and do homework.



Saturday, September 16, 2000
I am going to take it easy this weekend. Bonnie and I are going to an antique store and a used book store. I will also do some homework (classifications systems research) and get some stuff listed for sale on ebay. Sunday it turns out is the brew club oktoberfest. I think I will be going to that for a while as well. Of course, this time of year I have to work on the house. I am working on drywall and insulation in the upstairs sitting room.
I am sure I am missing a few things... I am just burned out this weekend.
Friday, September 15, 2000
Performance Technologies is a global supplier of telecommunications and networking products
I have been really stressing out over the last couple of days regarding work and other items of concern.
It turns out the power was off Wedneday night for a reason. A car driven by Alison Christian (17) smashed into a utility pole about a mile from my house. The passenger, Krista Mileo (28) was pronounced dead at the scene.
Lord help us all when we get behind the wheel. We have had our share of nasty wrecks in my neighborhood. When are we going to do something comprehensive about the fatalities caused by kids in cars?
I can't remember feeling this bad in a long time.
Thursday, September 14, 2000
draft-glaude-ss7-gw-00 - ALterNIC - Network Information Center - Diane Boling
Here is a spec of a new standard we are working on at my day job, Performance Technologies.
I have to start on a manual describing the software that is an implemetation of this spec.
Wednesday, September 13, 2000
Toastmasters
I just remembered. I have to write and deliver a humorous speech for next tuesday. It is contest Night.
I just bought some computer stuff. I hate it. The stuff is next to worthless in just a few years.

I bought a 19 in monitor from www.mwave.com and a K6-533 machine from compaq (refurbished).

ARRGhhh... Expensive anyway you slice it.

New Scientist: Forest of fear
One of ideas of the new information age is that certainty must be allowed to slip behind principles.
For example: When you are looking to buy a computer, by the time you find the best deal on the computer that computer is no longer the best deal.
Tuesday, September 12, 2000
Last night I started my first of five training sessions to obtain my Producers Certification to produce Public Access television programs.
WHY?
I have no idea why. I just am. For twenty dollars I am learning all sorts of neat stuff about TV production.
http://www.mediaalliance.org/rg.pubaccess.html
.
Monday, September 11, 2000
IST 631 (DL): Theory of Classification and Subject Representation - WebCT 3.0.23
I just updated my online class home page. The above link will not allow access except for SU distance learning students. I have to go to UPS today to ship out some ebay stuff.
Saturday, September 09, 2000
I have an interesting item on ebay I have posted for a friend.
Truck
Well it is saturday Morning and I probably should be working on the house. I plan on making a large addition to my website regarding the house project that has followed me around for the last 5 years.

Class is over for now. We go into distance mode for the rest of the semester. The proffessor seem good and the material looks interesting.

Bonnie and I looked for old water mills to rehab/restore in chenango and surrounding counties. We found one.. but it was too far gone (besides the one that was recently torn down) the search continues. It was a busy week.

I have to box up stuff that I sold on ebay this week. It is always a pain, but worthwhile.

Wednesday, September 06, 2000
Still in school. We worked on the ethnographic classifications today.
This just in from my friend in Japan, Nostril.
Boss 7 is a brand whereas 250 as you guessed is volume in ccs. The general rule to remember about canned coffee is that the smaller the can, the better the coffee. They're all too sweet, but they've gotten a lot better. And they all give you a fairly decent caffeine rush. From vending machines they go for Y120, and a tad bit less at convenience stores. With the canned coffee report, I'm Mike Deininger, TrivialNonsense, Tokyo. nOsT
>What the hell is the difference between boss 7 and boss 250? Can size? >Caffine content? > > > >
Tuesday, September 05, 2000
I am in school today in Syracuse. The class is called "Theory of Classification Systems". Very Interesting. I will ( after a few days on campus ) go back into distance mode for the rest of the semester.
My school
I will be attending class three days this week on SU campus. I
Friday, September 01, 2000
FITNESSCO. Home of the PostureBall
Will Rodgers quotes Eric Hoffer in saying, "In times of change the learners will inherit the earth. The knowers will find themselves beautifully equipped to deal with a world that no longer exits."
I had a chat with a info-type person on email and I produced the following paragraph that belongs here.
This industry that we are talking about (that really doesn't even have a name yet).. is the future similar to the industrial revolution. The use of information is the future. There are cultural issues, technical issues, economic issues all culminating around a core set of ideas. I am excited (can you tell?).
At lunch, Greg Mills and I went and looked at the bridge that was hit by a truck. Actually, a truck carrying an excavator (with the boom not lowered well enough) smashed into the bridge in Genesee Valley park over I-590. One of the I-beams (6 or 8 foot high) was bent by 2 feet. I am glad I wasn't close by when it happened. I can only imagine what the manager said to the driver of the truck. "Why don't you take tomorrow off" or something just as catchy perhaps.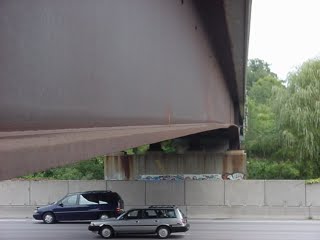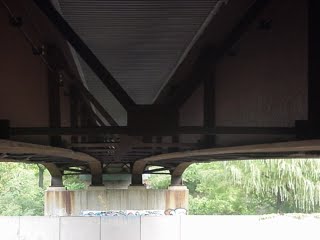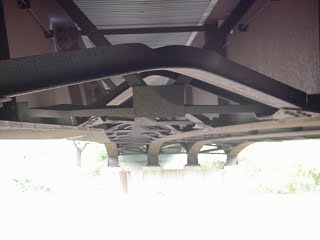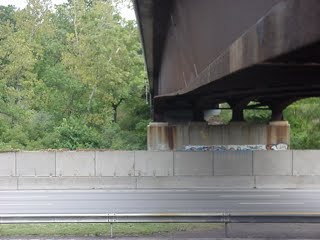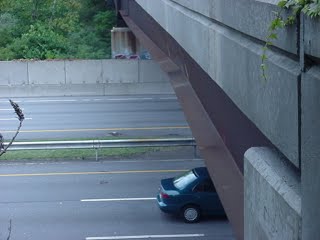 Archives
08/27/2000 - 09/03/2000 09/03/2000 - 09/10/2000 09/10/2000 - 09/17/2000 09/17/2000 - 09/24/2000 09/24/2000 - 10/01/2000 10/01/2000 - 10/08/2000 10/08/2000 - 10/15/2000 10/15/2000 - 10/22/2000 10/22/2000 - 10/29/2000 10/29/2000 - 11/05/2000 11/05/2000 - 11/12/2000 11/12/2000 - 11/19/2000 11/19/2000 - 11/26/2000 11/24/2002 - 12/01/2002 12/01/2002 - 12/08/2002 12/08/2002 - 12/15/2002 12/15/2002 - 12/22/2002 12/22/2002 - 12/29/2002 12/29/2002 - 01/05/2003 01/05/2003 - 01/12/2003 01/12/2003 - 01/19/2003 01/19/2003 - 01/26/2003 01/26/2003 - 02/02/2003 02/02/2003 - 02/09/2003 02/09/2003 - 02/16/2003 02/16/2003 - 02/23/2003 02/23/2003 - 03/02/2003 03/02/2003 - 03/09/2003 03/09/2003 - 03/16/2003 03/16/2003 - 03/23/2003 03/23/2003 - 03/30/2003 03/30/2003 - 04/06/2003 04/06/2003 - 04/13/2003 04/13/2003 - 04/20/2003 04/20/2003 - 04/27/2003 04/27/2003 - 05/04/2003 05/04/2003 - 05/11/2003 05/11/2003 - 05/18/2003 05/18/2003 - 05/25/2003 05/25/2003 - 06/01/2003 06/01/2003 - 06/08/2003 06/08/2003 - 06/15/2003 07/20/2003 - 07/27/2003 08/03/2003 - 08/10/2003 08/10/2003 - 08/17/2003 08/17/2003 - 08/24/2003 08/31/2003 - 09/07/2003 09/07/2003 - 09/14/2003 09/14/2003 - 09/21/2003 09/21/2003 - 09/28/2003 09/28/2003 - 10/05/2003 10/05/2003 - 10/12/2003 10/12/2003 - 10/19/2003 10/19/2003 - 10/26/2003 10/26/2003 - 11/02/2003 11/02/2003 - 11/09/2003 11/09/2003 - 11/16/2003 11/16/2003 - 11/23/2003 11/23/2003 - 11/30/2003 11/30/2003 - 12/07/2003 12/07/2003 - 12/14/2003 12/14/2003 - 12/21/2003 12/21/2003 - 12/28/2003 12/28/2003 - 01/04/2004 01/04/2004 - 01/11/2004 01/11/2004 - 01/18/2004 01/18/2004 - 01/25/2004 01/25/2004 - 02/01/2004 02/01/2004 - 02/08/2004 02/08/2004 - 02/15/2004 02/15/2004 - 02/22/2004 02/22/2004 - 02/29/2004 02/29/2004 - 03/07/2004 03/07/2004 - 03/14/2004 03/14/2004 - 03/21/2004 03/21/2004 - 03/28/2004 03/28/2004 - 04/04/2004 04/04/2004 - 04/11/2004 04/11/2004 - 04/18/2004 04/18/2004 - 04/25/2004 04/25/2004 - 05/02/2004 05/02/2004 - 05/09/2004 05/09/2004 - 05/16/2004 05/16/2004 - 05/23/2004 05/23/2004 - 05/30/2004 05/30/2004 - 06/06/2004 06/06/2004 - 06/13/2004 06/13/2004 - 06/20/2004 06/20/2004 - 06/27/2004 07/04/2004 - 07/11/2004 07/11/2004 - 07/18/2004 07/18/2004 - 07/25/2004 07/25/2004 - 08/01/2004 08/01/2004 - 08/08/2004 08/08/2004 - 08/15/2004 08/15/2004 - 08/22/2004 08/22/2004 - 08/29/2004 08/29/2004 - 09/05/2004 09/05/2004 - 09/12/2004 09/19/2004 - 09/26/2004 09/26/2004 - 10/03/2004 10/03/2004 - 10/10/2004 10/17/2004 - 10/24/2004 10/31/2004 - 11/07/2004 11/07/2004 - 11/14/2004 11/14/2004 - 11/21/2004 11/21/2004 - 11/28/2004 12/05/2004 - 12/12/2004 12/12/2004 - 12/19/2004 12/19/2004 - 12/26/2004 12/26/2004 - 01/02/2005 01/02/2005 - 01/09/2005 01/09/2005 - 01/16/2005 01/16/2005 - 01/23/2005 01/23/2005 - 01/30/2005 01/30/2005 - 02/06/2005 02/06/2005 - 02/13/2005 02/13/2005 - 02/20/2005 02/20/2005 - 02/27/2005 02/27/2005 - 03/06/2005 03/06/2005 - 03/13/2005 03/13/2005 - 03/20/2005 03/27/2005 - 04/03/2005 04/03/2005 - 04/10/2005 04/10/2005 - 04/17/2005 04/17/2005 - 04/24/2005 04/24/2005 - 05/01/2005 05/01/2005 - 05/08/2005 05/08/2005 - 05/15/2005 05/15/2005 - 05/22/2005 05/22/2005 - 05/29/2005 05/29/2005 - 06/05/2005 06/05/2005 - 06/12/2005 06/12/2005 - 06/19/2005 06/19/2005 - 06/26/2005 06/26/2005 - 07/03/2005 07/03/2005 - 07/10/2005 07/10/2005 - 07/17/2005 07/17/2005 - 07/24/2005 07/24/2005 - 07/31/2005 07/31/2005 - 08/07/2005 08/07/2005 - 08/14/2005 08/21/2005 - 08/28/2005 08/28/2005 - 09/04/2005 09/11/2005 - 09/18/2005 09/25/2005 - 10/02/2005 11/13/2005 - 11/20/2005 11/20/2005 - 11/27/2005 12/04/2005 - 12/11/2005 12/11/2005 - 12/18/2005 12/18/2005 - 12/25/2005 12/25/2005 - 01/01/2006 01/01/2006 - 01/08/2006 01/08/2006 - 01/15/2006 01/15/2006 - 01/22/2006 01/22/2006 - 01/29/2006 01/29/2006 - 02/05/2006 02/05/2006 - 02/12/2006 02/19/2006 - 02/26/2006 02/26/2006 - 03/05/2006 03/05/2006 - 03/12/2006 03/12/2006 - 03/19/2006 03/19/2006 - 03/26/2006 04/09/2006 - 04/16/2006 04/16/2006 - 04/23/2006 04/23/2006 - 04/30/2006 04/30/2006 - 05/07/2006 05/07/2006 - 05/14/2006 05/14/2006 - 05/21/2006 05/21/2006 - 05/28/2006 05/28/2006 - 06/04/2006 06/04/2006 - 06/11/2006 06/11/2006 - 06/18/2006 06/18/2006 - 06/25/2006 06/25/2006 - 07/02/2006 07/02/2006 - 07/09/2006 07/09/2006 - 07/16/2006 07/16/2006 - 07/23/2006 07/23/2006 - 07/30/2006 07/30/2006 - 08/06/2006 08/06/2006 - 08/13/2006 08/13/2006 - 08/20/2006 08/20/2006 - 08/27/2006 08/27/2006 - 09/03/2006 09/03/2006 - 09/10/2006 09/10/2006 - 09/17/2006 09/17/2006 - 09/24/2006 09/24/2006 - 10/01/2006 10/01/2006 - 10/08/2006 10/08/2006 - 10/15/2006 10/15/2006 - 10/22/2006 10/22/2006 - 10/29/2006 10/29/2006 - 11/05/2006 11/05/2006 - 11/12/2006 11/12/2006 - 11/19/2006 11/19/2006 - 11/26/2006 11/26/2006 - 12/03/2006 12/03/2006 - 12/10/2006 12/10/2006 - 12/17/2006 12/17/2006 - 12/24/2006 12/24/2006 - 12/31/2006 12/31/2006 - 01/07/2007 01/07/2007 - 01/14/2007 01/14/2007 - 01/21/2007 01/21/2007 - 01/28/2007 01/28/2007 - 02/04/2007 02/04/2007 - 02/11/2007 02/11/2007 - 02/18/2007 02/18/2007 - 02/25/2007 02/25/2007 - 03/04/2007 03/04/2007 - 03/11/2007 03/11/2007 - 03/18/2007 03/18/2007 - 03/25/2007 03/25/2007 - 04/01/2007 04/01/2007 - 04/08/2007 04/15/2007 - 04/22/2007 04/22/2007 - 04/29/2007 04/29/2007 - 05/06/2007 05/06/2007 - 05/13/2007 05/13/2007 - 05/20/2007 05/20/2007 - 05/27/2007 05/27/2007 - 06/03/2007 06/10/2007 - 06/17/2007 06/17/2007 - 06/24/2007 06/24/2007 - 07/01/2007 07/01/2007 - 07/08/2007 07/08/2007 - 07/15/2007 07/15/2007 - 07/22/2007 07/22/2007 - 07/29/2007 07/29/2007 - 08/05/2007 08/12/2007 - 08/19/2007 08/19/2007 - 08/26/2007 08/26/2007 - 09/02/2007 09/02/2007 - 09/09/2007 09/09/2007 - 09/16/2007 09/16/2007 - 09/23/2007 09/23/2007 - 09/30/2007 09/30/2007 - 10/07/2007 10/07/2007 - 10/14/2007 10/14/2007 - 10/21/2007 10/28/2007 - 11/04/2007 11/04/2007 - 11/11/2007 11/11/2007 - 11/18/2007 11/18/2007 - 11/25/2007 11/25/2007 - 12/02/2007 12/02/2007 - 12/09/2007 12/09/2007 - 12/16/2007 12/16/2007 - 12/23/2007 12/23/2007 - 12/30/2007 12/30/2007 - 01/06/2008 01/06/2008 - 01/13/2008 01/13/2008 - 01/20/2008 01/20/2008 - 01/27/2008 01/27/2008 - 02/03/2008 02/03/2008 - 02/10/2008 02/10/2008 - 02/17/2008 02/24/2008 - 03/02/2008 03/02/2008 - 03/09/2008 03/09/2008 - 03/16/2008 03/16/2008 - 03/23/2008 03/30/2008 - 04/06/2008 04/06/2008 - 04/13/2008 04/13/2008 - 04/20/2008 04/20/2008 - 04/27/2008 04/27/2008 - 05/04/2008 05/04/2008 - 05/11/2008 05/11/2008 - 05/18/2008 05/18/2008 - 05/25/2008 05/25/2008 - 06/01/2008 06/01/2008 - 06/08/2008 06/08/2008 - 06/15/2008 06/15/2008 - 06/22/2008 06/22/2008 - 06/29/2008 06/29/2008 - 07/06/2008 07/06/2008 - 07/13/2008 07/13/2008 - 07/20/2008 07/20/2008 - 07/27/2008 07/27/2008 - 08/03/2008 08/03/2008 - 08/10/2008 08/10/2008 - 08/17/2008 08/17/2008 - 08/24/2008 08/24/2008 - 08/31/2008 08/31/2008 - 09/07/2008 09/07/2008 - 09/14/2008 09/14/2008 - 09/21/2008 09/21/2008 - 09/28/2008 09/28/2008 - 10/05/2008 10/05/2008 - 10/12/2008 10/12/2008 - 10/19/2008 10/19/2008 - 10/26/2008 10/26/2008 - 11/02/2008 11/02/2008 - 11/09/2008 11/09/2008 - 11/16/2008 11/16/2008 - 11/23/2008 11/23/2008 - 11/30/2008 11/30/2008 - 12/07/2008 12/07/2008 - 12/14/2008 12/14/2008 - 12/21/2008 12/21/2008 - 12/28/2008 12/28/2008 - 01/04/2009 01/04/2009 - 01/11/2009 01/11/2009 - 01/18/2009 01/18/2009 - 01/25/2009 01/25/2009 - 02/01/2009 02/01/2009 - 02/08/2009 02/08/2009 - 02/15/2009 02/15/2009 - 02/22/2009 02/22/2009 - 03/01/2009 03/01/2009 - 03/08/2009 03/08/2009 - 03/15/2009 03/15/2009 - 03/22/2009 03/22/2009 - 03/29/2009 03/29/2009 - 04/05/2009 04/05/2009 - 04/12/2009 04/12/2009 - 04/19/2009 04/19/2009 - 04/26/2009 04/26/2009 - 05/03/2009 05/03/2009 - 05/10/2009 05/10/2009 - 05/17/2009 05/17/2009 - 05/24/2009 05/24/2009 - 05/31/2009 05/31/2009 - 06/07/2009 06/07/2009 - 06/14/2009 06/21/2009 - 06/28/2009 06/28/2009 - 07/05/2009 07/12/2009 - 07/19/2009 07/19/2009 - 07/26/2009 07/26/2009 - 08/02/2009 08/02/2009 - 08/09/2009 08/16/2009 - 08/23/2009 08/23/2009 - 08/30/2009 09/06/2009 - 09/13/2009 09/13/2009 - 09/20/2009 09/20/2009 - 09/27/2009 09/27/2009 - 10/04/2009 10/04/2009 - 10/11/2009 10/11/2009 - 10/18/2009 11/01/2009 - 11/08/2009 11/08/2009 - 11/15/2009 11/15/2009 - 11/22/2009 11/22/2009 - 11/29/2009 11/29/2009 - 12/06/2009 12/06/2009 - 12/13/2009 12/13/2009 - 12/20/2009 12/20/2009 - 12/27/2009 01/03/2010 - 01/10/2010 01/10/2010 - 01/17/2010 01/17/2010 - 01/24/2010 01/24/2010 - 01/31/2010 01/31/2010 - 02/07/2010 02/07/2010 - 02/14/2010 02/14/2010 - 02/21/2010 02/21/2010 - 02/28/2010 02/28/2010 - 03/07/2010 03/07/2010 - 03/14/2010 03/14/2010 - 03/21/2010 03/21/2010 - 03/28/2010 03/28/2010 - 04/04/2010 04/04/2010 - 04/11/2010 04/11/2010 - 04/18/2010 04/18/2010 - 04/25/2010 04/25/2010 - 05/02/2010 05/02/2010 - 05/09/2010 05/09/2010 - 05/16/2010 05/16/2010 - 05/23/2010 05/23/2010 - 05/30/2010 05/30/2010 - 06/06/2010 06/06/2010 - 06/13/2010 06/13/2010 - 06/20/2010 06/20/2010 - 06/27/2010 06/27/2010 - 07/04/2010 07/04/2010 - 07/11/2010 07/11/2010 - 07/18/2010 07/18/2010 - 07/25/2010 07/25/2010 - 08/01/2010 08/01/2010 - 08/08/2010 08/08/2010 - 08/15/2010 08/15/2010 - 08/22/2010 08/22/2010 - 08/29/2010 08/29/2010 - 09/05/2010 09/05/2010 - 09/12/2010 09/12/2010 - 09/19/2010 09/19/2010 - 09/26/2010 09/26/2010 - 10/03/2010 10/03/2010 - 10/10/2010 10/10/2010 - 10/17/2010 10/17/2010 - 10/24/2010 10/24/2010 - 10/31/2010 10/31/2010 - 11/07/2010 11/07/2010 - 11/14/2010 11/14/2010 - 11/21/2010 11/28/2010 - 12/05/2010 12/05/2010 - 12/12/2010 12/12/2010 - 12/19/2010 12/19/2010 - 12/26/2010 12/26/2010 - 01/02/2011 01/02/2011 - 01/09/2011 01/09/2011 - 01/16/2011 01/16/2011 - 01/23/2011 01/23/2011 - 01/30/2011 01/30/2011 - 02/06/2011 02/13/2011 - 02/20/2011 02/20/2011 - 02/27/2011 02/27/2011 - 03/06/2011 03/06/2011 - 03/13/2011 03/13/2011 - 03/20/2011 03/20/2011 - 03/27/2011 03/27/2011 - 04/03/2011 04/03/2011 - 04/10/2011 04/10/2011 - 04/17/2011 04/17/2011 - 04/24/2011 04/24/2011 - 05/01/2011 05/08/2011 - 05/15/2011 05/22/2011 - 05/29/2011 05/29/2011 - 06/05/2011 06/12/2011 - 06/19/2011 06/19/2011 - 06/26/2011 07/03/2011 - 07/10/2011 07/17/2011 - 07/24/2011 07/24/2011 - 07/31/2011 07/31/2011 - 08/07/2011 08/07/2011 - 08/14/2011 08/14/2011 - 08/21/2011 08/21/2011 - 08/28/2011 08/28/2011 - 09/04/2011 09/04/2011 - 09/11/2011 09/11/2011 - 09/18/2011 09/25/2011 - 10/02/2011 10/02/2011 - 10/09/2011 10/09/2011 - 10/16/2011 10/16/2011 - 10/23/2011 10/23/2011 - 10/30/2011 10/30/2011 - 11/06/2011 11/06/2011 - 11/13/2011 11/13/2011 - 11/20/2011 11/20/2011 - 11/27/2011 11/27/2011 - 12/04/2011 12/04/2011 - 12/11/2011 12/18/2011 - 12/25/2011 01/01/2012 - 01/08/2012 01/15/2012 - 01/22/2012 01/22/2012 - 01/29/2012 01/29/2012 - 02/05/2012 02/05/2012 - 02/12/2012 02/12/2012 - 02/19/2012 02/19/2012 - 02/26/2012 02/26/2012 - 03/04/2012 03/04/2012 - 03/11/2012 03/11/2012 - 03/18/2012 03/18/2012 - 03/25/2012 03/25/2012 - 04/01/2012 04/01/2012 - 04/08/2012 04/08/2012 - 04/15/2012 04/15/2012 - 04/22/2012 04/22/2012 - 04/29/2012 04/29/2012 - 05/06/2012 05/06/2012 - 05/13/2012 05/13/2012 - 05/20/2012 05/27/2012 - 06/03/2012 06/03/2012 - 06/10/2012 06/10/2012 - 06/17/2012 06/17/2012 - 06/24/2012 06/24/2012 - 07/01/2012 07/01/2012 - 07/08/2012 07/08/2012 - 07/15/2012 07/15/2012 - 07/22/2012 07/22/2012 - 07/29/2012 07/29/2012 - 08/05/2012 08/05/2012 - 08/12/2012 08/12/2012 - 08/19/2012 08/19/2012 - 08/26/2012 08/26/2012 - 09/02/2012 09/02/2012 - 09/09/2012 09/09/2012 - 09/16/2012 09/16/2012 - 09/23/2012 09/23/2012 - 09/30/2012 09/30/2012 - 10/07/2012 10/07/2012 - 10/14/2012 10/14/2012 - 10/21/2012 10/21/2012 - 10/28/2012 10/28/2012 - 11/04/2012 11/04/2012 - 11/11/2012 11/11/2012 - 11/18/2012 11/18/2012 - 11/25/2012 11/25/2012 - 12/02/2012 12/09/2012 - 12/16/2012 12/16/2012 - 12/23/2012 12/23/2012 - 12/30/2012 12/30/2012 - 01/06/2013 01/13/2013 - 01/20/2013 01/20/2013 - 01/27/2013 01/27/2013 - 02/03/2013 02/10/2013 - 02/17/2013 02/17/2013 - 02/24/2013 02/24/2013 - 03/03/2013 03/03/2013 - 03/10/2013 03/10/2013 - 03/17/2013 03/17/2013 - 03/24/2013 03/24/2013 - 03/31/2013 04/07/2013 - 04/14/2013 04/14/2013 - 04/21/2013 04/21/2013 - 04/28/2013 05/05/2013 - 05/12/2013 05/12/2013 - 05/19/2013 05/26/2013 - 06/02/2013 06/02/2013 - 06/09/2013 06/09/2013 - 06/16/2013 06/16/2013 - 06/23/2013 06/23/2013 - 06/30/2013 06/30/2013 - 07/07/2013 07/07/2013 - 07/14/2013 07/14/2013 - 07/21/2013 07/21/2013 - 07/28/2013 07/28/2013 - 08/04/2013 08/04/2013 - 08/11/2013 08/18/2013 - 08/25/2013 08/25/2013 - 09/01/2013 09/01/2013 - 09/08/2013 09/08/2013 - 09/15/2013 09/15/2013 - 09/22/2013 09/29/2013 - 10/06/2013 10/13/2013 - 10/20/2013 10/27/2013 - 11/03/2013 11/03/2013 - 11/10/2013 11/10/2013 - 11/17/2013 12/01/2013 - 12/08/2013 12/08/2013 - 12/15/2013 12/15/2013 - 12/22/2013 12/22/2013 - 12/29/2013 12/29/2013 - 01/05/2014 01/05/2014 - 01/12/2014 01/19/2014 - 01/26/2014 01/26/2014 - 02/02/2014 02/09/2014 - 02/16/2014 02/16/2014 - 02/23/2014 03/02/2014 - 03/09/2014 03/16/2014 - 03/23/2014 03/23/2014 - 03/30/2014 03/30/2014 - 04/06/2014 04/13/2014 - 04/20/2014 04/27/2014 - 05/04/2014 05/11/2014 - 05/18/2014 05/25/2014 - 06/01/2014 06/01/2014 - 06/08/2014 06/08/2014 - 06/15/2014 06/15/2014 - 06/22/2014 06/22/2014 - 06/29/2014 07/13/2014 - 07/20/2014 07/20/2014 - 07/27/2014 07/27/2014 - 08/03/2014 08/10/2014 - 08/17/2014 08/24/2014 - 08/31/2014 09/07/2014 - 09/14/2014 09/14/2014 - 09/21/2014 09/21/2014 - 09/28/2014 10/05/2014 - 10/12/2014 10/12/2014 - 10/19/2014 10/26/2014 - 11/02/2014 11/02/2014 - 11/09/2014 11/09/2014 - 11/16/2014 11/23/2014 - 11/30/2014 11/30/2014 - 12/07/2014 12/14/2014 - 12/21/2014 12/21/2014 - 12/28/2014 12/28/2014 - 01/04/2015 01/04/2015 - 01/11/2015 01/18/2015 - 01/25/2015 02/01/2015 - 02/08/2015 02/08/2015 - 02/15/2015 02/22/2015 - 03/01/2015 03/08/2015 - 03/15/2015 03/29/2015 - 04/05/2015 04/05/2015 - 04/12/2015 04/12/2015 - 04/19/2015 04/19/2015 - 04/26/2015 04/26/2015 - 05/03/2015 05/03/2015 - 05/10/2015 05/10/2015 - 05/17/2015 05/17/2015 - 05/24/2015 05/24/2015 - 05/31/2015 05/31/2015 - 06/07/2015 06/14/2015 - 06/21/2015 06/21/2015 - 06/28/2015 06/28/2015 - 07/05/2015 07/05/2015 - 07/12/2015 07/12/2015 - 07/19/2015 07/19/2015 - 07/26/2015 07/26/2015 - 08/02/2015 08/02/2015 - 08/09/2015 08/09/2015 - 08/16/2015 08/23/2015 - 08/30/2015 09/06/2015 - 09/13/2015 09/13/2015 - 09/20/2015 09/20/2015 - 09/27/2015 10/04/2015 - 10/11/2015 10/18/2015 - 10/25/2015 10/25/2015 - 11/01/2015 11/01/2015 - 11/08/2015 11/15/2015 - 11/22/2015 11/22/2015 - 11/29/2015 11/29/2015 - 12/06/2015 12/13/2015 - 12/20/2015 12/27/2015 - 01/03/2016 01/17/2016 - 01/24/2016 01/24/2016 - 01/31/2016 01/31/2016 - 02/07/2016 02/14/2016 - 02/21/2016 02/21/2016 - 02/28/2016 03/06/2016 - 03/13/2016 03/20/2016 - 03/27/2016 03/27/2016 - 04/03/2016 04/03/2016 - 04/10/2016 04/17/2016 - 04/24/2016 05/01/2016 - 05/08/2016 05/08/2016 - 05/15/2016 05/15/2016 - 05/22/2016 05/22/2016 - 05/29/2016 06/05/2016 - 06/12/2016 06/12/2016 - 06/19/2016 06/19/2016 - 06/26/2016 07/03/2016 - 07/10/2016 07/24/2016 - 07/31/2016 08/07/2016 - 08/14/2016 08/14/2016 - 08/21/2016 08/21/2016 - 08/28/2016 08/28/2016 - 09/04/2016 09/11/2016 - 09/18/2016 10/09/2016 - 10/16/2016 10/23/2016 - 10/30/2016 11/06/2016 - 11/13/2016 11/13/2016 - 11/20/2016 11/27/2016 - 12/04/2016 12/11/2016 - 12/18/2016 01/01/2017 - 01/08/2017 01/29/2017 - 02/05/2017 02/12/2017 - 02/19/2017 02/19/2017 - 02/26/2017 03/05/2017 - 03/12/2017 03/12/2017 - 03/19/2017 03/19/2017 - 03/26/2017 03/26/2017 - 04/02/2017 04/02/2017 - 04/09/2017 04/16/2017 - 04/23/2017 04/23/2017 - 04/30/2017 05/14/2017 - 05/21/2017 06/25/2017 - 07/02/2017 07/02/2017 - 07/09/2017 07/23/2017 - 07/30/2017 07/30/2017 - 08/06/2017 08/06/2017 - 08/13/2017 08/13/2017 - 08/20/2017 08/20/2017 - 08/27/2017 08/27/2017 - 09/03/2017 09/03/2017 - 09/10/2017 09/17/2017 - 09/24/2017 10/01/2017 - 10/08/2017 10/08/2017 - 10/15/2017 10/22/2017 - 10/29/2017 10/29/2017 - 11/05/2017 11/05/2017 - 11/12/2017 11/12/2017 - 11/19/2017 11/19/2017 - 11/26/2017 12/03/2017 - 12/10/2017 12/31/2017 - 01/07/2018 01/14/2018 - 01/21/2018 01/21/2018 - 01/28/2018 02/04/2018 - 02/11/2018 02/11/2018 - 02/18/2018 02/18/2018 - 02/25/2018 02/25/2018 - 03/04/2018 03/11/2018 - 03/18/2018 03/25/2018 - 04/01/2018 04/01/2018 - 04/08/2018 04/08/2018 - 04/15/2018 04/15/2018 - 04/22/2018 04/22/2018 - 04/29/2018 04/29/2018 - 05/06/2018 05/06/2018 - 05/13/2018 05/13/2018 - 05/20/2018 06/03/2018 - 06/10/2018 06/24/2018 - 07/01/2018 07/01/2018 - 07/08/2018 07/15/2018 - 07/22/2018 07/29/2018 - 08/05/2018 08/05/2018 - 08/12/2018 08/12/2018 - 08/19/2018 08/19/2018 - 08/26/2018 08/26/2018 - 09/02/2018 09/02/2018 - 09/09/2018 09/09/2018 - 09/16/2018 09/23/2018 - 09/30/2018 09/30/2018 - 10/07/2018 10/07/2018 - 10/14/2018 10/21/2018 - 10/28/2018 11/04/2018 - 11/11/2018 11/11/2018 - 11/18/2018 11/18/2018 - 11/25/2018 11/25/2018 - 12/02/2018 12/09/2018 - 12/16/2018 12/16/2018 - 12/23/2018 12/23/2018 - 12/30/2018 12/30/2018 - 01/06/2019 01/13/2019 - 01/20/2019 01/20/2019 - 01/27/2019 02/03/2019 - 02/10/2019 02/10/2019 - 02/17/2019 02/17/2019 - 02/24/2019 02/24/2019 - 03/03/2019 03/03/2019 - 03/10/2019 03/17/2019 - 03/24/2019 03/24/2019 - 03/31/2019 03/31/2019 - 04/07/2019 04/14/2019 - 04/21/2019 04/21/2019 - 04/28/2019 05/05/2019 - 05/12/2019 05/12/2019 - 05/19/2019 05/19/2019 - 05/26/2019 06/02/2019 - 06/09/2019 06/09/2019 - 06/16/2019 06/16/2019 - 06/23/2019 06/23/2019 - 06/30/2019 06/30/2019 - 07/07/2019 07/14/2019 - 07/21/2019 07/21/2019 - 07/28/2019 07/28/2019 - 08/04/2019 08/04/2019 - 08/11/2019 08/11/2019 - 08/18/2019 08/18/2019 - 08/25/2019 08/25/2019 - 09/01/2019 09/01/2019 - 09/08/2019 09/08/2019 - 09/15/2019 09/15/2019 - 09/22/2019 09/29/2019 - 10/06/2019 10/06/2019 - 10/13/2019 10/13/2019 - 10/20/2019 10/20/2019 - 10/27/2019 11/03/2019 - 11/10/2019 11/10/2019 - 11/17/2019 11/24/2019 - 12/01/2019 12/01/2019 - 12/08/2019 12/08/2019 - 12/15/2019 12/22/2019 - 12/29/2019 01/12/2020 - 01/19/2020 01/19/2020 - 01/26/2020 01/26/2020 - 02/02/2020 02/02/2020 - 02/09/2020 02/09/2020 - 02/16/2020 03/08/2020 - 03/15/2020 03/15/2020 - 03/22/2020 03/22/2020 - 03/29/2020 03/29/2020 - 04/05/2020 04/12/2020 - 04/19/2020 04/19/2020 - 04/26/2020 04/26/2020 - 05/03/2020 05/10/2020 - 05/17/2020 05/17/2020 - 05/24/2020 05/24/2020 - 05/31/2020 05/31/2020 - 06/07/2020 06/14/2020 - 06/21/2020 06/21/2020 - 06/28/2020 07/05/2020 - 07/12/2020 07/19/2020 - 07/26/2020 07/26/2020 - 08/02/2020 08/09/2020 - 08/16/2020 08/16/2020 - 08/23/2020 08/23/2020 - 08/30/2020 09/06/2020 - 09/13/2020 09/27/2020 - 10/04/2020 10/04/2020 - 10/11/2020 10/11/2020 - 10/18/2020 10/25/2020 - 11/01/2020 11/01/2020 - 11/08/2020 11/15/2020 - 11/22/2020 11/29/2020 - 12/06/2020 12/06/2020 - 12/13/2020 12/27/2020 - 01/03/2021 01/03/2021 - 01/10/2021 01/10/2021 - 01/17/2021 01/24/2021 - 01/31/2021 02/07/2021 - 02/14/2021 02/21/2021 - 02/28/2021 02/28/2021 - 03/07/2021 03/14/2021 - 03/21/2021 03/28/2021 - 04/04/2021 04/04/2021 - 04/11/2021 04/18/2021 - 04/25/2021 05/09/2021 - 05/16/2021 05/16/2021 - 05/23/2021 05/23/2021 - 05/30/2021 05/30/2021 - 06/06/2021 06/06/2021 - 06/13/2021 06/13/2021 - 06/20/2021 06/27/2021 - 07/04/2021 07/04/2021 - 07/11/2021 07/11/2021 - 07/18/2021 07/25/2021 - 08/01/2021 08/08/2021 - 08/15/2021 08/15/2021 - 08/22/2021 08/29/2021 - 09/05/2021 09/05/2021 - 09/12/2021 09/26/2021 - 10/03/2021 10/03/2021 - 10/10/2021 10/10/2021 - 10/17/2021 10/24/2021 - 10/31/2021 10/31/2021 - 11/07/2021 11/07/2021 - 11/14/2021 11/21/2021 - 11/28/2021 12/12/2021 - 12/19/2021 12/19/2021 - 12/26/2021 12/26/2021 - 01/02/2022 01/16/2022 - 01/23/2022 01/23/2022 - 01/30/2022 02/06/2022 - 02/13/2022 02/13/2022 - 02/20/2022 02/20/2022 - 02/27/2022 03/06/2022 - 03/13/2022 03/13/2022 - 03/20/2022 03/27/2022 - 04/03/2022 04/03/2022 - 04/10/2022 04/17/2022 - 04/24/2022 05/01/2022 - 05/08/2022 05/08/2022 - 05/15/2022 05/15/2022 - 05/22/2022 05/22/2022 - 05/29/2022 05/29/2022 - 06/05/2022 06/05/2022 - 06/12/2022 06/12/2022 - 06/19/2022 06/19/2022 - 06/26/2022 06/26/2022 - 07/03/2022 07/03/2022 - 07/10/2022 07/10/2022 - 07/17/2022 07/24/2022 - 07/31/2022 08/07/2022 - 08/14/2022 08/14/2022 - 08/21/2022 08/21/2022 - 08/28/2022 09/04/2022 - 09/11/2022 09/18/2022 - 09/25/2022 10/09/2022 - 10/16/2022 10/16/2022 - 10/23/2022 10/30/2022 - 11/06/2022 11/06/2022 - 11/13/2022 11/27/2022 - 12/04/2022 12/25/2022 - 01/01/2023 01/15/2023 - 01/22/2023 01/22/2023 - 01/29/2023 01/29/2023 - 02/05/2023 02/19/2023 - 02/26/2023 03/12/2023 - 03/19/2023 03/19/2023 - 03/26/2023 04/02/2023 - 04/09/2023 04/23/2023 - 04/30/2023 04/30/2023 - 05/07/2023 05/21/2023 - 05/28/2023 06/04/2023 - 06/11/2023 07/02/2023 - 07/09/2023 07/30/2023 - 08/06/2023 08/13/2023 - 08/20/2023 08/20/2023 - 08/27/2023 08/27/2023 - 09/03/2023 09/03/2023 - 09/10/2023 09/10/2023 - 09/17/2023 09/17/2023 - 09/24/2023