I broke my new kodak digital camera. What a drag. It didn't take much. I got it for 80 bucks but still. The LCD got broke somehow.
Renning's Maxim: Man is the highest animal. Man does the classifying.

Man, it has been a while since I blogged. Here is a good one to get
started again.
-------You opened it, so you believe in it too. Something good will
happen to you between 12:00 pm and 9:00 pm tomorrow. No catch. It
could happen anywhere or anytime; you will fix your relationship
problems for the next 2 years, maybe it was someone you once loved (or
still do) and can't get them out of your mind, or money, or something
you lost, or just someone that's given you a helping hand. To spread
the positive karma, re-post this in another city in the next 10
minutes. You will get the shock of your life tomorrow. I believe. I
hope you do too. What do you have to lose?go
I have had the flu. I went in the walk-in clinic and they said they would call me if I have the Swine flu. They haven't called.
Last weekend I helped DJ's Dad do a little demo on his barn. Time to replace some block now.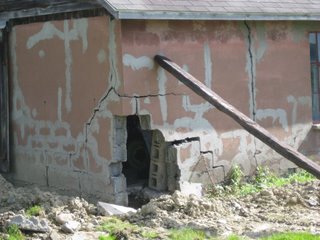 Here is a youtube of the wall coming down.
It seems like it has been raining a little bit everyday. The plane is in the shop with a bad cylinder. I am getting itchy to fly again. The Binghamton airshow is really large this year. The Blue Angles are here and all that. I will be watching from the house. I don't really care for the large airshows. The smaller ones are nicer, not all the crowds, prices and hassle.
My camera is damaged. It was in my pocket and a piece of metal flew up that I was working with and it struck me in the groin and got the camera LCD screen as well. I am not sure which got the worst of it. Time for a new camera. I bought that camera about three years ago. I can get something a lot better now for less money. I remember buying a Sony Mavica years ago (1999) for 600 bucks. I planned to have the 1-megapixel camera for 10 years. It just doesn't work that way. 5 years is about it before new features and performance render things obsolete.
We experienced yet some more rainbows. Look closely and you can see the rainbow is on the inside of the tree line. Interesting and vivid. Cameras don't do them justice.