Man o' man getting on the internet has really been working againist me lately. I got the new tv (great). I got the dish for "Cable" tv, and I had my new internet dish installed (Wild Blue). The Wild blue worked for exactly 2 days and quit. I am trying to get it fixed. Hopefully today the guy will be out. I am currently using a WIFI connection down in Binghamton. We can receive 7 hi def stations locally, about 12 analog signals and then we have the dish and the internet connected to the TV via VGA. I am working out the details of how to hook all this stuff up including the subwoofer I installed in the coffee table.
I have been taking a lot of photos lately, stopping the truck on the way to work or whatever. It is worth it. Of course ;-) at this sitting I have almost none of my new pics with me.
I am working on getting my electric car drive train working. I built a test stand and a programming interface for the controller. I bid on a geo tracker with a bad engine on ebay, but I let it go. There will be others. The idea of 4 wheel drive makes sense. I am working on getting a range of 60 miles on the battery power. One of the really nice features about the controller I plan on using is the regenerative charging of the batteries. I will have a pot hooked to the accelerator as well as to the brake pedal. I am using one set of batteries for testing/development and another for the car probably. Fun stuff, pure playtime.
I have been communicating with the guys on the ice as the season starts up and they are trying to get the equipment working. I insist on them sending me photos when they email me or I won't comunicate with them :-) I miss some of the aspects of the work environment.
Of the pics I do have with me at the moment I have Bonnie's jack o'lantern and a view on my ride to work Monday.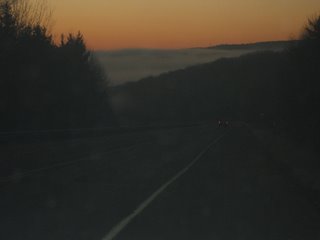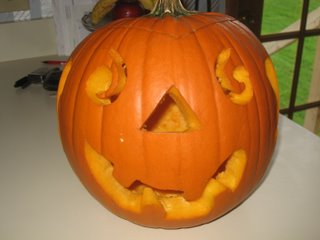 This week started off a little rough with Bob's memorial service.
I should have new satelite internet service next week. I also bought a new HDTV. The 37 inch model I picked out is small for those things. I am also getting dish TV for the first time ever. So we will be veging out in front of the tv this winter it appears.
My friend Pete drew me into the idea of making an electric car. So I now have a very nice 3-Phase Fork lift motor and AC controller. I am looking for a small car with a bad engine.
---
Bernhardi, Robert (Bob)
Robert (Bob) Bernhardi, of Center Lisle, passed on unexpectedly at age 55. Bob was predeceased by his mother, Marie; and his brother, Paul. He is survived by his wife, Debra Jean (DJ) McCullough; daughters, Michelle and Amanda; grandchildren, Angela, Dakota and Ian; father, Robert G. Bernhardi; siblings, Bill, Tom, Mary, Eileen and John; also many nieces and nephews. Bob grew up in the Port Byron, N.Y. area, graduated from Penfield, N.Y. High School, then served in the Navy, raised his family in the Rochester area and then moved to the Whitney Point area. He enjoyed spending time with his grandchildren. He was an avid outdoorsman that loved sharing fishing, camping and his animals with his grandchildren. Bob played Blues harmonica with many bands over his years.
Calling hours will be held at Nichols Funeral Home, 7323 119th Street, Whitney Point, N.Y., October 15, 2007, from 10 a.m. to Noon, with a service to immediately follow.
---
On my last flying lesson we were about 300 feet off the ground on climb-out and the engine demonstrated a definite change in power. After about 3 seconds the power came back on ok. Not great, but ok. It turned out we had a weak cylinder, low compression. So the plane is getting a new piston and the cylinder bored.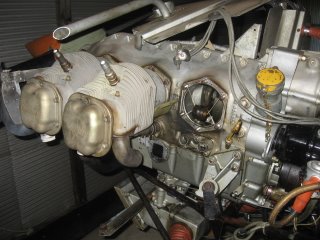 I still don't have proper Internet access at home.
Everyone is deplying to Antarctica now for "Mainbody". It will be interesting to hear the stories. I sent the following hero shot to friend who is deploying. It shows me dangerously working on telecommunications systems in the forbidding harshness of the business world.