Clark at work had a new baby (cria) alpaca Monday morning. He invited me over to see it at lunch. The cria is less than two hours old. Amazing.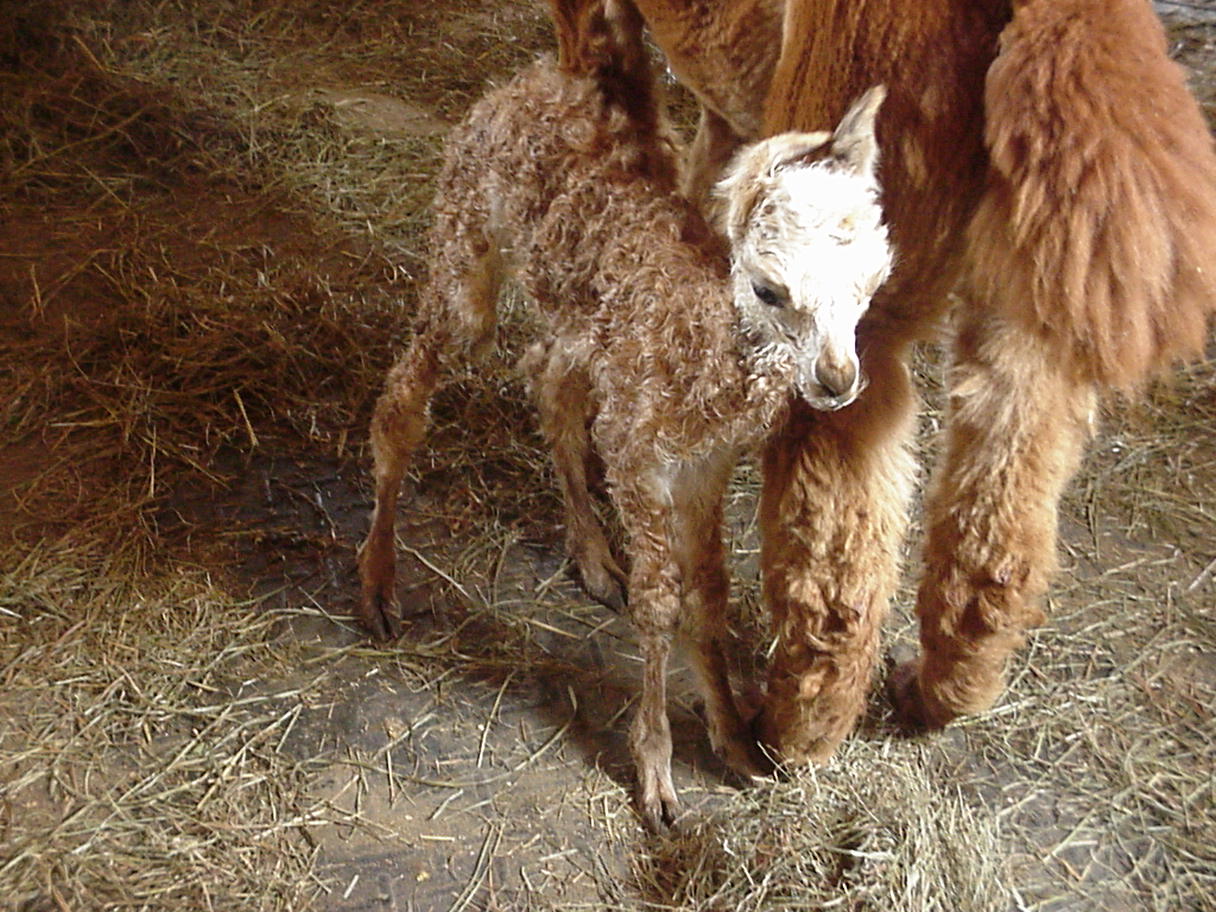 Click pic for video
Man, I hate to wait. It was a real wait to post tonight. slow.... ///
There is the usual multitude of stuff going on. I mowed a bunch. I still have an issue with the tractor that it loses power after an hour of mowing. I checked the injection pump oil level, cleaned the radiator fins, re-looked at the vacuum issue in the fuel tank, did some web research, looked through my manuals, and it still happens. After an hour I decided (looking at the big picture) it is a feature. I have more clues, but I think it might be devine grace. I could sit in there with a mission mowing for hours and hours and get miserable. I have approximately 3 hours left to mow the particular field I am working on. My neighbor was mowing at the same time as I was today. He makes a little better speed. He has a really nice new mower (maybe 20k$) and a 100 hp+ tractor. My little 65 hp German communal machine is doing fine. I was a little surprised on how well it did in a farm-to-farm comparison.
It has been hot for around here. I listen to the weather radio when I mow. They said it was 89 degrees F.
I put up a fence out back for llamas walks, so we have a place to put them when we are entertaining. I put a fence around our vegatable garden too. The plants are doing well. Bonnie and I are happy with our garden this year.
I have re-engineered my exercise cycle/ham radio generator machine a couple more times. Every time I change something major I think it is the last time. However, It looks like I have a good combination of; batteries, gear ratios, metrology, circuitry, mechanical alignments and systems, and output. I can pump 4 or five amps in the car batteries as needed now. A half-hour of 4 amps is plenty for my body. I have to calculate how many amp-hours per oatmeal cookie it works out to be. I have to post some pics. I am defensive however, my experiments always look like diasasters. I have clip leads everwhere and all the other stuff to get there is still out. At this hour I have most of the mess cleaned up and and a functional unit. Just to prove the finesse I made a permanent mounting of the blocking rectifier, (so the bicycle isn't pedaling by battery power by itself. I used a 10 amp rectifier I had it stock. I only have a eleven left now. (ouch).
I get up early. These days I am usually up at 5:00 am. This morning I had deer at the front door. The doors are wide open with screens so it was kind of tricky to get up close to door without startling the deer. I got a photo (through the screen, sorry) after she had moved away a bit. We saw a fawn on the commute the other day. The birds have been a lot of fun. I saw a nice bobolink Saturday.
I have been reading a bunch of Brian Tracy stuff lately. We have connected.
My new food I am making these days are spring rolls. I had some for dinner tonight. It is good warm weather food.
Too much to talk about. Life is full.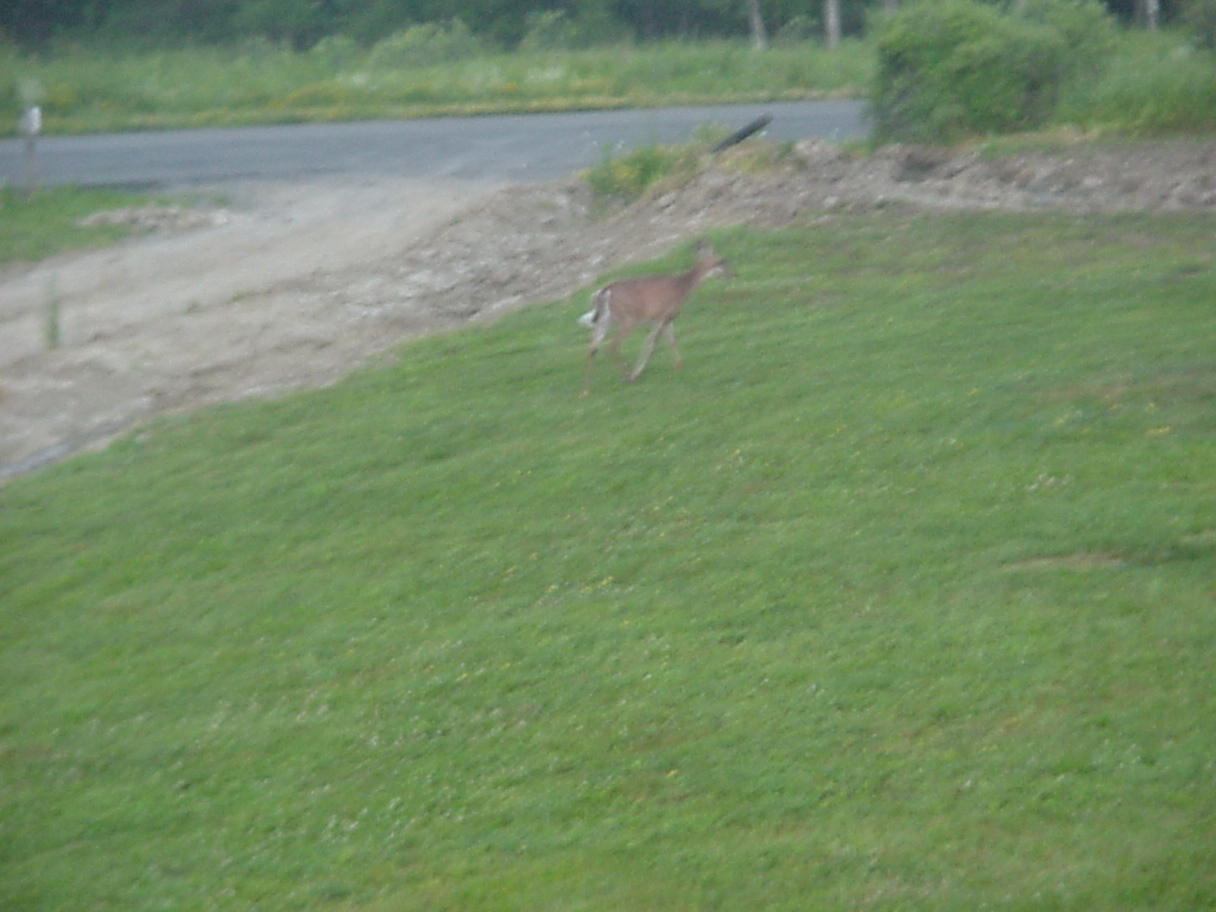 If risk is the precursor to learning and courage is the precursor of risk. My belief is (after a few financial classes) intellect is the precursor to courage. I have learned to manage risk in some simple mathematical ways. Perhaps the bottom line in today's thinking is that if you do not embrace your intellect and weigh it against your emotion (AKA: your current thinking) you have decided to stay where you are.
I found a good quote today.
"Risk is the precursor to learning. Courage is the precursor of risk."
I find the preceeding quote to be very profound. "Just like the llamas that are cautious where they drink their water. So should humans, where they get there knowledge. Often humans emblazonly extoll truth that they obtained from a turbid pond."
Life is ok today, complex but ok. I mowed a couple of acres maybe, but the tractor is losing power after an hour. It is not water temp related. I have to do some research. The fields I mowed once last year are absolutely beautiful this year. They are all wildflowers. Some are green grasses, some are other colors and shapes. There are no weeds, only misplaced plants.
The weather this week has been fantastic. Today there was a huge barn fire in Triangle. The smoke went straight up and stayed there.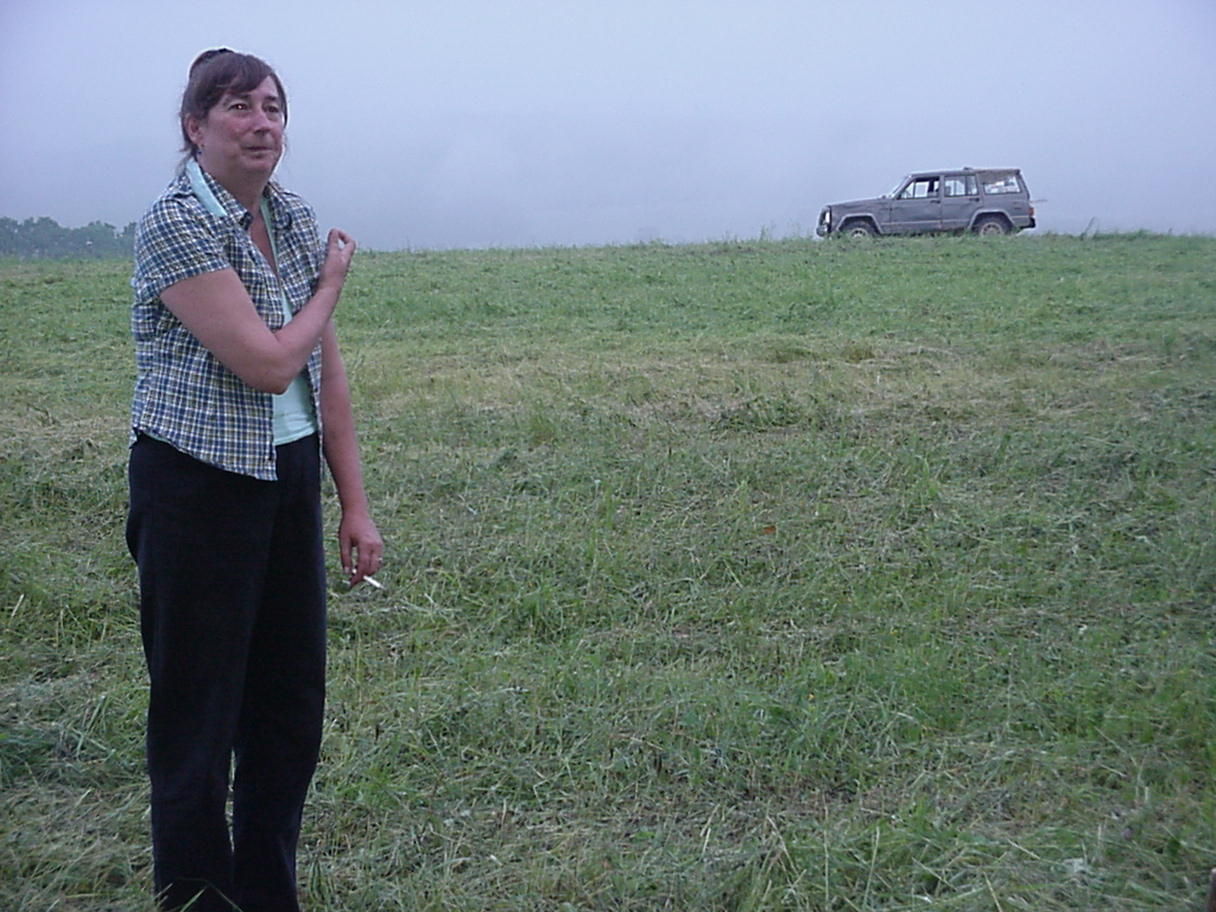 Bonnie and I have had fun watching the Bluebirds out the back window. Today is the day the fledgling is to fly. We watched and watched and watched. I got a couple of decent pics.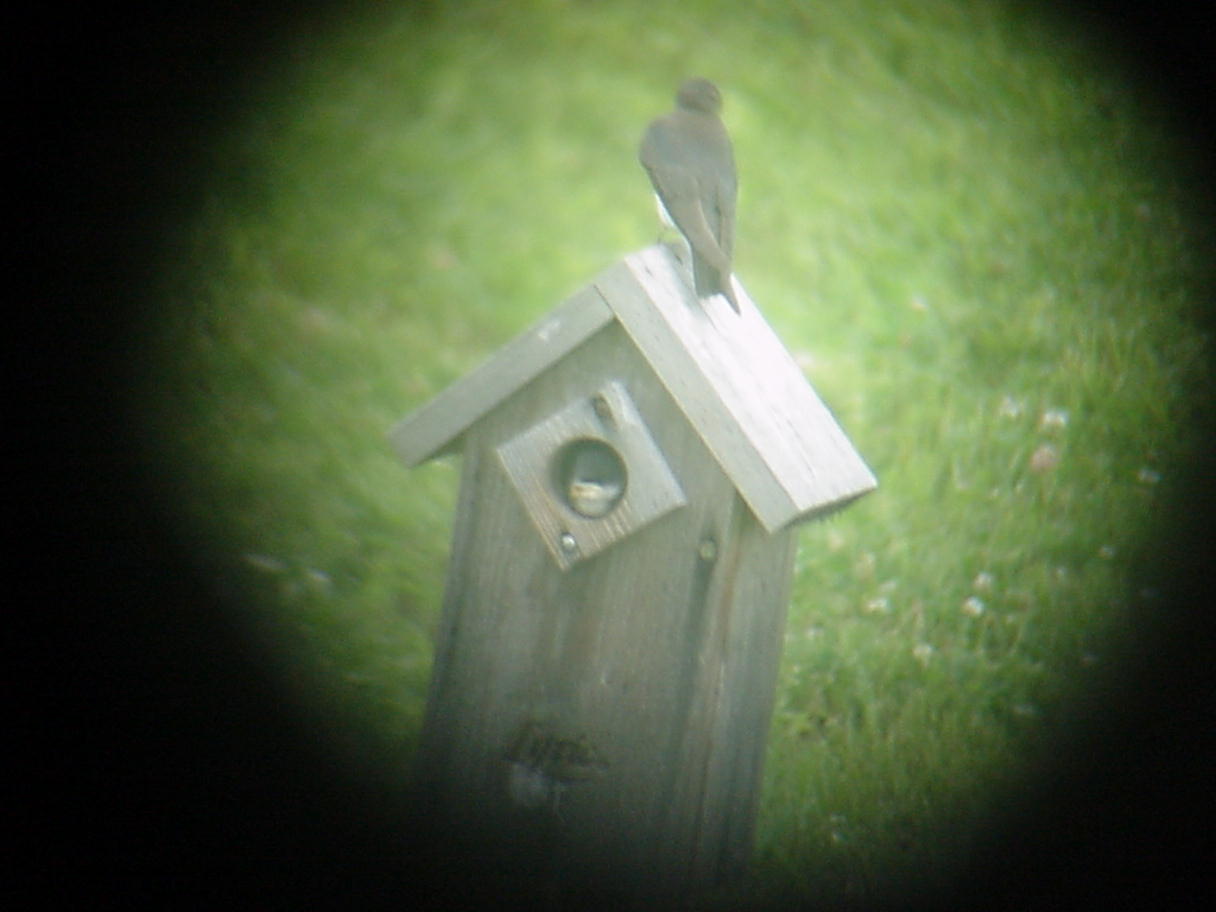 I ran my first ever 5K race this morning over in Smithville NY. Smithville is the town that has a great old unrestored mill. The mill captured my attention when I stated looking for property just after I decided to take the job down this way. I hope someday it gets restored. It feels good to do something that is good for yourself for the first time. You have to get over the natural resistance of something new (the biggest hurdle), plan, execute, and reflect. I have now moved into reflect. It was a marathon for me. I am planning on running in the Berkshire Heritage 5k later this summer too. Maybe another one, if there is another one close by.
I fueled up last night on some of Bonnie's most excellent Oatmeal Chocolate Chip cookies.
My exercise bike generator project is working now pretty good. I ended up using the motor out of a paper folding machine. I still have some testing to do to it to see if I have the right ratios. I am thinking about creating a website dedicated to contraptions I have built over the years. The RIMs machine needs a place to be documented.
I got my computer working again, sort off. What a piece of crap this windows thing is. I have paid all sorts of extortion (paid protection) money to Mcafee and the latest XP service pack 2 and you still get these anomalies. If I wanted to "fix it right" I bet I would have to buy a new computer with a new software install. It is just nuts.
My computer at home has a weird problem. I cannot get the browser to work. I can ping a domain name ok but the browser doesn't work. We got it working last night after calling tech support but it didn't work this AM again. Computers are definately a pain in the neck.
We are getting another pond put in. It is approximately 50 foot oval and 5 feet deep. It is for ducks, asthetics, and for llama fun. We are also ordering 800 linear feet of vinyl fencing. I have a few holes to dig, about 100.
Well I got my truck back. It had been in the shop for two weeks. I made the serious mistake of taking the truck to Botnick Chevrolet in Binghamton, NY.
I suspected the injection pump went bad. Chevrolet, as part of a class action suit increased the warranty on the injection pump. I thought it was increased to 150k miles. It was only increased to 120k miles. I have 132k miles on my truck. I asked Brian if it was under warranty. He originally said yes. So every day I would call Brian from the (place primary color here) team in service and everyday he told me tommorrow, except for Friday when he said Monday.
The original quote for the repair was $2100. So I told them I would take it to a diesel shop where I could get it done for $1800. They decided to fix it for $1800, 'cause they would have had to put it back together. I think that is quite a bit of flexibility in price. They have quite a gravy train.
So yesterday I give Brian a call at 12:00 and leave a voice mail indicating that I was making special arrangements to get my truck at 4:00 pm that day; call me back if that is a problem. No call.
On the way there we get rear-ended on RT 12 in Chenango Bridge. Some young lady ran ito the car behind us which in turn ran into us. There turned out to be no noticable damage to the Subaru, but we called the cops and got a report just in case since there were three cars involved and some pretty good damage on the at-fault car. No one was hurt thank god.
I get to Botnick Chevrolet in Binghamton, NY. and Brian said the truck wasn't ready. It is now 4:30. I had to wait until 6:00 for the truck to be done. At one point the technician came into the room and walked intimdating in front of me while I was waiting. I can only imagine what Brian was saying to the tech. I don't think it was very motivating. I told Brian that I am sure the tech was doing what he could. I asked Brian how he had decided to have the tech work on "higher priority" jobs than mine. I did not receive a suitable answer. The tech made sure he took a long test drive and my radio was tuned to a country station. Brian made sure both the tech and customer were upset. That doesn't seem like that is a good goal. After I finally get the truck, they have problems verifing my check to pay the bill. I had to wait another 15 minutes for them to screw around with that.
Anyway, overall, in the scheme of things the whole deal is quite trivial. I am sure this is a very common story for many people. It just gets you going when you get lied to everyday for two weeks creating distrust of them and then they make you wait 15 minutes for a check verification because they don't trust me. What has happened to the golden rule? Jerks.
Bonnie and I went to a wedding yesterday. That was nice. It was in a small church in Virgil, NY (in between places). James and Georgie got married. Now they have 7 kids between them. I think there are five girls and two boys. The oldest is younger than 10. Everybody has to have a hobby. I had a good time.
We are working on the yard again today. I am working mostly with stone. They are plentiful and mostly in the way. I found a great use for old roof shingles. I put them under the stones in the washes I am constructing. It looks great and should keep the weeds out for quite a while. The shingles are also plentiful and inexpensive. There is no shortage of work. I had to get out of the sun for a while. The basement is cool. I am tinkering with some technology projects.
You can see the bluebird sticking her head out of the house. There is quite a bit of activity in the bluebird house. It probably was not the best time to build the stone ring around the well head.
The truck has been in the shop almost all of last week. I still don't have it back. It may be the injection pump which is under warranty still at 132k miles. I have no choice but the leave it at a GM dealer. It really helped us realize how much we use the truck. I have to get feed, hay, salt for the softener, the tire fixed for the tractor. You get the idea.