I am in the Orlando Airport. I had a good visit with my Brother, Sister and Mom. We did a bunch of different things but mostly visited. My Mom and I watched airplanes at Craig Field for a while. I thought it was interesting watching an SUV tow a twin engine plane around.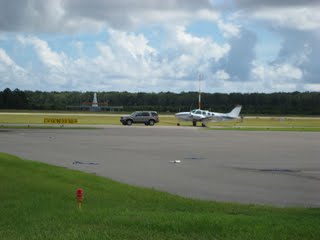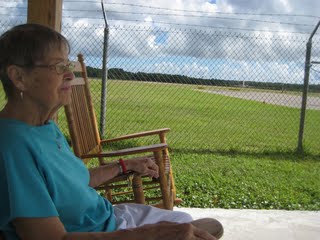 I found an interesting yellow Mushroom tonight while I was out back fixing a hydraulic line on the tractor. It looks like a Amanita Muscaria, but I am not totally sure. I guess that is the nature of shrooms, not ever being totally sure. There is faith involved. We sure have a huge variety of mushrooms. They get more unusual the more you pay attention to them.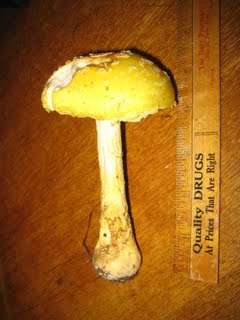 Yes, this is another neighbor. Who says you don't find art out here? Note the angry look on the deer face.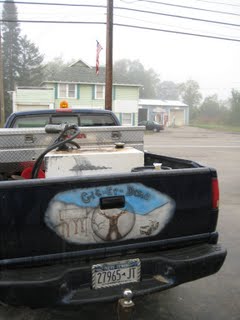 We had a hard frost last night. The last frost we had was the second week of June. That is less than 100 days in the growing season. That is not much of a window. This Summer was very wet; weather wise it wasn't much of a Summer. This weekend Pete and Linda came down. I put a new starter on the jeep, worked on some other equipment, rescued Douglas with a broke down car (I use that trailer a lot) and a few other things to be sure.
Here is one of my neighbor's RV at the local grocery store in Whitney Point NY. This is indeed a Redneck Camper. Notice he is in a handicapped parking spot. He even hit the sign behind the truck. I can't make this stuff up!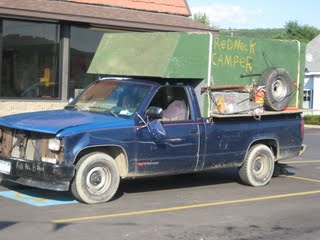 I have a theory. Golf is an outdoor activity for people who don't like the outdoors. I don't see many golfers after the weather turns the slightest bit cool. I think the over groomed golf course is an physical expression that "the outdoors does not have to be untidy". It goes on and on.
DJ and I did some farm sitting for an organic farm a few miles away. The farm is off grid and they get a little electric from solar panels. The house is underground so I imagine it is pretty energy efficient. We milked a goat by hand. The new experience was worth the price of admission. Now we are making cheese with the milk.
My FAA medical has expired. I am getting that back in place. My solo has been postponded until that is done. Learning to fly is done thru series of learning experiences and plateaus. It can get a little frustrating, but it will come. The learning is a combination of confidence and skill building. Each is neccesary. I definately understand the saying that, "flying is the most fun you can have with your clothes on". When I think about flying and landing the plane a warmth comes over me.
It is labor day weekend again. The weather has been great for the last couple of days. It is actually summer. Today I am mowing fields, working on tractors and some other stuff.
Yesterday I passed my FAA written test in Rome NY. I talked my mentor into flying up there. It was a great experience. The old Griffiths Air Force Base is now a municipal airport. It has a huge runway designed for B52s. Now they closed the first 2500 feet. Just the portion they closed is longer than my whole home airport in Greene.
Can you see the sleeping raccoon in the tree?