Progress.
I have some trim to finish inside and out. In the course of this project I had to monkey with the following connections through the wall:
Main Power, 200 Amp
Main phone line
Outside electrical outlet
Satellite TV connection
Outside water spigot
Numerous low voltage connections to barn
110 VAC line to road
(2) main ground connections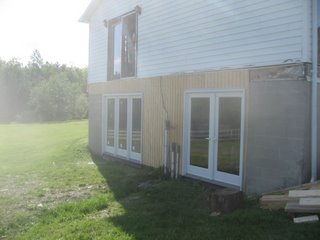 Saturday I went spent some time with Douglas and his new horse. I can't say I would jump to get a horse. But, I always think new experiences are a good idea. His horse is really nice and he has a great financial and care taking plan for it.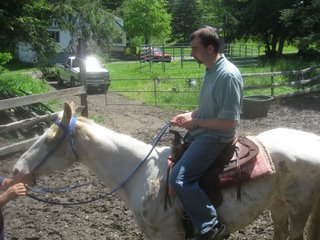 I had an MRI of my foot. The achilles tendon is torn. I am getting around, but I have to be very careful. I am using the crutches a lot. If I am not careful I can rupture it then it has to be connected surgically. I expect to be in a splint boot for a number of weeks. With the boot I can safely apply pressure to the leg.
I got the back field mowed. Every time it gets better. We will take hay off it this year. The Holder tractor mows about 4 acres an hour. It takes me a bit over 4 hours to get the field done. I seem to have run over a skunk with it or something. The smell is pretty well dissipated now, however.
The project is to rebuild the basement wall this Memorial day weekend. I have two new swinging patio doors. They were not cheap. They set me back about 4200.00 bucks and took two months to arrive. It is in preparation for getting the decks done and the house finished.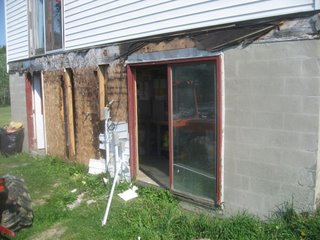 "Courage is about seeing, feeling and knowing fear; taking steps forward only because it is the right thing to do."
Charles Dowdell
I have had a relapse with my Achilles tendon. I am on crutches again. This is a most curious injury. When I sleep it gets worse not better.
Here is a link (hopefully) of the Webcam of the Greene Airport where I take my flying instruction. About 3/4 of the way through the video you catch a glimpse of me turning the plane around for another take off and landing. I will be soloing soon. It has been a long time coming. Like most things it is a matter of sticking with something, living thru the ups and downs and just plain keep coming back.
My Achilles tendon is much better. I was weaning myself off the crutches Friday. Today I am sore, but so much better. I still have the ankle brace on; the cripple part is gone. The emotional part of the injury was much worse than the physical part. It was the first time I had ever used crutches even though I had had some bad sprains over the years. With the sprains it was a matter of moving slower and deliberately. With the Achilles injury it has been a matter of getting around at all or not and a dependence on crutches. It was about 10 days. I heal fast, but I need to remember better.
The recent news of the Swine Flu is a bit suspicious. I think there is a possibility that the news outbreak is a means to refocus attention of the Americans away from the recovering economy. I mean, it is especially suspect when I hear a public service message from the CDC recommending that you keep extra food and supplies on hand in case of a wider outbreak. Give me a break. A couple weeks worth of food will only stimulate the economy. It will not help you out in the event of a pandemic. If you think the Federal Govt. does not manipulate the news think again. I suspect more people in the US were killed by Lightning in the last couple of months rather than the Swine Flu. Don't believe everything you hear. All the world's a stage.