It appears there was a plane crash in Antarctica yesterday. Luckily no one was injured. That plane had multiple problems with the tail wheel last year. The Basler was the only plane I didn't fly on.
http://www.nsf.gov/news/news_summ.jsp?cntn_id=110910&org=NSF&from=news
Someone asked me why I was quiting my activities. The answer is so I have more time to figure out what else I can quit.
I quit the Berkshire Town Planning Board last night. I want to do other things. I am refocusing.
Here is a great article about a drone getting recharged off power lines. Pretty cool.
http://technology.newscientist.com/article/dn13093-spy-planes-to-recharge-by-clinging-to-power-lines.html
I had my last meeting as part of the Tioga County Planning Board. It is time to do something else. I have to keep moving. It is hard to belive I did that for 3 yrs. It was fun and informative. It is time to do something else.
This is Ultima. She hasn't been on the blog much.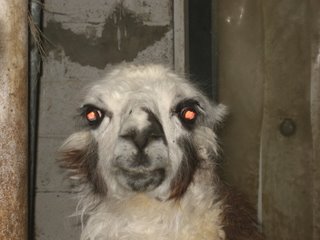 Life is perfect. The process of realizing the fact is not.
--Charles Dowdell
Belive me. I am aware of the typos and bad grammer (sic) in my blog posts. It is what is it is. The blog is most likely going to take a different venue. I may move domains and access. It is all about information. I have much to say.
I belive I am reaching a new plateau in my blog and my life. We only have one life. Do what you will. There are physical constraints.
The computer situation is as always in flux here. The wireless mouse and keyboard arrived for the living room. Now we browse on the 37 inch tube, well almost. The furniture is almost ready for stain and finish. It is going to get an ebony stain and some sort or clear coat.
The llamas are well. Douglas is now 27 years old. The other kids (Franklin, Christa) are of course doing very well!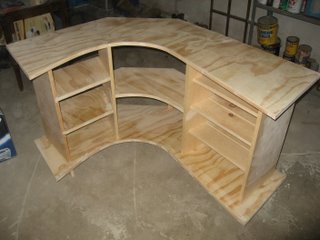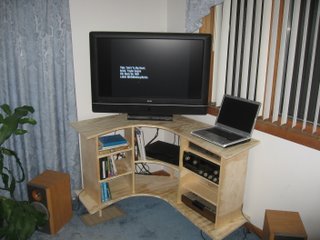 Labels: iT
My Boss last year when I was at Pole. Like almost all folks in the program he is a good guy and a pleasure to work with.
http://www.computerworld.com/action/article.do?command=printArticleBasic&articleId=9049898
When I saw this pic this morning I had to post it. This plane is near the transantarctic mountains. You don't see many photos like this, however JATO bottles are frequently used to take off from science camp areas. I flew in the plane, but without a JATO takeoff. I asked some of my co-workers about what it is like to be in the plane during a JATO takeoff. The answer was "Loud!"
Photo from: http://www.stuff.co.nz/stuff/4318736a12.html
I have been building the piece of furniture I designed over the past few weeks to shelve all the living room electronics.
Our sick chicken is a lot better. Warming her up, forcing her to drink and generally paying attention to her seems to have kept her alive. We haven't had one get so close to dying and come back. She still might not make it but she is a lot perkier and is eating pretty good. Tough old bird is a good saying.
It is cold and damp out. I guess that is what you expect of winter. Working out side isn't bad. The lack of sunshine puts a damper on productivity though.
One of the neighbors likes lawn ornaments for each holiday. The giant blow up turkey was something else.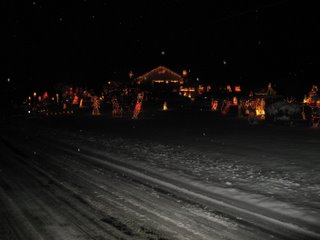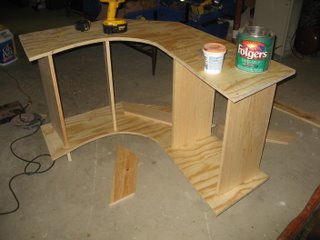 Well, I didn't get the car I was bidding on. I was out at a party when it ended so I was short by 100 bucks. There will be others. I did make the connections to borrow a trailer to get the car when I finally do find one. The base model Geo Tracker 1992 vintage with a manual transmission would be perfect. The body has to be good. The engine can be rough.
I took some great pics of sundogs at sunrise on the way into work. It was 0 degrees on the farm this morning. The llamas are locked in and comfy. We have a sick chicken though.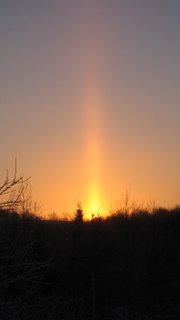 Al Russell came down on Saturday. It has been quite a while. There was a lot to catch up on. We went out back with the jeep and I got another flat. We walked back and I went back Sunday with the weenie spare and the tractor. I used the 3 point hydraulics to jack up the jeep in 5 inches of new snow to change the tire and get the machines out of the woods. Although it was a nusence. It was fun being out in the woods in the cold and snow.
In addition to my anniversary at my job. This weekend marks our 18th wedding anniversary. Where does all the time go?
It got down to about 6 degrees last night with lots of wind. It was just plain nasty out. Listening to the scanner last night with the reports of car wrecks, personal tragedies and what not it seemed like the end of the world.
The beavers are back down at the beaver dam and they are as destructive as ever.
I am bidding on a Geo Tracker tonight for electric conversion.