An article came out just after my blog in regards to the Antarctica card being played in the Global warming campaign.
http://www.cnn.com/2007/TECH/science/02/25/antarctica.icecreatures.reut/index.html
The paragraph "Since 1974 5213 square miles of ice shelf have disintegrated...", sets the tone. It makes you go wow that's a lot of area. Antarctica is a big place. It is 98% ice. The peninsula is probably undergoing some serious change just like other parts of the world such as the northern Mediterranean coast. Climates change. I am not ready to say that my wood fire is causing the "disintegration" of Antarctica's ice shelves.
Getting used to the "real" world is going to take some time. I will probably not ever totally end up where I was before my adventure and that is ok. I certainly do keep busy.
One of the things I planed on doing when I was on the ice was to form an opinion about global warming based on what I saw with my own two eyes in Antarctica. Antarctica certainly was not warm for the most part when I was there but it was warmer on some days than most people would have thought. The sea ice has not melted and broken up in McMurdo Sound for at least 6 years. This year it receded more than it had in some recent past but still it had not receded to the point when Shackleton and Scott were sailing around McMurdo sound.
One of the things that irritates me is how the Antarctica card is being played in the global warming arguement. Most people have not and will not personally expereince Antarctica. So the political technocracy can use facts regarding Antarctica to advantage. For example, a story regarding the calving of huge ice sheets and iceburgs can sway an unsuspecting populus. There is a lot of ice in antarctica and I suspect the calving of the icesheets and the overall ice boundaries of the continent are in and have been in great flux for quite some time. The jumps of fact that humans are directly causing global warming through in direct comparisons of events in Antarctica is just not appropriate or good science.
Now if you asked me, "Are humans affecting the earth?", my gut feeling is of course. I don't need proof and some iceberg is not going to prove these things to me either way. The data is pretty clear that the earth is warming and that warming may be part of a normal cycle.
I am not terrified of global warming. In fact, I believe the folks that are most worried about global warming are the environmental control-freaks we most have the most to fear. The earth is alive and has been alive through terrific cataclysmic events on a cosmic scale for much-much longer than humans (or pond scum even) have been around . Changing the warming trend is possibly a very human-controlling effort that may exceed natural forces behind our warming trend. Green is popular and growing.
Humans can and will adapt to live on earth no-matter what it is like if it is changing slowly.
Here is a picture of a sundog I took on the way to work. I saw some nice sundogs in Antarctica no doubt. I think we called them perihelia more than sundogs though. Rainbows no matter what the temperature are nice. The other picture I don't think I posted before. I remember that particular day (1-17-07) fondly at the catchy name of S 77 30' 86.1" and 166 49' 37.6". It was a peak experience.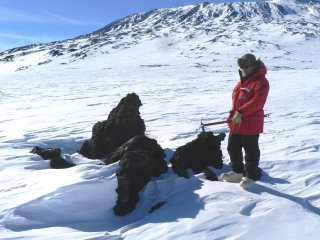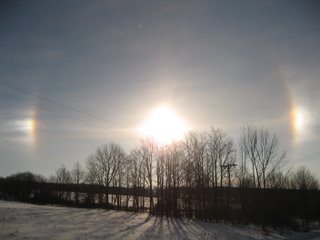 Life is getting back to normal. I went to work the other day and I was greeted by a very large species of penguin. It seems strange being back. My outlook has changed. I am seeing things I didn't see before. Success is ahead.
I have been studying flight manuals and making other plans. I missed my big red parka so much I ended up buying a new winter coat and some new boots. This is the time of year. Things go on sale. I bought some bunny boots on ebay for 33 bucks (with shipping). They are very nice. I am quite happy with them. Actually they are Mickey boots. They are black not white and they are not rated quite as cold as the ones I had on the ice. I will be snowshoeing this afternoon since I have at least 9 pounds to loose from the ice. My membership in the fitness center is also reinstated. I have been working on getting the audio system in the house setup as well. I have an old computer setup as a MPEG server that will connect to the Mcintosh preamp and Fisher amp I scored recently. The subwoofer (one of them) has been concealed in the coffee table. I am looking at video cards for HDTV and planning the video setup next.
Calisto the llama is doing pretty good. That llama owes Bonnie forever since she nursed him back from the brink of the grave. His wound is healing and the Meningia worm lost during this salvo.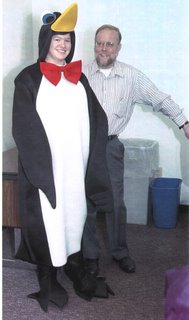 I have been back over a week now. Upstate NY does look and feel a lot like Antarctica. It has been around zero with considerable snow just to the North. However, it is more humid and higher pressure density than in Antarctica that is for sure.
Now that I am home I can upload some video. I have uploaded my McMurdo Film Festival submission "Pilgramage".
You can download it here. It is 35 MB. It will take quite a while to download. I suggest using right-click "Save file As.. " option to make it convienient. I have lots more video. I will post it to You tube in the near future. You may want to do a search on www.YouTube.com for "Antarctica" You will see Anthony Powell's time lapse, very nice. He is the Winter Black Island comms tech.
I am hanging low. There seems to be a lot to think about. Certainly I have a lot of projects either that need to be started, have been started and need finishing, or new ones to dream up. I feel the need to throw some stuff away. I shall list a whole bunch of stuff on ebay this afternoon. That will cure that itch just fine.
There are reports of 10 feet of snow up in Oswego today. They have been getting some serious lake effect snows to be sure.
Here is a pic a friend sent me from the ice from atop Mt. Erebus today. The sea ice really moved out this year. It is absolutely amazing. The helos stop flying today until next year and the station is getting ready for another winter.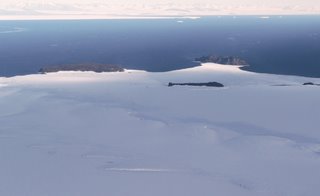 I was asked "Now, does it REALLY get cold in Antarctica, or is that hype?". I think that is a great question. For those familiar with the blog have seen open windows, fans, van heaters not on etc.
Yes, it does really get cold in Antarctica. Yes, there is hype about the cold in Antarctica. The coldest temerapture on earth was recorded in Antarctica http://hypertextbook.com/facts/2000/YongLiLiang.shtml. It routinely gets below -100 degrees F at South Pole Station each winter. At South pole it never gets above 0 F (it may have one or twice in the last 50 years we have been watching.)
However, Antarctica is a big place, larger than North America. It also has seasons. So there are extremes, especially in microclimate areas. The warmest teperature ever measured in Antarctica (supposedly)was + 59 F http://library.thinkquest.org/CR0215022/climate.htm. The Peninsula is a lot different than most of the interior of Antarctica. I understand it rains there a lot in the summer. I have not been there. The peninsula is where almost all of the tourists go and where most of the science stations are from countries other that the US. (The US does have Palmer Station on the Peninsula.)
One of my friends on the ice (who has had lots of ice time) says that Summer in Antarctica (McMurdo) will be nothing like what you expected the weather in Antarctica to be like, on the other hand Winter is a lot worse than what you expected weather to be like in Antarctica. I trust his description. I have seen the photos of a huge oil tank ripped abart by a Herbie (Hurrican Blizzard) a few years ago.
In my experience, Antartica is a very cold lifeless place. It can be surprisingly warm in the summer in certain areas (McMurdo, New Harbor) while at the same time up on Mt. Terror or Mt. Erebus a few miles away it may be 70 degrees colder at the same time. It can make for a strange day when you fly up there and back. The warmest I experienced was +40 F at McMurdo. The coldest I experienced was -60 F in the sub-terrainian chambers at South Pole.
This is a picture of the first day I arrived on the ice in the Airporter van that yesterday's picture was taken in with some the people I got to meet on the ice.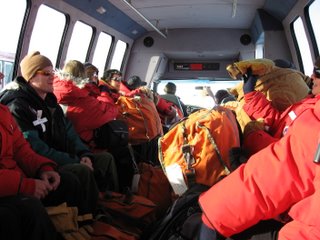 Today here in NY it was -12 F with a pretty good wind. It didn't feel very cold to me. The cold air as it comes into the lungs is quite familiar. The air is much more damp here and the snow is not as crisp as it would be at the same temperature in Antarctica. Even at -12 it feels damp. I do have to get some better winter clothes though. I respect the cold more than I used to. I see folks around here not preparing for the cold at all before they go out into it. I understand that the car will be warm in a few minutes and all that and it it is only a short walk between buildings. I guess the question is why suffer? Not dressing and getting cold even for brief periods is self imposed. If you get cold and you don't want to be cold something is wrong.
I wish I could summarize the last 4 months on the ice but that just won't be happening. I guess it was too big of a deal, too much to summarize. I will be trying.
I am off concentrating on some financial plans, aviation plans, and generally trying to get back to normal.
This picture is a self portrait crossing over to the ice pier. The windows on vehicles and building in Antarctica often crack from the cold and the sun heating them at the same time.
I am glad I am home. I am getting used to all the people, activity, darkness and otherwise real life. I seem to have gotten ill between here and the ice. I will be spending more time in bed than I "oughta".
Bonnie seems to have saved Calisto the llama' life.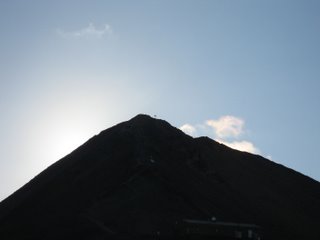 Getting reacclimated to the real world is not a 1-day process I found out. We are all wayyy over stimulated. How much information can you process? How much information do you need? We are all seriously being held aloft from the truth by several layers of BS. If you think you can process all the information you are thown at in a normal hour or two of "normal" life you are totally wrong. Just making simple purchases requires too much effort to decide what's right. "Just gimme that thing so I can move on to the next totally overwhelming information seeking situation."
I have a lot to say about my experiences of adjusting back into the real world. A lot more than what is going on here.
I am home. I have a lot of catching up to do. The dark at night is nice.
I was asked what the sounds of Antarctica are like. In McMurdo there is always noices of machinery. The helos warming up and taking off (right next to our shop), The power plant generators, although equipped with large mufflers drone on 24/7. You are also hear diesels 24 hours a day and back up alarmas as materials, snow, or earth get moved around. The wind is continuous. The wind noise is almost aways cutting through the other noices. Out in the field noise is totally different. It is so quiet. It is so incrediblely quiet. You can year a helicopter 30 or 40 miles away. On the polar plateu the sound carries fairly well. The ice is just like dense strofoam. It squeaks like styrofoam and sounds bounce of it (and transmits vibrations) just like stryofoam.