Sunday was a full day. I started off deer hunting and sending Greg and Sandy on their way (unfortunately we didn't get any deer). It was around zero degrees out there in the woods. It is very easy to get cold when you are sitting very still. Then it was off to my combination flying lesson. My mentor received instrument instruction doing VOR approaches (under the hood) to Oneonta and Sidney NY. I was in the back seat. In Sidney we gassed up the plane and I flew it back to Greene with my mentor in the back seat. It was a lot of fun and fellowship. Then I worked out and went shopping.
The video is our soft field takeoff out of Greene. There was about 4 inches of snow on the runway.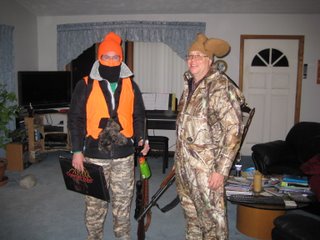 I didn't get a deer yet. Greg and I went out Saturday and Sunday morning. We got a glimpse of a couple. We learn more everytime. Being out in the wood sis so nice at sunrise. It has been hovering around zero degrees out there both mornings. Staying warm while sitting perfectly still can be a challenge, but if you dress for it it can be done.
I am very disappointed by the other deer hunter tracks we have found. There is absolutely no regard for the property being posted. Absolutely none. I am taking action, cool and collected. I will be making an example of these guys when I catch them. I will proscecute to the maximum level. Word will start getting around then. Just like most form projects, it is a multiyear effort.
I sold my nice log. I only got 85 bucks for it. It was worth 60 as firewood. That was a disappointment too. I am thinking I am going to but the sawmill soon. I need beams for the addition. It is the think to do. I am looking for tire changers on ebay too. I am so tired of tire mounting charges at the mechanic.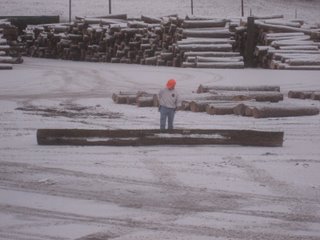 No Deer. It was a bit of a disappointment. It was good to see Greg and Dennis.
How about this Maple log? Nice huh? Need some boards 20 feet long? The holder tractor is really exceptional in getting logs out of the woods. It is so narrow and the articulated steering makes it perform extraordinarily well in the woods.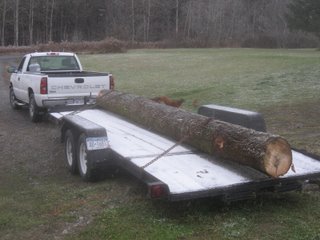 I bought a new jeep to replace the old jeep. It is a 1998 Grand Cherokee with only 160k Miles. The 1987 model I have has just short of 300k miles. Some of the parts will be compatible. I still have to figure out the future of parts the 87. Otherwise, it will be going to scrap $$. I put the new jeep on the trailer and towed it back from Rochester. My light duty truck did ok.
I will be moving the ag tires to the new jeep this week.
Deer season opens this weekend. Greg and Dennis are coming down. They are all excited.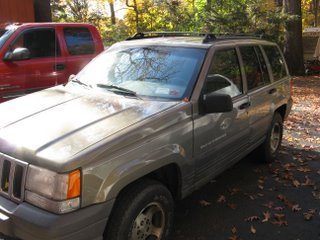 DJ and I dug up the septic tank last weekend. It is working ok, but I thought I could move the sewer pipe coming out of the house to beneath the foundation in order to put a bathroom in the basement.
I was wrong. Although my initial observations into the pipe from inside the house looked promising, there turned out not to be enough slope left in the pipe if it was moved to the underside of the foundation. Drat!
This did give me an opportunity to get the tank pumped and now I know a lot more about the system. At least this project is done.
Did you ever notice your own septic system smells kinda ok?
My instructor and I did some approaches at his house (Tunnel NY, International). He has landed the champ there a couple of times, not the Skyhawk though. He was flying when I was filming. Great lesson.